We have seen foldable smartphones from major OEMs in the smartphone industry, Huawei and Samsung while Xiaomi has also shown its prototype. Also, 5G is the latest trending topic in the cellular world after 4G. We have seen many devices launch with 5G support already.
Therefore, people were starting to guess when Apple could release its first foldable iPhone or first 5G supported iPhone. If reports are to be believed, neither of these two are going to happen soon. Because Apple is instead working on a foldable iPad with 5G support. Moreover, Apple's foldable iPad with 5G-support could launch as early as next year.
Apple's foldable iPad with 5G support could be launched by 2020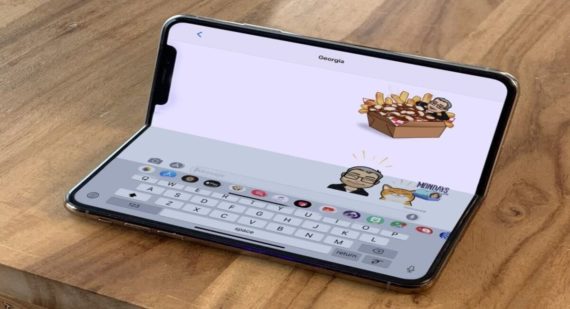 Apple launched a refreshed version of iPad Pro to the market with better design and bigger screen size last year. For the first time, we saw Apple ditch the Touch ID on its iPad Pro too, same as iPhone X and later.
Apart from that, there were minimal and symmetrical bezels on this newer design. Currently, the biggest iPad that you can buy is the iPad Pro with a 12.9-inch display. Also, Apple has made a huge leap in making the iPad a perfect PC-alternative by launching iPadOS.
We are now getting reports that this is part of a bigger plan by Apple. The company is already working on a foldable iPad that could have a 13 to 14-inch display when unfolded. This report, currently just a rumor, comes from IHS Markit's analyst Jeff Lin, Familiar with Apple's supply-chain, Jeff reveals that the foldable iPad could come as early as by Fall 2020.
On top of being a foldable iPad, it will also have 5G support says Jeff. He adds that the foldable iPad will feature "MacBook sized" screens. But he adds that the foldable iPad will be an iPad Mini-sized product when folded and could become MacBook-sized when unfolded.
While the upcoming iPhone XI series is not expected to have 5G support, the foldable iPad might have 5G support for fast mobile internet browsing. Therefore, we should expect to see the iPhones releasing in 2020 to have 5G support too.
At the moment, we have seen manufacturers such as OnePlus and Samsung release 5G variants of their OnePlus 7 Pro and Galaxy S10 respectively. Another interesting tidbit is that Apple's own 5G chip might not be ready before 2025 which means we might see Qualcomm or Intel 5G modems on iPhones with 5G support.