Apple has released the new iOS 16.6 update for their iPhone line up which includes significant security fixes. The Cupertino-based tech company is focused more on pushing its iOS 17 software which has much more features than the previous versions. However, the company hasn't left out the iOS 16 version yet.
Apple has started rolling out its final updates for iOS 16 before the iOS 17 public release. Simultaneously, the tech giant has even released the iPadOS 16.6 update as well with similar features and security fixes. Let's check out all the offerings that the new iOS 16.6 update for iPhone from Apple provides to the users.
iOS 16.6 Update New Additions and Security Fixes
The latest iOS 16.6 update doesn't include any new features for the users. Although, the new update will help the system to refine the already existing features on the iPhone. The latest update comes with fixes to the previously existing bugs and security flaws on the iPhones'.
Furthermore, there are two key fixes on the device which include solutions for Apple's Find My and Neural Engine. The newest firmware release will ensure fixing issues that allowed apps to read sensitive location data. Besides, it even fixes the ability to execute arbitrary code with kernel privileges respectively.
The iOS 16.6 will improve state management and restrict's an app's ability to modify sensitive kernels. It will disable the ability of an app to execute arbitrary codes. In the same way, several kernel-specific security patches and fixes were rolled out in the iOS 16.6 update for the iPhone.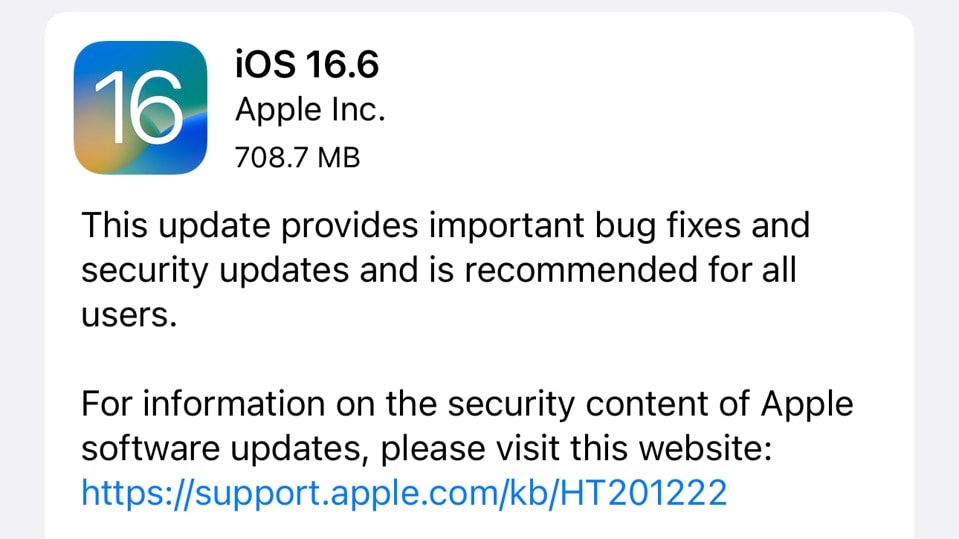 Similarly, the iPads have even received the iPadOS 16.6 update that featured security patch fixes and many improvements. The main update for the iPad was received with Apple's Find My and Neural Engine.
You can witness similar update notes for all other devices like tvOS 16.6, watchOS 9.6, and macOS 13.5. In the coming days, Apple will roll out the public version of the iOS 17 update for eligible iPhones' across the world. For now, the update is still in the beta stages and users can opt-in and check out the update.
There's a catch here as the latest update will only roll out to devices from iPhone 8 and beyond for iOS 16.6. Coming to the iPad the iPadOS 16.6 is available for iPad Air 3rd Generation, 5th generation iPads, and 5th generation iPad mini and later.
You can go to General > Software Updates under the Settings menu on your Apple devices to check for the latest update.
What do you think of the new iOS 16.6 and iPad 16.6 Updates? Let us know in the comments.