Apple started rolling out the OTA updates for the iOS devices with a new version 14.4.2 for iPad and iPhones. Apple has even given a similar update that fixes the flaw on watchOS 7.3.3 as well. The manufacturer is pleading with users to install it as early as possible to improve the security of the users.
Besides, the company says
This update provides important security updates and is recommended to every iOS user.
The urgently needed update from Apple is mainly due to the security flaw for the company's WebKit, which it claims may have been actively exploited. The tech giant has also noted that processing maliciously crafted web content may lead to universal cross-site scripting. The company has also stated that the issue was addressed by improved management of object lifetimes.
Apple Devices that Receives the iOS 14.2.2 update
The devices that to get OTA update are all models of iPad Pro that are currently available. The iPhones that support this update are from iPhone 6s and above. Moreover, some of the iPod touch versions such as the 7th Generation and above are receiving the update. Other iPad versions such as the iPad Air 2, iPad Mini 4 have support for these new updates that fix the vulnerabilities of the WebKit.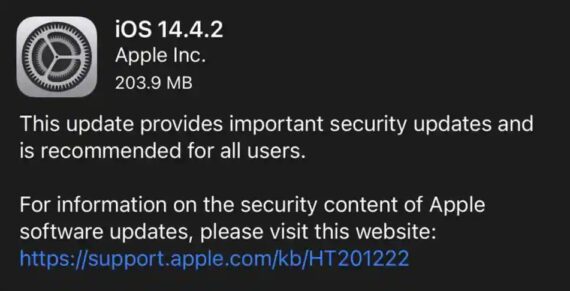 The surprising thing that took place is that Apple has even taken the responsibility to update the older versions of devices that run on iOS 12. The previous iPhone and iPad models such as iPhone 6, 5s, and the 6th generation iPod touch are on the list of devices for the update.
The previous versions of iPad models such as third-generation iPad mini, first-generation iPad Air can get this update. This implementation from Apple means that previous-gen models are also vulnerable to the security issues faced by the WebKit flaw.
Details on Upcoming iOS 14.5 Firmware and Steps to Update the current iOS 14.2.2
The update is available for the above-mentioned Apple devices and you can install it right away. Head over to the Settings App and select the General option and there you can find the Software update section.
In short, Settings > General > Software Update and you are good to install the new update from Apple. Apart from this update, the company has planned an iOS 14.5.
The iOS 14.5 update for iPhones and iPad will give a new array of features that are the ability to unlock your iPhone using the Apple Watch. This feature is a long-awaited one as many people were facing difficulties unlocking their device while wearing a mask. The update will ensure an app tracking transparency feature that requires the user's permission to access any data if the developer wants to have a look.