We have always witnessed new trends in the field of gadgets. In 2016, we saw dual cameras getting to almost all the major smartphones. In this year, dual cameras became a standard and 18:9 near bezel-less displays became a trend.
Maybe, foldable displays will become the next trending thing on gadgets. ZTE has begun manufacturing a foldable phone with their Axon M. Surprising news is Apple recently filed a patent for a foldable iPhone.
Foldable iPhone Might Come out Soon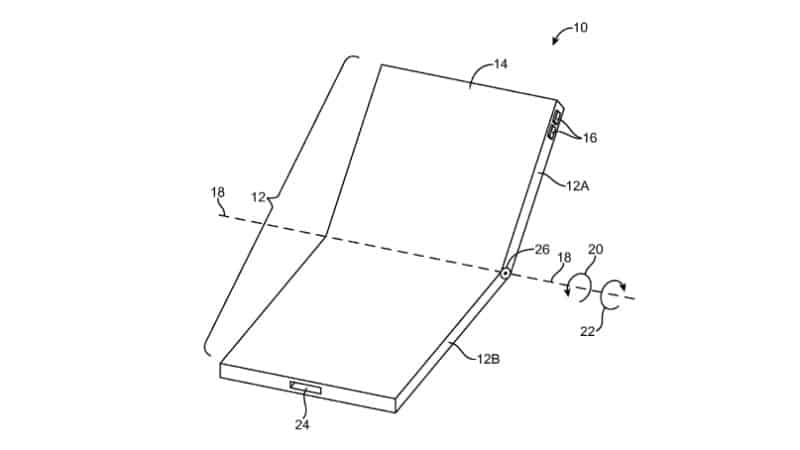 In complete silence, Apple applied for a phone with foldable displays about three years ago. However, the US Patent and Trademark Office (USPTO) granted it this month only. You might have already read news claiming Apple was working with LG on a foldable iPhone. Apparently, the phone sports a flexible portion and can be folded like a book.
What you saw above is an image from USPTO's website. If the phone ever comes out, it will have OLED panels and a metallic hinge that joins both parts of the display.
When it comes to innovations, Apple's iPhone has no good rating. They were slow in bringing OLED panels, wireless charging, and also waterproof rating, etc. Nonetheless, the date they applied for the patent indicates that the company is way ahead of the competition when it comes to the foldable smartphone.
Earlier, reports have come out saying Apple is going to work with Samsung and LG on foldable displays given the formers OLED panels are considered as the best in the industry.
In the patent application, Apple says the device will have flexible portion that allows it to be folded. Moreover, the flexible display bends along a bend axis on folding the device.
Following the paths of ZTE, Samsung also started working on their foldable smartphone. Dubbed as Galaxy X, the device might come out in 2018. Meanwhile, LG also started testing own foldable OLED panels.
At the present scenario, Apple only got the patent granted. That doesn't mean they will start manufacturing the device and bring it to the market at once. We won't see them doing it until 2020.
To recall, ZTE Axon M sports a dual 5.2-inch capacitive LCD screens. They couldn't include an OLED panel, maybe, due to the lack of resources. Moreover, it packs in a Snapdragon 821 underneath the hood, coupled with 4 GB RAM and 64 GB onboard storage, which you can upgrade up to 256 GB using an external SD card. Axon M carries almost all the other features you expect in a flagship smartphone.
What do you think? Is foldable display going to be the next big thing in 2018?