People consider owning an iPhone as a symbol of luxury. But the recent news suggests that the scene has been changed, at least in China. The first time ever in the history of Apple, the company's market share has fallen (as a continuation of what happened last year).
We saw a lot of small smartphone companies capturing the market in the last year, with their budget devices even with flagship specifications. The company should look into what went wrong in China. Or else, those budding companies won't need much time to remove the legendary brand from the picture.
Apple's Market Share in China has Decreased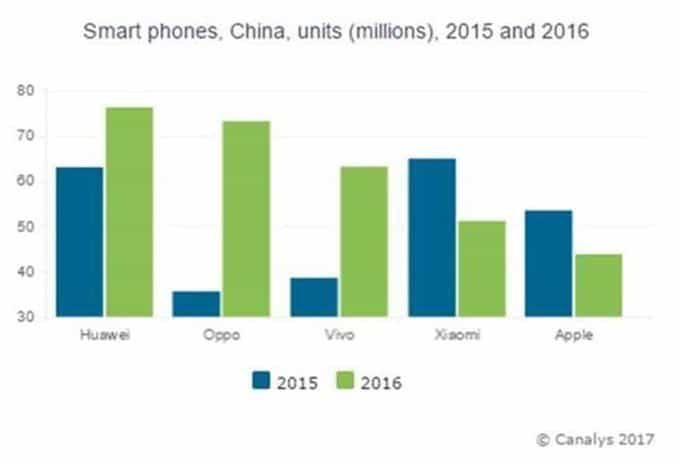 What we took in surprise is the growth of Oppo and Vivo. Even though Huawei is what topped the list, the growth percents of the other two companies are really stunning.
Oppo couldn't even touch the 40 million in the number of devices they shipped in 2015. Still, they managed to ship 73.2 million devices last year. After a simple calculation, you will find out that the growth rate is more than 200%.
When it comes to Vivo, the story is a tad different. They were ahead of Oppo in the number of shipped devices in 2015. Even though the company achieved unbelievable growth percentage, they couldn't beat Oppo this time.
In 2016, Huawei topped the list slightly above Oppo with 76.2 million device sales.
Research done by Canalysis revealed the fact that the smartphone sales in China saw 11.4% growth in 2016 as compared to what experienced in 2015. Still, the drop in iPhone sales should puzzle Apple. They could only ship 43.8 million units with a year on year decline at 18.2 percent.
Also Read:- Apple Reportedly Made a 1.2 Billion Deal with Samsung to Supply OLED Panels
The analysts stated that the growth of Huawei, Oppo, and Vivo is due to their focus on tier 2, 3 and 4 cities. When Apple and Xiaomi concentrated in promoting their devices in tier 1 cities, all other three companies took effort in digging the lower levels. And well, the results have become astonishing.
In an in-depth analysis, we can't say the decline is consistent in the case of Apple as they have got tons of loyal customers. Then, why did the sales drop happen in 2016? The speculations point to the possibility of them (loyal consumers) taking a year off from purchasing the device (it is most likely that you won't buy an iPhone in the second year given that you bought one in the first).
So, when iPhone 8 comes out, we expect a massive growth in numbers. Well, let's see!