The Do Not Disturb app from the Indian Telecom Regulator finally arrives on the Apple Store. The dispute has been going on over for months between TRAI and Apple over the inclusion of the DND app.
What was the issue?
Apple and TRAI had been struggling on the issue for over a year on the DND app. The smartphone company had been trying to avoid this speculation for years. They weren't ready to include the app in thier App Store due to privacy concerns. In July, TRAI issued a directive to Indian Telecom Companies that the phones not supporting the DND ap would be banned in India.
TRAI'S directive to telecom Operators
Every Access Provider shall ensure, within six months' time, that all smartphone devices registered on its network support the permissions required for the functioning of such Apps as prescribed in the regulations 6(2)(e) and regulations 23(2)(d)," TRAI noted. "Provided that where such devices do not permit functioning of such Apps as prescribed in regulations 6(2)(e) and regulations 23(2)(d), Access Providers shall, on the order or direction of the Authority, derecognize such devices from their telecom networks.
Though the above directive did not directly mention Apple's name it was very clear since it is the only phone to not support the Application. Apple has always been one step ahead when it came to keeping the user's data private. And the TRAI-DND app required permission to access user's SMS and call log's which the company feels should be present there. But to avoid the ban threat imposed by TRAI, Apple had to lay down the standoff and finally brought the Application to the App Store.
How does it work?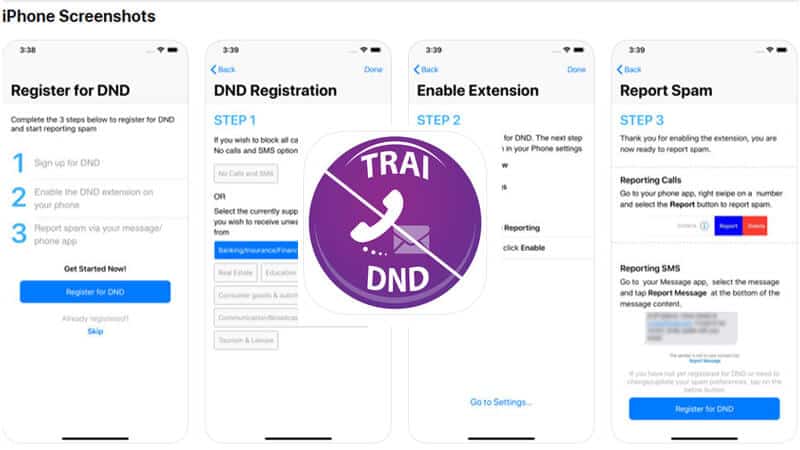 The app will be made available to all the iPhone user with iOS 12.1. After installing the app, you would be guided to a three-step process to register yourself before using it on the phone. Once you have registered to it, you can now directly report spam messages and calls. You can also report the telecom calls from the app itself.
Though, keeping the privacy concerns in mind Apple has issued a warning statement after you have activated the DND app. To ensure that the iPhone users can now take their privacy setting in their hands altogether, the alert says
Enabling this SMS/ Call reporting allows your device to send to the developer of this app information about your calls. For receiving calls that you report, the developer will receive information about the call, such as the caller's number and the time of the call.

For received text messages that you report, the developer will receive all the text, content and sender information. These messages may include verification codes from banks or other institutions.