Before Android KitKat, Recording an Android screen is never easy. Finally, from Android KitKat, Smartphones started supporting applications which can record your screen activity. Today there are many free and premium android screen recorders with plenty of options. The best part of these Android screen recorders is, you are just a click away to record android screens. The bad part is limitations. Not all applications will give you full access for free. However, there are possible solutions to avoid these limitations. Either you can download and install limit free android screen recorders or you can go premium.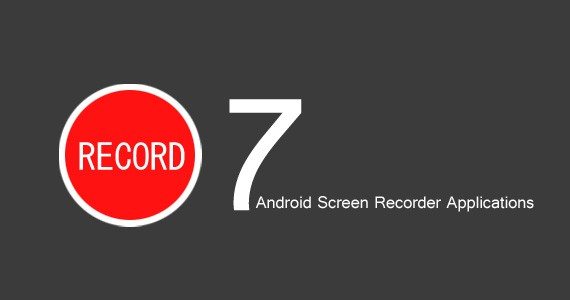 Many people might have no interest to spend money on simple things. Why should you waste your money, if there are best android screen recorders which meet your requirements?
Android Screen Recorders to Screen Activity
Here are 7 tested android screen recorders which are capable of recording the screen. Before choosing an application from below list, I recommend you to Enable Touch Inputs from Developer options. Enabling touch inputs makes the viewer understand where the recorder is touching on the screen.
Also Read: Best Apps to turn Text into Speech
If you don't see Developer options in your Settings, then open About Phone and Tap Build Number continuously for 10 times. Then you can see a message "You are now a developer". Go back and you will see developer options.
1. Shou.TV
I have been using Shou.Tv from the last couple of months and recorded my screen many times while making tutorials. Trust me, It is the best android screen recording app with no limitations and even ad-free. It works perfectly on devices running on Android lollipop and no root access is ever required.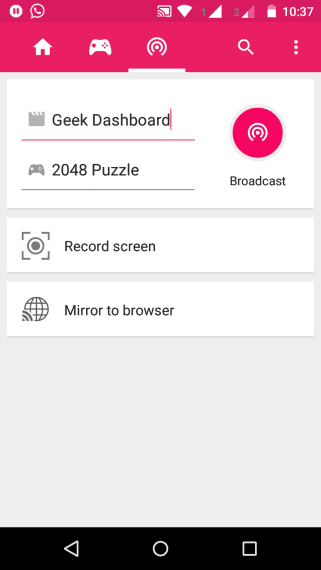 Pros
No need for root access
Unlimited time recording
Support Landscape, Portrait, and Auto modes
No Ads
Can save the video in mp4, avi, mkv and many more formats.
Cons
Works only on devices running on Android KitKat and Lollipop.
Jelly Bean devices need root access.
Need lot of permissions (not a big deal)
Bit Laggy.
 2. Rec. (Screen Recorder)
Rec. Screen Recorder for Android is the one for you if you are in a need to record your android screen along with Audio. It has a user-friendly user interface and easy shortcuts to control the video recording. Just shake the device to stop recording. This will save your time while editing your recording.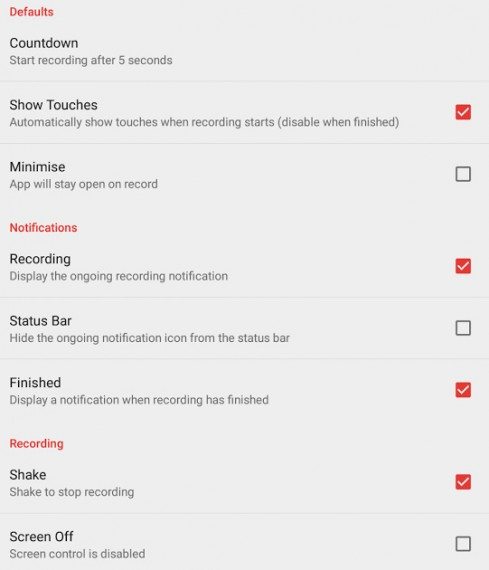 Pros:
Works on Android KitKat and Lollipop
Enable/Disable touch inputs
Shake or lock screen to stop recording
Audio Recording via Mic
HD Recording
Cons:
Need root access to KitKat devices
Maximum 1-hour recording
3. Lollipop Screen Recorder
It works only on Android devices running on the latest lollipop and no root access is required as it will use official API which is added newly in lollipop.
Pros:
Share your recording directly on YouTube or Google Drive
Records Audio
View/Deleting videos is made easier
No Root access is required
Cons:
Supports only Lollipop devices
4. Screen Recorder
Screen Recorder app will work like a charm on devices running on Android Lollipop or higher without any limitations. Devices running on 4.0 or lower need root access. In case if you need Audio recording along with video, then you should purchase pro version of same.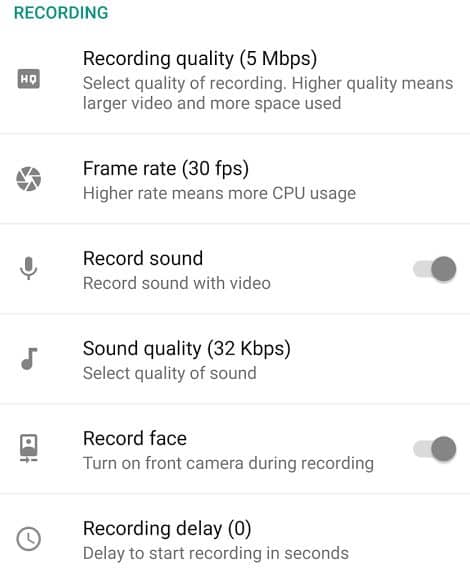 Pros:
Shows input touches
Shake to stop recording
Delay while recording start
Cons:
Root required for Kitkat or lower
No Audio recording support for free version
5. Unlimited Screen Recorder Free
Name of the application itself says, it is completely free and supports unlimited recording. This app will start recording with just one click and the final video is stored at /UnlimitedScreenRecorder folder. You can copy them to your desktop/laptop if necessary.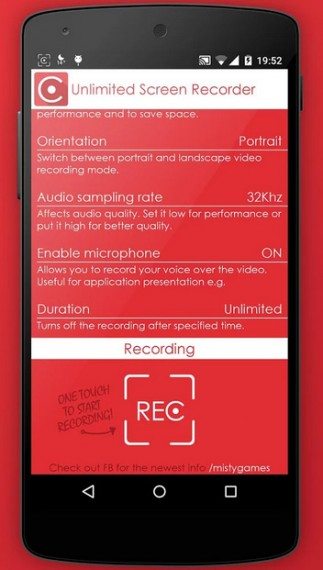 Pros:
Records Audio
No Ads
No Watermark
Unlimited Recording
Cons:
6. AZ Screen Recorder – No Root
If you feel Shou.TV is produce lagging videos, you can try this AZ Screen Recorder. It can record HD and full HD videos with hell lot of options while recording. It can show touch inputs and even you can set a time limit to stop recording after the desired time.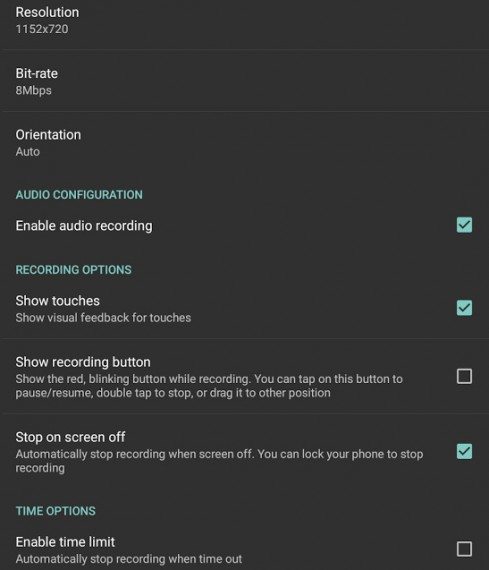 Pros:
HD/Full HD recording
Touch inputs
Lock the screen to stop recording
Can Pause the recording
No root access
No limits
7. SCR 5+ Screen Recorder Pro
If you have an idea of spending money on recording videos on your android device to take your business to next level, then try this application which costs roughly $1. It can record both internal and external audio.
Pros:
Records Internal audio
No limit
Best quality recording
Cons:
Need root access to lollipop devices for internal audio recording
Overview
That's all for now folks. I guess there are many more applications still available on Google Play to record the android screen activity. If you know any more such android screen recorders which are not on the list, let us know and we'll try to update the article.