After many speculations and so-called leaks, Google busted the bubble on Monday (21/08/17). The next Android version is called Android Oreo, much like every other version, named after desserts.
Now that the mystery of the name is out, let's have a look at the top features the new Android 8.0 brings to the table.
8 New Features in Android Oreo
The following are the whole-new features you will be getting on Android Oreo.
1. Picture-in-Picture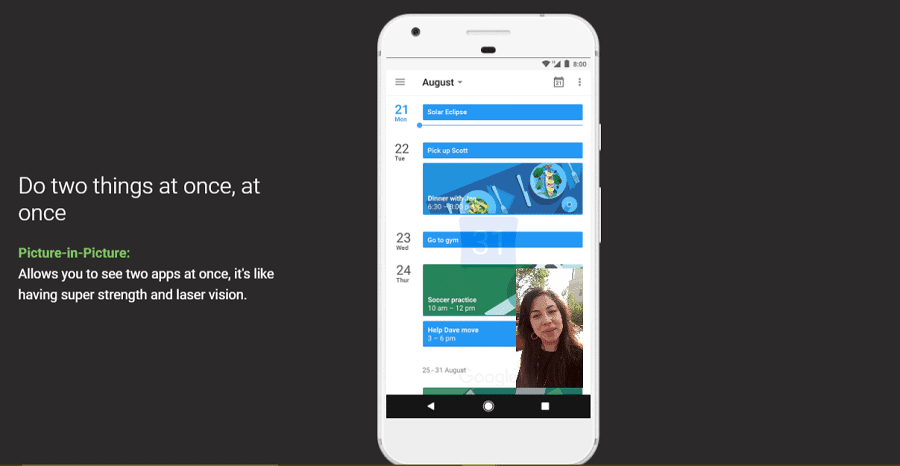 The significant feature on Android 8.0 is picture-in-picture. You can do two tasks without hindering one another using this. YouTube and Google Duo already support this. Meaning, you can watch a YouTube video and still use WhatsApp. Once Android Oreo comes to the devices, we hope more and more apps will start supporting picture-in-picture.
2. Notification Dots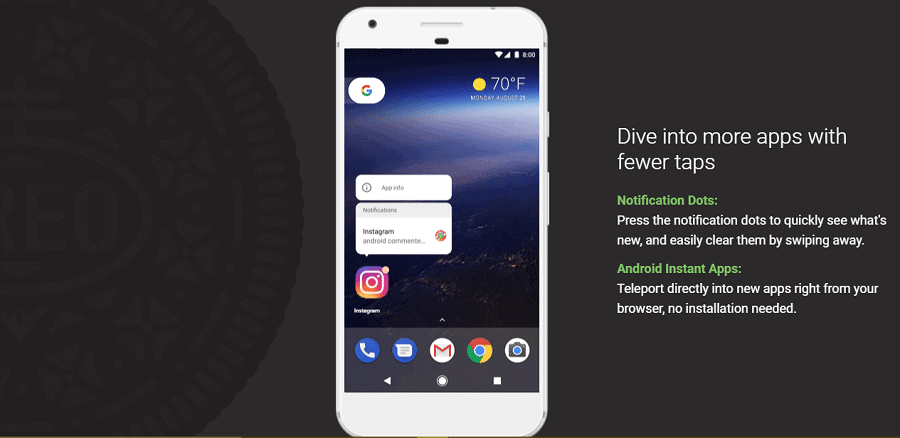 When you receive a notification from any application, Android 8.0 will show a dot on the right-top of the icon. Once tapped, you can see what's new without opening it up.
3. Instant Apps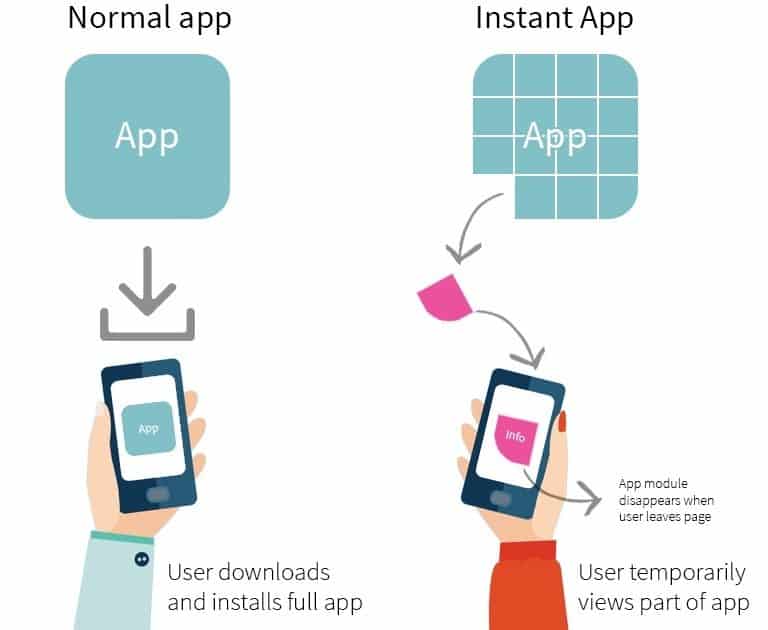 Instant apps help you use a specific service of an application without installing it. You can access it right from the browser itself. If you are a person who likes to keep the minimum number of applications, instant apps will be of great use to you.
4. Autofill
Google Chrome already has auto fill feature. If you are an app guy, you use apps rather than the websites. Then, you will have to miss the autofill feature and remember the credentials. Android 8.0 makes it easy for you by auto-filling the username and password fields with your permission. Google even made a new API available for password manager developers to avail the autofill option on users in other apps.
5. Smart Text Selection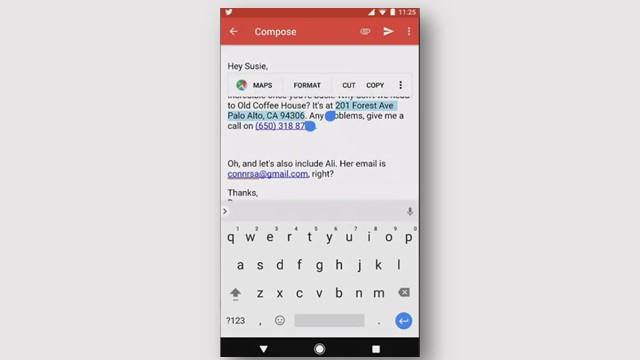 The text selection on smartphone always remained tedious. Android 8.0 embarks a solution to this concern. When you want to select the name of a hotel with more than one word, the system automatically detects it and selects the whole name. Moreover, it can also detect an entire address as well.
6. Google Play Protect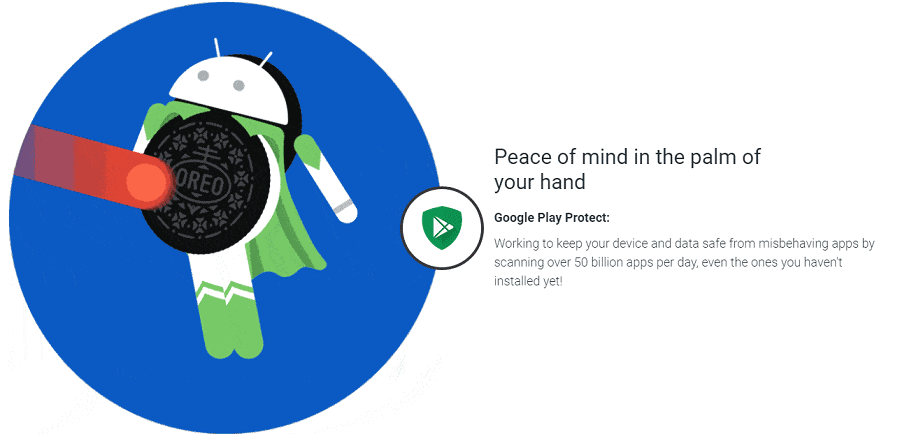 You know Play Store has billions of applications. For the same reason, you don't have a clue about the malicious ones. Google makes your life easier by scanning over 50 billion apps per day. For the scanned apps, you see a badge to identify the safety.
7. Improved Boot Time and Background Limits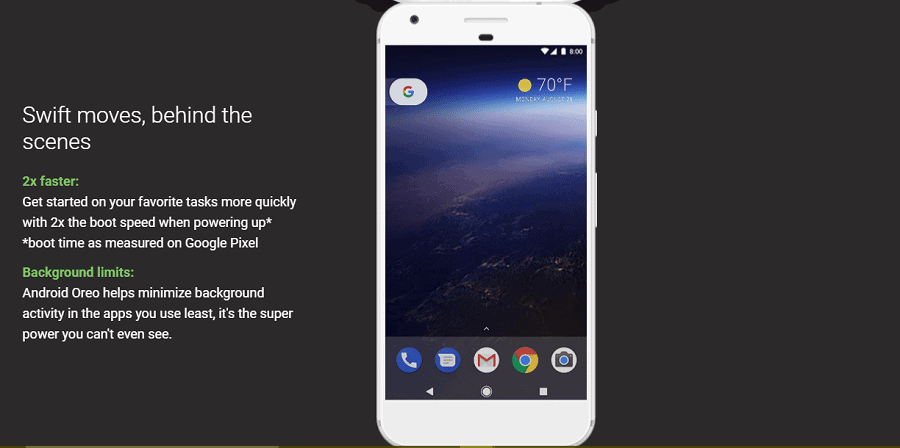 According to the official website, Android Oreo boots up two times faster than the previous version (Nougat). So, you don't have to wait much to get yourself started. Maybe Google updated most of their code to Kotlin from Java. Making 2x faster is not possible with just code optimization. Chances are high since Google announced Kotlin as Android's official language recently.
If you have apps you use the least on your phone, you can turn on the background limits for minimizing the activities.
8. Redesigned and New Emojis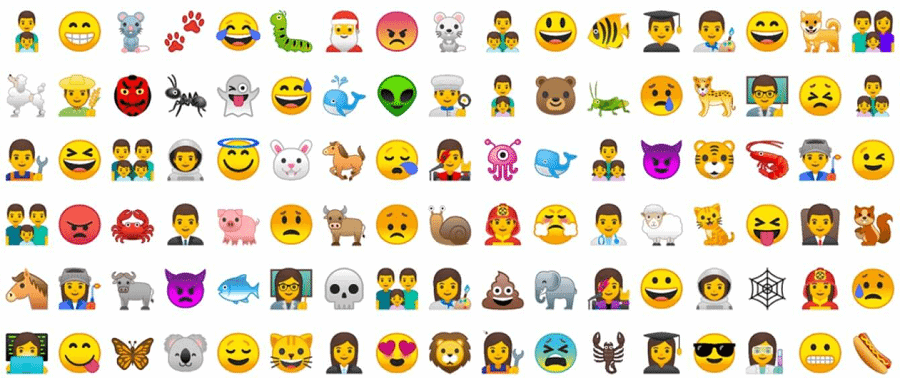 We use emojis daily on our Android device. The new version of the OS comes with redesigned emojis along with 60 new ones.
Apparently, Android O will come to Pixel and Nexus devices first. Then, we can expect other manufacturers coming up with their software updates. What do you think? Will OEMs really pull it off very soon?