Amazon is bringing new clips sharing feature on its Prime Video; that gives access to send small bite-size videos of your favorite Movies and Series. Prime users with iOS devices can now share the small clips with their friends directly and on various social media platforms.
Although, many users have found this feature on their devices; the platform has allowed the feature for limited movies and titles as of now to share the clips.
Amazon Prime Video Introduces Clips Sharing Feature
Amazon has announced the introduction of the new Clip Sharing feature on Thursday. Moreover, the platform has brought this new feature to iOS devices in the US region only.  The users can access this new feature while watching a few specific shows as of now on Prime Video. The supported shows for clip sharing from the platform are The Boys, The Wilds, and Invincible Episode One.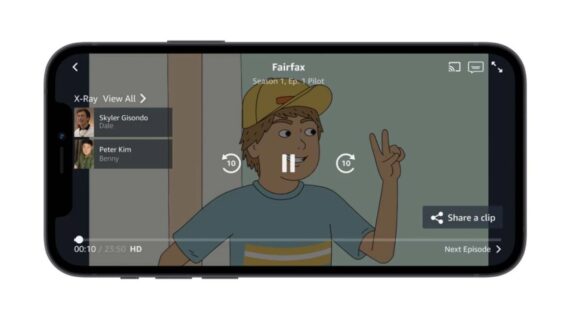 The user needs to select the "Share a clip" while watching a movie or series on the platform that enables the newly released feature. Furthermore, the option will create and show you 30-second footage on the screen; for you to edit and send to the desired contacts.
After the clip is created, you can either move it forward or backward; from the video to share the clip or send it to one of your contact on social media.
Prime Video will show you a preview of the 30-second video clip from the show you have selected right before sharing the clip to look for any changes. The next step for sharing the clip is by clicking on the 'Share' option and selecting your desired application such as iMessage, WhatsApp, Instagram, Facebook, and Twitter.
This new feature from the company is to attract more consumers when users share a clip from their platform.
On the contrary, the rival OTT platforms of Amazon – Netflix and Disney+ streaming applications; don't allow users to record or capture screenshots on the platform. Besides, all the three streaming platforms are coming up with different types of content along with versatile pricing for their plans.
This new feature from Amazon for Prime Video is one of a kind and may become successful; in bringing more users on the platform.