We know that Amazon holds a Prime Day sale every year in June. The reason being that Amazon was launched back on July 5, 1994, in the United States. Therefore, Amazon's Prime Day sale can also be termed as an Anniversary sale. Also, you might be aware that Prime Day sale features the best discounts compared to its other sales.
As seen every year, Amazon's Prime Day sale lasts for 48 hours. In India, the sale has already started on the midnight of July 15 and will end at midnight on July 16. As expected, this year's Prime Day sale brings many new launches and offers on older flagship smartphones.
OnePlus 6T, iPhone Xr and more smartphones on offer in Amazon's Prime Day sale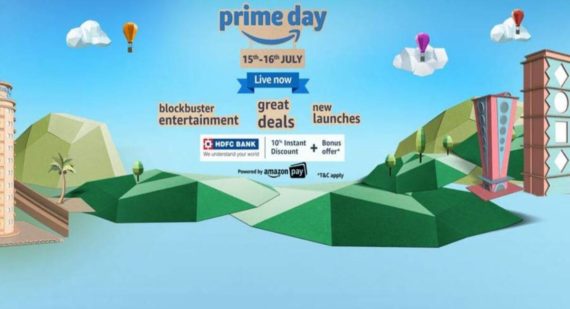 If you were waiting to buy the iPhone XR at a lower price, these two days are your best chance at it. It should be noted that iPhone XR was already discounted earlier this year. Now, Amazon Prime Day sale offers you the iPhone Xr starting at just Rs. 49,999. In addition, there is also an offer on HDFC bank debit/credit cards. This offer is sitewide and offers you a discount of 10% up to Rs. 1750 on your purchase.
This means that you can buy the iPhone XR for an even lower price than the OnePlus 7 Pro. Talking about OnePlus, there is a discount on OnePlus 6T from last year too. We already know that there were discounts on the OnePlus 6T before the OnePlus 7 series came. Now, there are even more discounts on this device.
During the Amazon Prime Day sale, you can buy the OnePlus 6T base variant for just Rs. 26,999. This price is excluding the HDFC card discount that you get on your purchase. Once you apply that discount, your OnePlus 6T is effectively yours for just Rs. 25,250. Honestly, this is the best price that you can get the OnePlus 6T for if you are not willing to spend Rs. 33,000 on OnePlus 7.
Also, Xiaomi's Mi A2 is discounted to its lowest price yet. In this sale, you can buy the base variant of Xiaomi Mi A2 at just Rs. 9,999. Keep in mind that the Mi A series from Xiaomi comes under the Android One program so it runs on Stock Android.
Huawei's P30 Pro is also discounted to Rs. 63,990 in India which was launched at Rs. 71,990. Samsung's Galaxy S10 now starts at Rs. 61,900 after a minimum discount of Rs. 9100 during this sale.