A few days before Christmas last year, Shoppers who used Honey on Amazon website started receiving a warning from the e-commerce giant. To recall you, PayPal acquired popular c0upon-finding browser extension Honey in November 2019 for an eye-popping $4 billion.
Well, to understand the situated you need to know what Honey extension exactly does. It is an extension for browsers like Chrome, Firefox, and Safari which promises to track prices and discount codes and lets buyers compare items across retailers.
The security warning was first spotted by Ryan Hutchins, he pointed out that days before Christmas, at the height of the last-minute holiday shopping rush, an ominous message appeared on Amazon.com.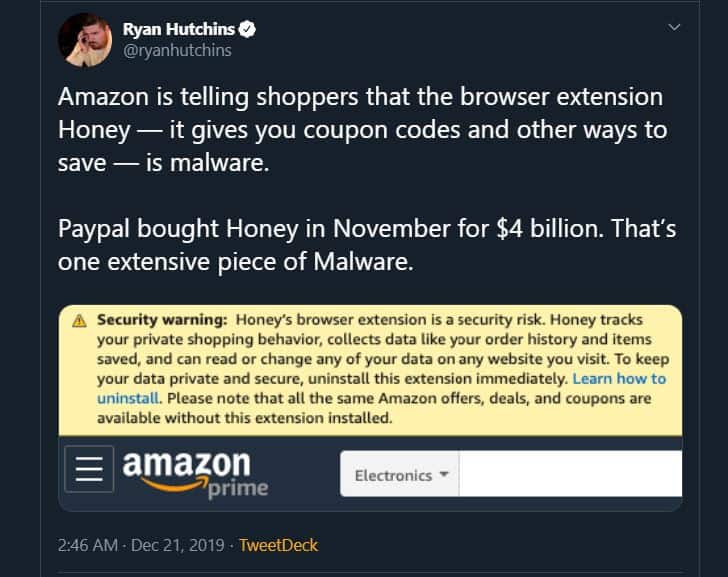 The message clearly warns shoppers that:
Honey tracks your private shopping behavior, collects data like your order history and items saved, and can read or change any of your data on any website you visit.
The message read. "To keep your data private and secure, uninstall this extension immediately". With the message, Amazon also attached a hyperlink that says "learn how to uninstall the extension".
While the statement is technically true, Honey does collect data, but its data used for its services like which coupon code is working and in which site it is working. The company's privacy policy state that Honey doesn't sell any personal information, nor does it tracks your history, email or browsing data. And they will never sell their data.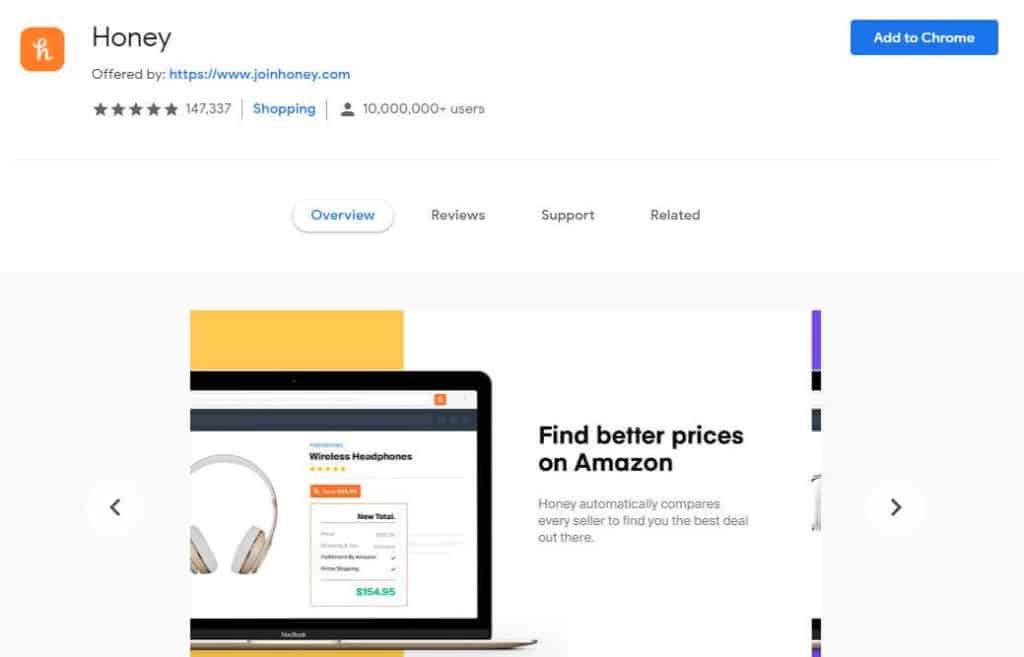 Amazon's warning began appearing on December 20 that confused and angered all the Honey users. However, the e-commerce company declined to explain why it decided to label the extension a security risk.
Our goal is to warn customers about browser extensions that collect personal shopping data without their knowledge or consent
a spokesperson for the company said in a statement. However, they declined to answer questions like- what's the basis of the claim
In all of this, a spokesperson from Honey told the wired
We only use data in ways that directly benefit Honey members—helping people save money and time—and in ways they would expect. Our commitment is clearly spelled out in our privacy and security policy.
It could be possible that the e-commerce giant is feeling threatened by the extension being owned by a competitor. Both PayPal and Amazon rivals as an online payment processor.
And Amazon still doesn't accept PayPal as a direct payment option. Well, in the e-commerce world, there's no incentive to play friendly.