You know Amazon has a voice assistant, don't you? Dubbed as Alexa, it even found its way to myriads of smart speakers, even from the parent company itself. In case you are naive, a smart speaker helps you do and know multiple things just through voice commands.
Although smart speakers are quite popular in India, communication through an Indian language was impossible. However, Amazon is going to end this by integrating Hindi and Hinglish support for Alexa so that users can talk in another language.
Amazon Adds Hindi and Hinglish Support for Alexa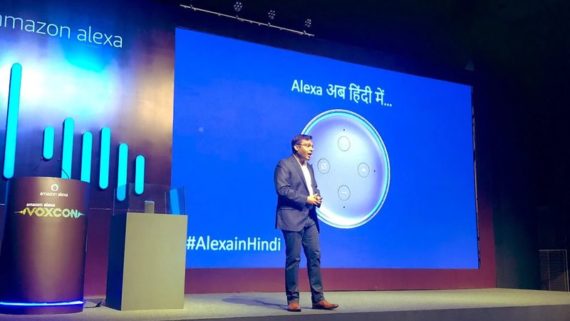 Alexa came to the country two years ago. And, Amazon's Echo lineup increased the popularity of the digital assistant. However, for a person who doesn't know English, it was impossible to get something done with Alexa. The company wants to change this scenario.
You can now talk to Alexa in Hindi or Hinglish. The users can set the former as their default language as well. The brand claims the voice assistant can now understand both in various dialects and contexts.
How can you get started? First, you have to ask "Alexa, help me set up Hindi". In order to change the device language, you have to open Language options using the application. Echo Show customers can get the same by swiping down from the top.
A few simple commands include, "Bollywood ke latest gane sunao", "cricket score batao", "sher ki aawaaz sunao", or "Alexa, apne baare mei batao".
Rohit Prasad, Vice President, and Head Scientist, Alexa AI, Amazon, said in a statement that they were thrilled to bring a suit of AI advances in multi-lingual understanding so that customers could interact with Alexa in different regional variants of colloquial Hindi. He also added they were grateful to Indian customers who contributed to Hindi development through the Cleo skill.
Not just Amazon Echo gives you the option to communicate with Alexa in Hindi, smart speakers from Bose will also get you the same. In the future, Motorola, MyBox, Boat, Portronics, Fingers, Sony, iBall, and Dish will come with this feature.
When it comes to the market condition, Amazon Echo owned 59% in 2018. Google was trailing with their Home devices (39%). But you should note the search engine titan already rolled out support for Hindi.
With the latest addition, users can ask for jokes, shayaris, Kabir ke dohe, games, Bollywood dialogues, Panchatantra stories, and even spellings of words in Hindi.
Nonetheless, we have no timeframe when the company expands the support for other Indic languages.