Adobe Photoshop Camera App is now available on both Google PlayStore and App Store for free of cost. Last year, Adobe launched a full version of its Photoshop app for iPad and confirmed that it is working on a camera app.
Now, the app is available for free and works on both iOS and Android. For now, in Android devices, the app is only supported by the latest Pixel devices, Galaxy and OnePlus smartphones.
What is Adobe Photoshop Camera App
The app has a simple UI with filters listed on the bottom. In the top center, there is a three-dot menu for settings and on the right a camera flip option. With the app, users can capture new photos with filters and can also edit existing images. But, the app can not record videos currently.
The camera comes with over a dozen filters that include, Cosmos, Pop Art, Portrait, and more. The filter is applied while capturing photos. Applying filters is pretty easy, users just have to swipe the screen to the left for new filters. Users can also add filters to favorites to use them later easily.
It uses Adobe's Sensi technology to detect and separate several elements like background, scene, and objects like windows, walls, etc.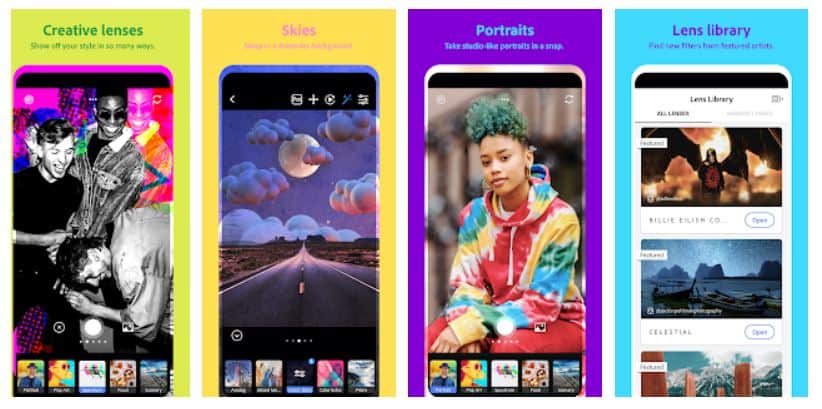 Plenty of Filters to pick
Moreover, the app comes with a dedicated lens library. The lens library has a variety of effects such as interstellar, Pop Ar, Spectrum, Artful, Blue Skies, Reverie, and many more. It allows users to download more filters and users can also create their own lenses and share them.
After clicking the picture from the app, users can do basic editings such as brightness adjustment, contrast, saturation, shadow, crop, and more. There is a magic wand button, it makes the necessary editing to the photo automatically. Furthermore, the clicked photo can be shared on social media platforms like Instagram and Facebook directly.
In addition, Adobe intends to add more filters over time, some of which would come in partnership with artists and creators. There are some collaborations already available, one of them is with Billie Eilish (American Singer and Song Writer). The app uses the same smarts that powers other Adobe apps in the Creative Cloud Suite. Also, Adobe offers cloud storage plans as an in-app purchase within the app.