Snapchatters have got another reason to stick to their favorite social media app. The Venetian company Snapchat Inc. wants you to use not just the front facing camera, but the rear cam too.
The relatively new social media app found a new-born interest of people towards their platform last year. It is a few steps away from achieving 150 million in the number of daily active users.
The company has rolled out a new update on the last Tuesday with a few new features including world lenses.
Learn the Method to Use New Snapchat World Lenses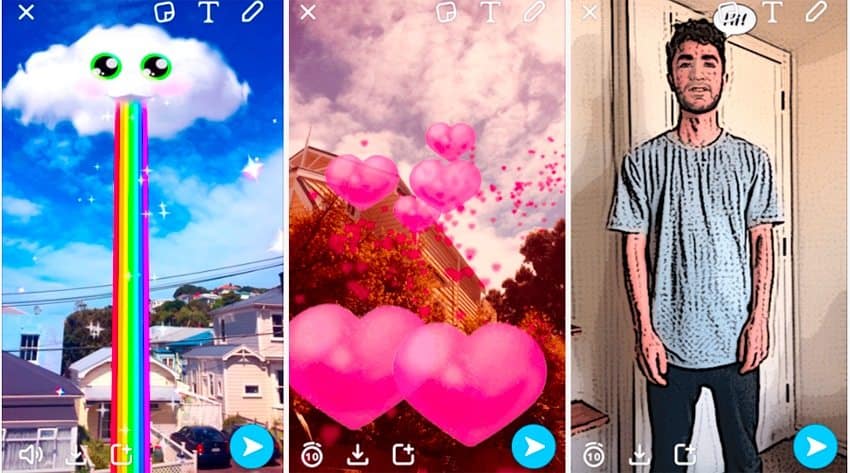 You got to use the lenses, as Snapchat calls them itself, with the front camera only. But it seems like the company is interested in the recent augmented reality hype. That's why they chose to decrease the width of the border between the real and digital world with the Snapchat world lenses.
You can implement a sleepy cloud lens on the picture of the sky real-time. You can make a cloud puke rainbow. And, you can even manipulate the picture of your friends in a funny way. Unlike other filter apps available on the web, you don't have to capture the camera and apply the effect. Everything happens real-time.
During my experience with the new world lenses, I felt some of them resemble the filters on much-celebrated Prisma app.
So, how to use the new lenses? It's no big deal! You have to install the latest update on your device (available for both Android and iOS). Open the app and switch to rear camera. Ensure the camera focuses on a clear object. Once you set the focus, just tap on the display. There you have it!
Download from App Store
Download on Google Play
Snapchat keeps on adding more filters to the range of world lenses.
The update includes some other features as well. You can now tap and hold on a snap to share it instantly. Another added option is the ability to rewind snaps. You get a dedicated button on the left side of the screen to rewind or go back. It is possible to head back to the beginning of the snap as well.
Also Read:- Google Tango Hits the Public with Lenovo Phab 2 Pro
The spectacles section under My account points to the possibility of a recent launch of Snapchat's video recording specs. Rumors say the QR Code is going to make the pairing possible.
The face filters or lenses are what made Snapchat a popular social media application. The growing popularity of the same is surely a headache to Facebook and they are trying hard to compete with it.
The speculations say that Facebook will soon launch face filters for photos and you get to see stories on WhatsApp. Let's wait to see what hits the web first.