You know Reliance Jio has literally revolutionized the Indian telecom market as they imposed a way lesser tariff on data plans. Even with the Jio revolution, India couldn't improve its average connectivity speed, which is 5.6 Mbps at the moment. We must not forget the fact that India is the world's number one mobile broadband market.
As a part of providing the improved infrastructure to the public, ACT Fibernet has launched 1 Gbps connection in Bengaluru. They have already done the same in Hyderabad earlier this year.
ACT Fibernet Brings 1 Gbps Wired Broadband Connection to Bengaluru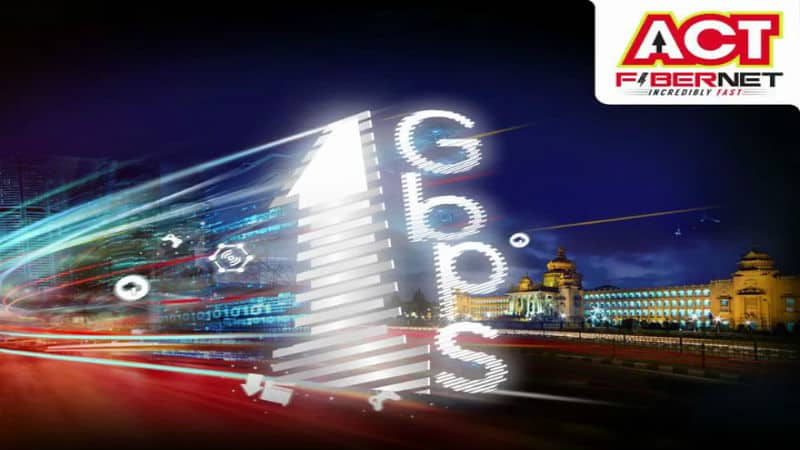 Yesterday (13-12-2017), the company has launched their 1 Gbps connection in the presence of Karnataka's Minister of IT, Bio-Technology, Science & Technology and Tourism Priyank Kharge, Atria Convergence Technologies founder and Managing Director Sunder Raju, and the company's CEO Bala Malladi.
The CEO then told the media that he expects entrepreneurs and small office or home office users to subscribe to their new service. People will have to pay a monthly rental fee of Rs. 5999 to enjoy the 1 Gbps connection.
There are two plans one available for the gigabyte connection. The first one, called ACT GIGA plan is available for Rs. 5999 per month offers 1250 GB FUP and the speed will go down to 1 Mbps post FUP. If you subscribe to the service for six months by paying Rs. 35994, you will get a month's service for free. Obviously, the free usage time will go all the way to two months as you subscribe to the service for a year.
The second plan, named ACT SME GIGA Plus, have 5 TB FUP limit with 5 Mbps post-speed. You have to spend Rs. 15000 for the higher plan.
Also Read:- You can Now Buy SIM Cards from Amazon India
At the launch event, the company demonstrated the downloading speed of their gigabyte connection with a 2.2 GB file. The new connection took only 20 seconds to complete the download whereas a 100 Mbps connection did 2 minutes. You must note that the 1 Gbps connection is available through wires only. Nonetheless, an official said ACT can deliver up to 600 Mbps wirelessly in close range.
Despite the monthly rental fee, you have to shell out Rs. 5000 for installation as a new customer. In case you are already an ACT customer, the installation will cost you only Rs. 2500.
With the new high-speed 1 Gbps connection having under the belt, ACT directly competes against Jio's upcoming Fiber broadband and Airtel's V-Fiber. We have to wait for observing the impact the upcoming Jio's connection impose on other carriers.