There are a variety of applications for screen recording on the internet that serve the purpose but need a few handy features. There are fewer customization options, and the audio capturing might get disrupted in a few cases, which can frustrate any user while recording important classes or favorite shows.
You can overcome these issues while recording using the AceThinker Screen Grabber Premium. The Screen Grabber Premium software from AceThinker is a foolproof solution for recording your screen on Windows and Mac. The screen-capturing aid can record activities like video streaming, gameplay, video chat, business demo, webinar, podcasts, etc.
The Screen Grabber Premium features a few nifty features like selective screen capturing and support for multiple output formats. Besides, the team at AceThinker has even added an annotation option while recording, along with your preferred audio input.
Furthermore, the software even works flawlessly as an audio recorder and screenshot grabber with multiple format support. On the other hand, the tool is available for various operating systems, which we will discuss in the later part of the review.
Let's check out the brief rundown of AceThinker Screen Grabber Premium's complete feature set and supported operating systems and Review:
AceThinker Screen Grabber Premium Key Features and Supported Platforms
The AceThinker Screen Grabber Premium, with its ability to record or capture screens, can be easily used by anyone, even if they are rookies. The interface has a much simpler look, making it accessible to all features in one place. Various recording options are available on the platform for each activity you decide to do on your computer.
The software can capture online lectures and live-streaming videos from all prominent video hosting websites for later watching. On the other hand, you can use the software for recording your gameplay video on PC and share it with friends and other gamers on Twitch, Facebook, etc.

The tool can even record videos for creating presentations with the live video chat recording from Skype, Google Meet, and more. Similarly, you can use the tool to make video lectures featuring customized texts, arrows, etc., and share them on any social media platform.
A few notable features of the Screen Grabber Premium include recording videos in customized areas, annotating, and supporting different audio and video output formats. Instead of using the traditional Snip & Sketch on Windows, you can use the screen capture feature. The feature supports a different number of image formats and customizations.
Custom Recording Area: Depending on your needs, you can record the entire screen or only a particular portion, solely webcam footage or the region around the mouse.
Record Online Video: Capture online lectures and live-streaming videos from all prominent video hosting websites for later watching.
Record Video Tutorial: Record your computer's desktop and add personalized text, arrows, and other elements for sharing anywhere.
Annotate the Recording: To make your video more educational, you may utilize the editing option to add words, lines, arrows, call-outs, etc., as you're recording.
Record Webcam: Record yourself on the webcam for making a live tutorial or a presentation on Zoom, Microsoft Teams, Skype, Google Meet, and more.
Record Gameplay: On your PC, record your gameplay, then post it to Twitch, Facebook, and other gaming communities.
Preferred Audio Input: You can decide whether to record voice through a microphone, computer system sound, or both.
Supported Platforms and Formats
Windows: Windows 7, Windows 8, Windows 8.1, Windows 10, and Windows 11
Mac: Mac OS X 10.10 and above (including macOS Catalina and macOS Mojave)
Video: MP4, WMV, MOV, AVI, GIF, M4V, F4V, TS (Mac only MP4)
Audio: MP3, AAC, WMA, M4A, CAF (Mac only M4A)
Image: PNG, JPG, JPEG, BMP, GIF, and TIFF (Mac only PNG)
AceThinker Screen Grabber Premium: Installation and User Interface Overview
The AceThinker Screen Grabber Premium comes with a minimal-looking user interface with only features that matter the most on the home screen. Besides, the installation file of the Screen Grabber Premium comes in a compact file size. You can easily download AceThinker Screen Grabber Premium for Windows and macOS computers from the official website.
The file downloads quicker as the file doesn't take up much space on the PC's storage, and you can proceed to the installation process. There are no third-party extensions or any other software that installs while installing, and the overall setup is clean.
The user interface of the Screen Grabber Premium directly lands you on the home page that features the buttons like Video, Audio, and Game recorder options. Moreover, there are options like a single window recorder, webcam, and phone recording. Besides, in the menu options, you'll even find all kinds of preferences settings for recording, audio, video output format, and much more.
AceThinker Screen Grabber Premium: Review and Guide
The Screen Grabber Premium from AceThinker works flawlessly in recording your screen with the right audio input without any fuss. The company has included modes for every occasion of recording for your computer. Users can select their preferred way of recording the required session, such as Gaming, Live Class, Video Tutorial, and many more.
The platform even comes with support for recording mobile screens, where you can connect your device and record it right away. Besides, the recorder has handy features like Auto Stop, Task Schedule, and Record with or without a watermark. These features stand out on the software tool, which no other recording tools on the internet don't provide.
The Auto Stop feature can help you automatically stop the recording after your set timer. Besides, there's a Task Schedule option, where you can name your task and schedule a specific time, and the Screen Grabber Premium will start recording the screen automatically. There's a Watermark option, which lets you keep the watermark in the recorded video or no watermark at all.
The AceThinker Screen Grabber Premium with its powerful recording options and support for various formats, qualities, and frame rates. We'll give you a brief idea of how to start recording and select your preferred video quality, frame rates, audio input, and audio, video, and screenshot format.
1. Start Recording a video
Open the AceThinker Screen Grabber Premium on your computer and select the Video Recorder option. Here, change the preferences as per your requirements and start the recording session on the currently running screen.

2. Change the Screen Size of the Recording Screen
The Screen Grabber Premium has the ability to customize the screen size that you want to record on the computer. Users can manually select a specific area of the screen or select resolutions such as 640×480, 854×480, 1280×720, 1920×1080, and 1024×768. Furthermore, users have the option to select a specific window for recording.

3. Change the Audio Input for Recording
Users can toggle onto the System Audio or the Microphone as an audio source while recording the screen. Besides, you can make use of both audio inputs simultaneously and make gameplay and tutorial videos easily.

4. Using HotKeys for Recording and Screenshot
Using the HotKeys provided in the Screen Grabber, users can Start/Stop recording, Screen capture, Pause/Resume Recording, Show/Hide Float Panel, and Open/Close the Webcam. On the other hand, you can select whatever key combination you like for the hotkeys to work.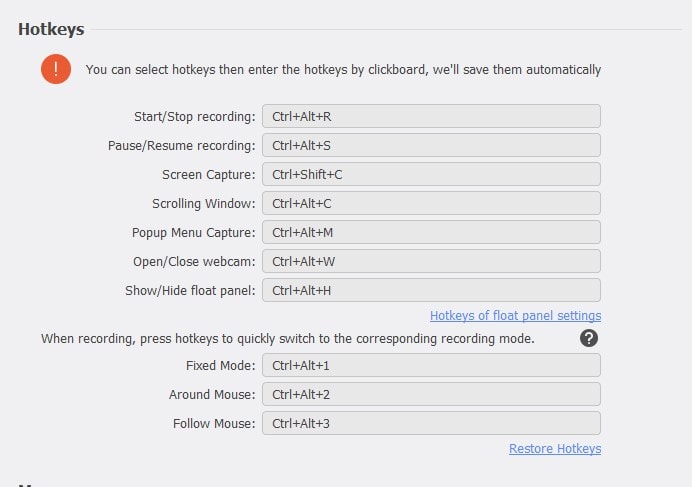 Start Recording High-Quality Audio and Video using Screen Grabber Premium
The AceThinker's Screen Grabber Premium offers a lot of recording features and a plethora of preferences for that perfect session of recording. The intelligently kept HotKeys with customizable combinations make it easier to start recording or taking snapshots quickly.
The handy features on the Screen Grabber Premium, like the Auto Stop, Task Schedule, and Watermark remover, make it a lot more convenient. The Screen Grabber Premium normally costs $72.95, but on the occasion of Christmas, there's an attractive offer running for the lifetime premium version.
Get up to 50% Off in the AceThinker Holiday Sale
Users can hop on to the premium version of the Screen Grabber at just $37.95 this holiday season.
The version comes as a lifetime subscription, and AceThinker provides timely updates along with a promise of great customer support.