Have you lost your essential files due to accidental deletion on your iOS device? Have you heard about the AceThinker Fone Keeper iPhone Data Recovery tool? The iPhone Data Recovery tool from AceThinker provides the perfect solutions to recover your lost data. This Data Recovery tool for iOS has various recovery modes for getting back your deleted files.
Many users across the globe go through tough times when they lose their important data by accidental deletion. It's just not that, but users may lose their data when their device gets stolen. Furthermore, users have lost data while updating the phone's operating system to the latest version or a malicious virus attack in sporadic events.
The tool, with its numerous data recovery options in different ways, comes with the support of many file types. As per the maker's claims, the software supports up to 30+ file types to recover from any iOS device. The compatible iOS devices date back to the iPod touch and even support the older and latest iPhone models.
We have reviewed and tested the overall features of the AceThinker Fone Keeper Data Recovery tool. Let's jump straight onto the key segments and give you a clear verdict on this powerful Files and Data Recovery tool for iOS.
AceThinker Fone Keeper: Key Features and Supported Platforms
With its powerful options, the AceThinker Fone Keeper iPhone Data Recovery tool retrieves any lost data on an iOS device. The application works flawlessly on both Windows and macOS operating systems. The wide range of file type recovery on the tool becomes an industry's best option for extracting your vanished crucial bits.
The platform works meticulously in bringing your data back in three different modes. These modes include Recovery from iOS Devices Directly, Recovery from iTunes Backup, and Recovery from iCloud Backup. In the review part, we'll discuss this trio of methods provided by the tool in a much more detailed manner.
The next notable aspect of the recovery tool is the file type support. The support ranges from an image file to a text message or any data from your social media application. You can download AceThinker Fone Keeper and install the application without any concerns. The installation package comes with utmost safety and takes up less than 50 MB. Even after the installation, the software doesn't take up much space and uses less than 200MB on your hard disk, giving you a snappy experience.
Key Features of the Fone Keeper from AceThinker
iPhone/iOS Data Recovery: The feature will recover your accidentally deleted and lost iPhone, iPad, and iPod files using iTunes backup and iCloud Backup.
iOS System Recovery: It's a classic feature for users looking to fix their broken iOS devices like iPhones, iPad, and iPods and bring it back to normal.
iOS Data Backup and Restore: Backup and Restore your iOS devices by connecting the iPhone, iPad, or iPod to your PC.
WhatsApp Transfer: Backup, Restore and Transfer WhatsApp chats and media between iOS devices hassle-free.
Supported File Types and Platforms of Fone Keeper from AceThinker
Supported iOS Devices: iPhone, iPad, and iPad
Supported File Types: The platform supports data recovery of two file types:


Text Content:  Contacts, Text Messages/iMessages, Call History, Calendar, Notes, Reminder, Safari Bookmark, Safari History, WhatsApp, App Document, Kik, Line, Viber, Messenger, etc.
Media Content: Camera Roll, Photo Library, Photo Stream, Voice Memos, Message Attachments, WhatsApp Attachments, Voicemail, App Photos, App Videos, App Audio from Facebook, Line, Kik, Viber, etc.

Supported PC Platforms: Windows 11/10/8/7, Windows Vista, Windows XP, and macOS X 10.10 and above (including macOS 10.15 Catalina and macOS 11 Big Sur)
AceThinker Fone Keeper: Review and Features Overview
The AceThinker Fone Keeper tool has potential ways of returning your lost pretentious data. The methods used by the application give you solutions for any data backup and restoration of the system, as well as regular applications. The installation of the data recovery tool has a simple way of just downloading the file and installing it right away.
You can download the installation package file from AceThinker's Fone Keeper official website. The package file comes with a file size of 40MB and downloads instantly with good internet speed. The installation process of the software is relatively easy and directly opens up the tool after a few clicks.
Fone Keeper will run efficiently on Windows 11/10/8/7, Windows Vista, and XP. While on the macOS, the tool supports Mac OS X 10.10, macOS 10.15 Catalina, and macOS 11 Big Sur. The tool's intuitive user interface makes it a go-to tool for retrieving your lost files on an iOS device.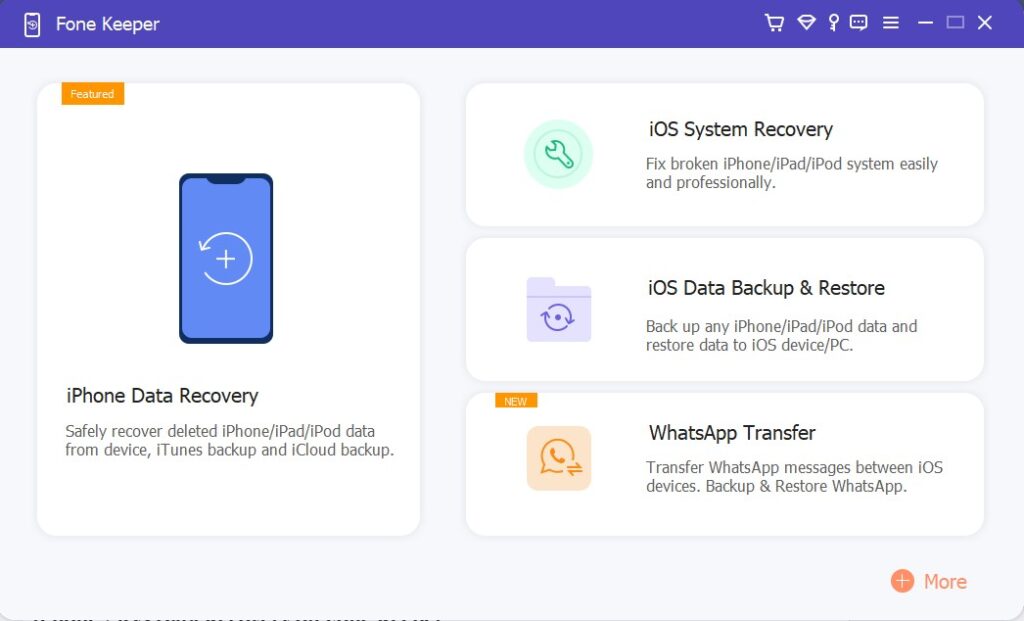 The features provided on the tool have a simple yet exciting interface giving you a brief look at all the available options. As mentioned above, these features provided on the Fone Keeper from AceThinker are Data Recovery on iOS, iOS System Recovery, Data Backup and Restore of iOS, and WhatsApp Transfer.
Let's take a quick overview of these features on the Fone Keeper:
iPhone / iOS Data Recovery on Fone Keeper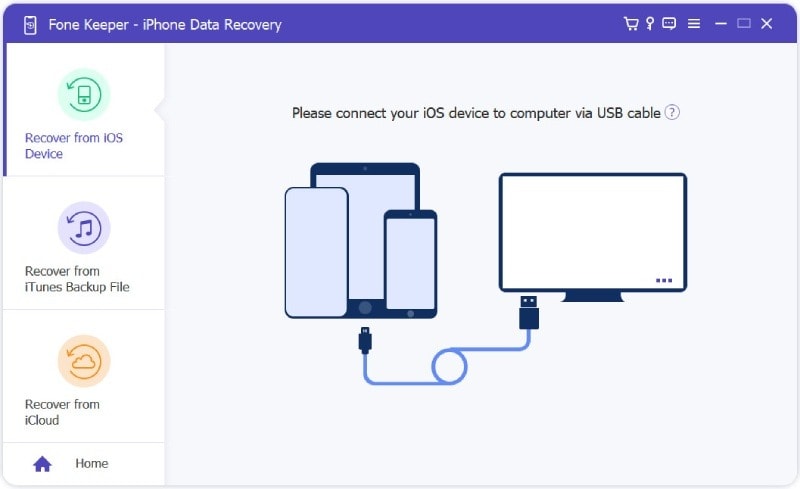 The most sought-after feature on the Fone Keeper from AceThinker comes as the Data Recovery feature for iPhone / iOS devices. Here, you can retrieve your data by using three different methods. Those modes use the iOS device and even the iTunes and iCloud backup files. As discussed, the feature can bring back any media and text content lost by unintentional deletion.
iOS System Recovery using Fone Keeper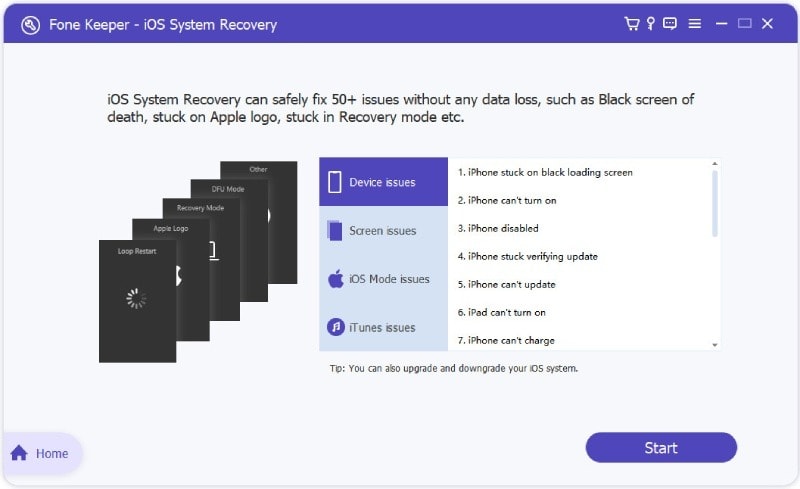 The system recovery feature provided for the iOS devices on the Fone Keeper works flawlessly with all compatible Apple devices. The feature works for devices that run into a few situations mentioned below. These scenarios include the screen turning blue, red, or black, not exiting DFU mode, death screen mode, and many such cases. Besides, you can instantly solve any issue with your device and don't have to worry about any data loss.
iOS Data Backup and Restore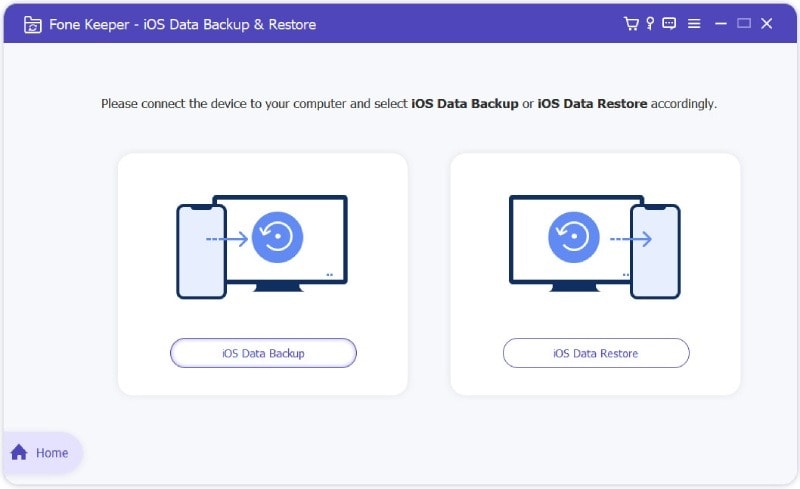 The iOS Data Backup and Restore feature helps any iPhone, iPad, and iPod user restores and back up their data. The backups from the iOS devices will occur in two methods. The tool backups up all the data in a traditional and encrypteBackuper. Moreover, the backup features all the system applications and third-party application data; the same goes for restoration.
WhatsApp Transfer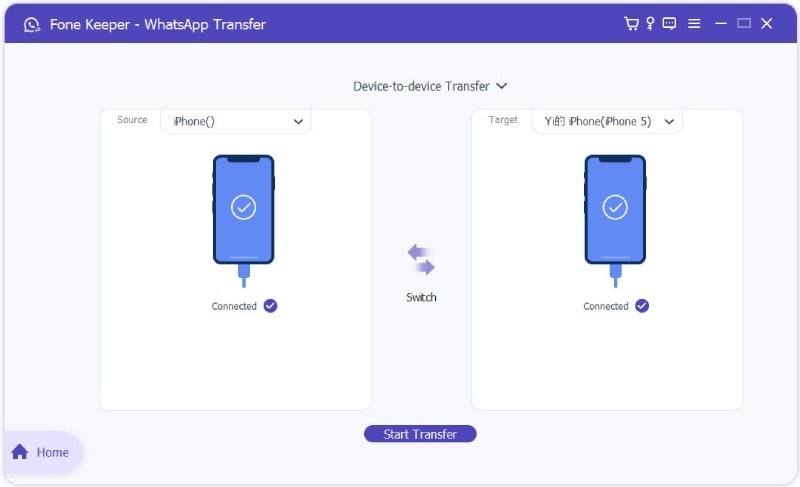 Another useful feature available on the Fone Keeper tool from AceThinker is WhatsApp Transfer. The WhatsApp Transfer feature provided on the application allows you to transfer WhatsApp data from one iPhone to another quickly. It would be best if you connect both iPhones to the PC and instantly start the WhatsApp data transfer.
Final Verdict
The AceThinker Fone Keeper has easy installation and functional features and processes. All of this makes up the best option for solving data recovery issues in iOS devices. The data recovery feature, the backup  &restore, and the WhatsApp data transfer can always come in handy. The support for retrieving all types of files from different applications makes it one of the most acceptable options for data recovery on iPhones.
AceThinker has provided the Fone Keeper software with two other additional features in its sleeves. There are a couple of video-related tools, such as the Video Master Premium and Screen Grabber premium. With its intuitive design, the tool comes with an affordable lifetime license plan. The premium version provides you with a seamless experience to fix many problems on your iOS / iPhone.