There might be many reasons behind this, most of the offices, colleges, and schools provide free Wi-Fi to their staff and students but they always aim to block many awesome and useful websites. They may include Facebook, Twitter, YouTube etc. Most of the people in those areas always try to unblock websites to access blocked websites. There are many ways to complete this task. This article helps you to unblock websites and get access to blocked websites at school and work. Using below mentioned steps you may able to open blocked websites easily in no time.
21 working ways to access blocked websites at schools and office
As I said earlier you can access blocked websites at colleges and schools using many different ways. You can achieve this task by using proxies, cache and some software applications and even by add-on's in browsers.
Here are the most commonly used tricks to access blocked websites easily at your schools, colleges, and offices. 
1. ProXPN VPN
ProXPN VPN is the best software cum application to unblock websites and to access blocked websites in schools and colleges on Windows, MAC and Mobiles. Working algorithm is very simple. Before proceeding you have create an account at their website and later download and install ProXPN VPN by following on screen instructions carefully.

Once installed you should connect ProXPN VPN to your device using your login credentials. Once your machine gets connected to ProXPN VPN, then it creates a secret tunnel via which data exchange takes place hiding your exact physical location. In this way, you can access blocked websites at any place using ProXPN VPN.
2. TunnelBear Vpn
TunnelBear Vpn also works alike above one. It works on Windows XP, Windows 7, Windows 8, Windows 10,  MacOS, All apple smartphones and in Android gadgets. Just download it from their official site and install it by following on-screen instructions.
3. HotspotShield VPN
HotspotShield VPN works on almost all popular smartphones and PC operating systems. Working logic is simple and same as above two. Just download and install it and enjoy surfing blocked websites for completely free.
4. Security Kiss
Securitykiss, it keeps it simple and smart and helps you to surf entire internet without any restrictions. It is completely free of cost and safe to use. Your personal data is never misused in any way. This is simple yet most efficient way to access blocked sites in just matter of few clicks.
5. Private Tunnel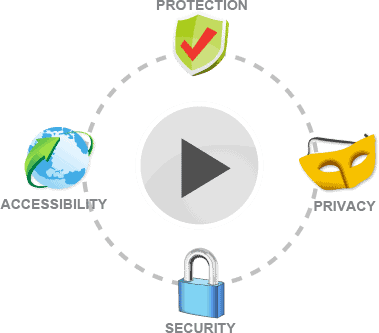 Private Tunnel is one the most trusted VPN software to access blocked websites in Windows and MAC. You can contact support team in case of any difficulties.
6. Wayback Machine
Wayback Machine is an online tool with a unique concept. This tool collect and store the cache of almost all sites. In short, you can see how does a website look a year or couple of years ago. Using this tool, select the latest cache and it will almost look like actual website. This is one the best way to access blocked websites using cache.

Just open Wayback machine tool and type URL the of required site and hit "Go Wayback!" Presto! You have unblocked the website and accessing it like a boss. But this cache trick may won't work on Social media sites.
7. Google Cache
Best part of Google search engine is they store the websites cache. It helps us to see blocked sites via these cache pages. Doing this is very simple and even a newbie can do this.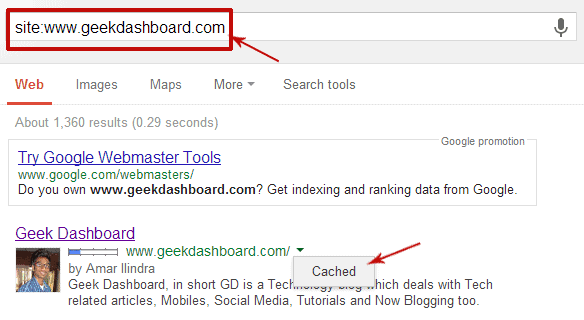 Search at Google in this format "site:www.geekdashboard.com" without quotes and wait for search results to display. At the extreme right of the search result, you'll see an option named "Cache". Kindly hit on it and enjoy surfing blocked sites in no time.
Note: Replace www.geekdashboard.com with the URL you need to unblock.
If any site is blocked in your area, then you definitely need a mediator to get connected to it. In short these proxy websites acts as same. Firstly you'll connected to this proxy site and then it connects to the blocked website, in this way you can get access to blocked websites easily using these online proxy sites. There are many such sites established on internet today but for now I'll introduce 5 best proxy websites here to access the blocked websites.

8. Hide my Ass
Name itself sounds funny right? But it is a very powerful tool and I always use this for any urgent tasks and works. According to me, HidemyAss is best proxy website till now I have used. It works very fast when compared to rest.
9. Spysurfing
Spysurfing is another proxy site which hides your actual location and connects to blocked websites in a fraction of seconds. Spysurfing even has advanced options like filters. You can remove Images, flash, scripts etc. to load pages faster than usual.
10. Kproxy
Using Kproxy, you're capable to unblock blocked websites and as a result you are able to access blocked websites in no time. But they works slower than normal. Just go to the site and enter web address you want to unblock and hit "Surf"
11. Proxify
Proxify also works on the same principle but is a paid tool and you need to login to make use of their service. However you can get one day free trail to test its power and features. If you're satisfied with it, then you can proceed to payment. According to me, HidemyAss works great than this Proxify and even HidemyAss is free to some extent.
12. Anonymouse.org
Anonymouse.org support both English and dutch language. Just enter the required url and press Enter. It works bit slower but gives the maximum result.
13. Tor Web Browser
Using Proxy tools and websites, it is impossible to access social media sites like Facebook, Google+ etc. Since it stores cookies to works perfectly which is not possible with proxies. So you need an alternative to access such sites, here comes the Tor web browser which can surf the internet anonymously hiding your identity.
You can download Tor web browser here
 14. Extension for your Browser
By Installing Hola extension in your browser, you can browser the internet anonymously hiding your physical identity. For example Facebook and YouTube is banned in china; but by using this extension you can access them, It cunningly act that you're surfing from America even tough you're in China. You can get Hola extension for your browser here
Bonus: Install Geek Dashboard Extension on your chrome
15. IP Address
Normally schools and offices block the websites by entering the URL like www.facebook.com. but each website will have a unique IP address. If you manage to grab the IP address of blocked website, then you can unblock them by accessing it with their IP address
Let me show you how to grab IP address of any website using command prompt.
Press Windows+R to open RUN box in Windows or open Terminal on Mac.
Now type cmd and press enter if you are on Windows.
In command prompt/Terminal type "ping websitename.com" without quotes and hit enter.
Note: Replace websitenanme.com with blocked website URL without http and www. Check below screenshot for reference.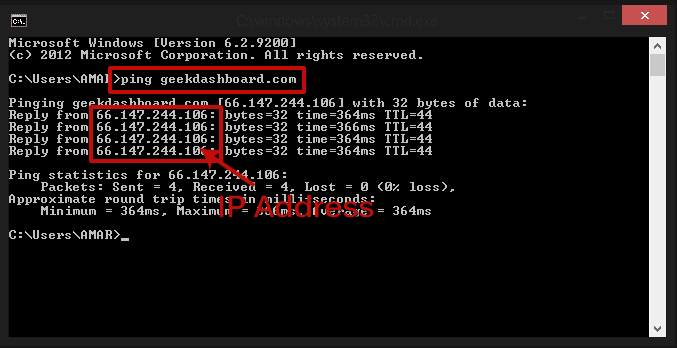 16. URL Shortener
Usually these URL Shortner's are used to minimize the size of lengthy urls to remember them easily. Later these short URL's will redirect to actual address. If Facebook is blocked at your college, using online tools likes bit.ly, goo.gl you can shorten those URL's and can access those sites even if they are blocked.
17. Adding Proxy in Browser
Most of modern browsers today support proxy. There are tons of proxy sites available on internet; from then select one the proxy site and enter it in your browser to access blocked websites at work and school.
In Google Chrome 
Doing this process is different in different browsers, if you are using chrome, go to Settings and then click Show Advanced settings and then hit "Change Proxy settings…" under network tab. Under LAN; Hit LAN settings and check "Use a Proxy for your LAN"
In address box; enter a proxy site (Click here to get list of proxy sites)
Enter 80 in port tab and hit Save.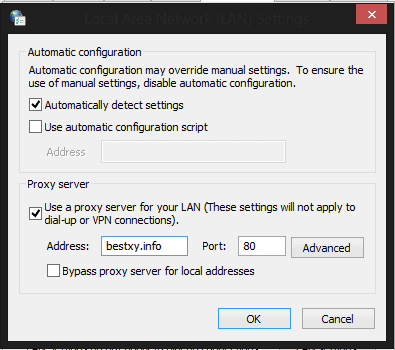 In Mozilla Firefox
From menu bar click Tools and the navigate to Options; Now click on Advanced and hit Network tab. Then click on connection settings and select manual proxy configuration. Finally enter any proxy and port name and press OK. Also, make sure you have checked "Use this proxy for all protocol".
18. Browser in Secure Connection
Generally most of the websites won't use secure connection. But few popular websites like Facebook, Google, Yahoo allow their visitors to surf securely. In order to access blocked websites at colleges and work, instead of opening websites in http:// format open them as https:// for example; if Google is blocked at your college, it may be possible to open Google as https://www.google.com/ at your end even if it is blocked in your area. It works in some of the cases.
19. Read via Email
Web2mail is an online tool which sends webpages to your mail. Signup from this site and request them to send any of the blocked site to your email. Most of the email services like Gmail, Yahoo and outlook supports html in mails, so you can access blocked websites from your email as well.
20. Google Translate
Google Translate is capable to convert any webpage from one language to other. Enter URL of website and hit translate. Normally most sites are in English langues, so select any other langues than English in FROM tab and select Engish in TO tab. Check screenshot for better understanding.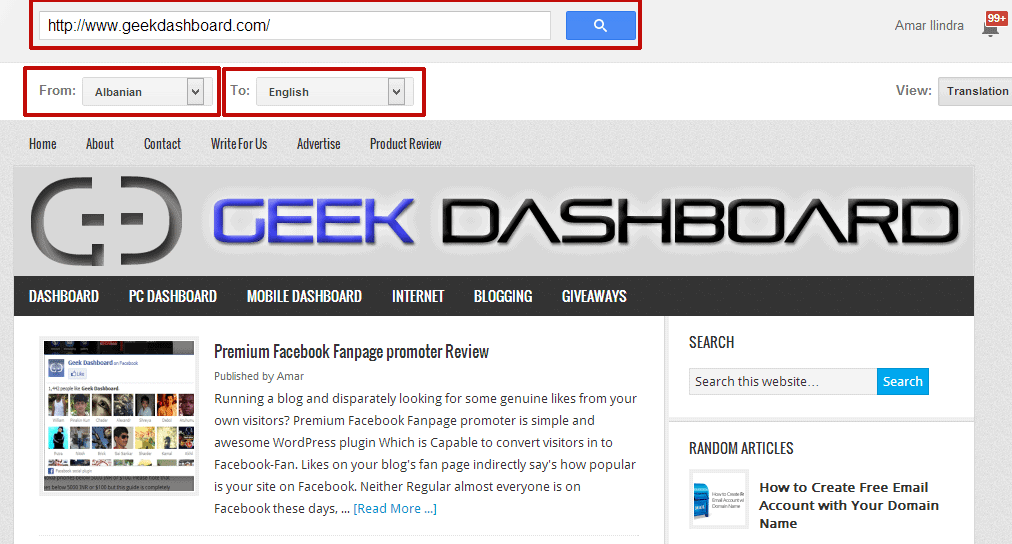 Consider Reading:
Top 10 Best Google Chrome Themes
10 Interesting Google Search Tips and Tricks
21. Using Decimal Code
Do you remember the IP address trick I mentioned above? What if even IP address is blocked at your college. No worries! you can convert it to decimal code to access blocked websites. First find the IP address of the required website using above command prompt tool and then open this online tool and enter IP address as shown below and press calculate. Finally you can see decimal code, copy and use it as new URL for your blocked website.

Hope one of these 21 tricks helped you to access blocked websites easily at your college or work. Don't forgot us while you surf internet at your college hours and consider sharing this guide with your friends and over your social media profiles and help them to access blocked websites as you did.