In the hustle and bustle of life, every person needs every detail in a short time. Every customer doesn't have the time to see every detail of the product individually by browsing multiple pages. And hence detailed information under a single roof is essential, that's why a comparison table is designed to help customers pick a product from multiple options.
Many websites use text-based comparison tables that don't grow CTR much. The graphic-rich comparison tables are the trend now and you can build them very quickly and easily with AAWP WordPress plugin for your Amazon affiliate sites.
What does AAWP WordPress Plugin Do?
AAWP is a WordPress plugin that integrates Product Advertising API (PA API) into your WordPress website. AAWP automatically generates product links, the latest product prices, discounts, and product availability in just a click.
You can also include text links, image links, product boxes, and comparison tables. It's a powerful Amazon affiliate plugin that can help you boost your Amazon affiliate earnings in a variety of ways. The majority of the manual work can be automated easily with the AAWP plugin. It cuts down on the time you spend researching and categorizing product information.
AAWP comes with handy features like Automated product data updates, caching, prebuilt templates, Geotargeting, data fields, widgets, AMP support, comparison tables, and lots more. You can learn more about all AAWP features here.
The most interesting thing about AAWP is Comparison Tables. They are fully customizable and add graphic-rich tables comparing various products from Amazon. Let's have a closer look at the Comparison Tables feature in AAWP.
What are Comparison Tables in AAWP?
AAWP comparison table pits two or more columns in such a way that it's simple to compare Amazon product features and specifications. It uses the official Amazon Product Advertising API to pull product information from Amazon, so you don't have to worry about updating information manually.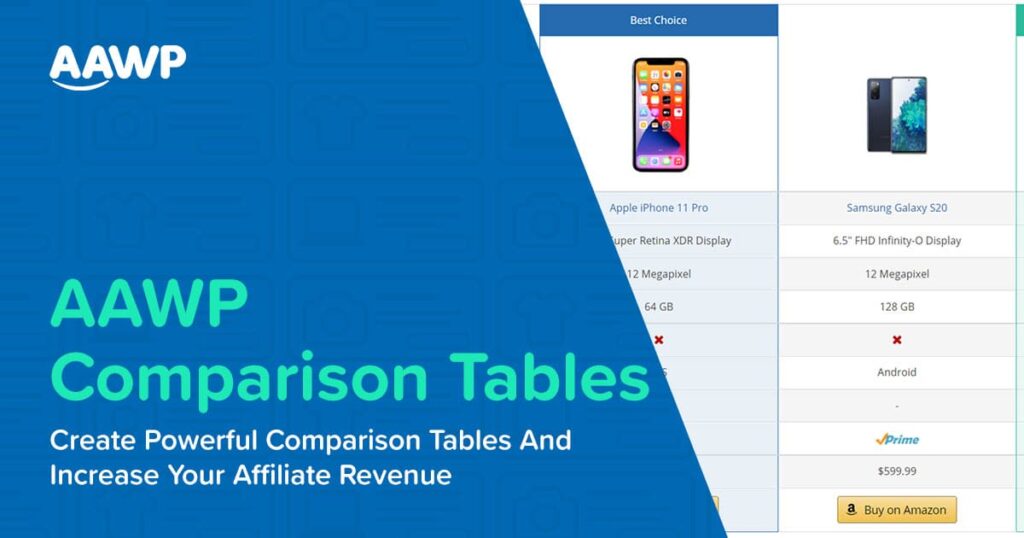 The advantage of a comparison table in AAWP is they are highly customizable including individual product data. Modifying the table layouts, colors and buttons is simple and easy.
You have the options to add as many product rows and details as you want. You can include the Price, Amazon Prime status, Reviews, and much more. After building the comparison table, you can insert it anywhere on your website with the help of a simple shortcode. The shortcode works in posts, pages, widgets, and literally anywhere on your website.
Features and Advantages of AAWP Comparison Tables
As already mentioned earlier, AAWP Comparison Tables are powerful and feature-rich. Let's have a quick look at the AAWP Comparison Tables features and their benefits.
Create One, Use Multiple times
Technically AAWP AAWP Comparison Tables are custom post types in WordPress. You can design a comparison table with all required fields once and you can reuse the same table inside multiple posts, widgets, pages, etc. If you alter the data anytime later, the changes are reflected everywhere instantly.
Updates Products Data Automatically
The price, discounts, and images can not be the same every time. They keep changing every day and it is literally impossible to keep track of changes when you are maintaining a big affiliate site.
AAWP takes care of it in the background and updates the changes daily with the help of corn jobs. In short, you just have to create the table once and the entire product information will be in sync with the official Amazon store.
Supports Multiple Content Types
AAWP Comparison Tables are NOT limited to only text data. You can include multiple content formats in the tables and they include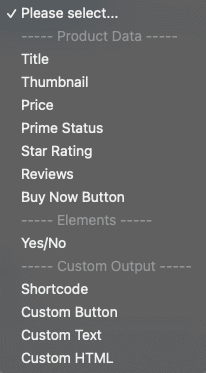 Text – for Titles, descriptions, and custom data
Images – for product thumbnails
Links – to increase affiliate earnings
Buttons
Boolean – for Yes/No checkmarks
Prime status logo
Star rating
Custom shortcodes and HTML
Adding Products to Table is Easy
If you know the exact product you wish to include in the table, you can add it with the ASIN code. If you are not sure about the product, you can search products with a related query and pick the product from the search results.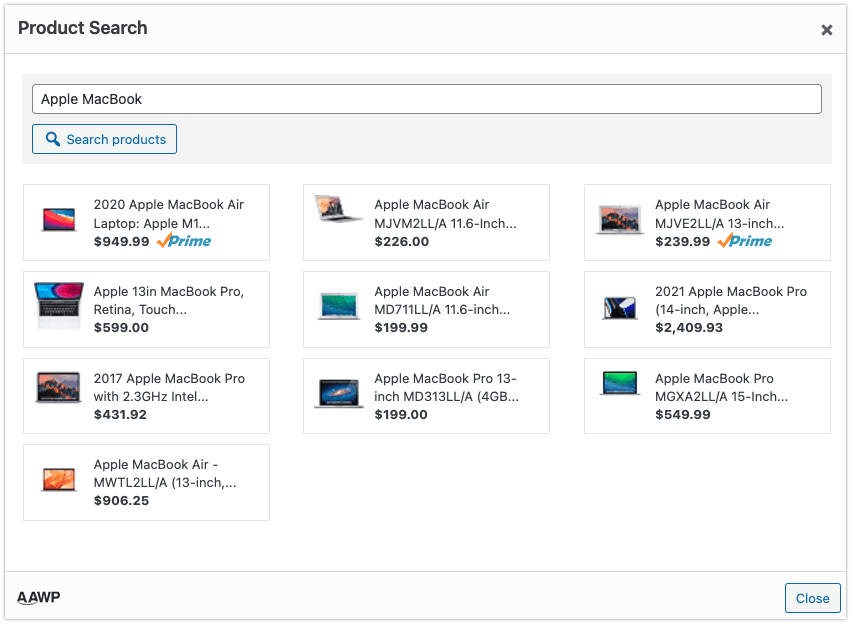 Fully Customizable
AAWP Comparison Tables come with a lot of design options to customize according to your theme layouts. You can customize button colors, and labels, re-order rows, highlight columns, force overwrite the product information fetched with PA API, and much more.
AAWP is developer-friendly and you can develop custom layouts and extend the plugin's functionalities with hooks and filters.
User-Friendly and Responsive
The comparison tables generated with AAWP are fully responsive and user-friendly. They adapt to multiple screen sizes perfectly and greatly improve the user experience. You also have the built-in options to show/hide the labels on desktops and mobiles. AAWP makes it easier for mobile users to read the information on small screens without having to constantly zoom in and out.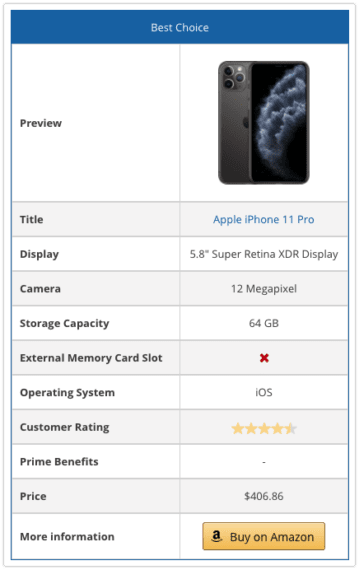 Increases Amazon Affiliate Revenue
Since the AAWP comparison tables are rich in look and information, they help users with their purchasing decision. It is easy for users to compare the products and they understand the pros and cons easily. Undoubtedly it increases the CTR and so is affiliate earnings.
No Coding Knowledge Required
Comparison tables can be created completely with a user-friendly backend. You don't need to write a single line of code and everything can be done easily with a few simple clicks. However, if you are a developer, you can fully customize the look and feel of tables using custom CSS and plugin filters/hooks.
How to Create and Use AAMP Comparison Tables
Creating a comparison table with AAWP and inserting it into your regular blog posts is easy and takes less than 5 minutes.
Step 1: Create an Empty Table
Login to our WordPress dashboard and from the admin menu, hover your mouse on AAWP, and select Tables.
Now at the top, click on Add New button to create an empty table.

Step 2: Add Products to the Table
You can add up to 9 products to your comparison table using the search feature or ASIN codes. After adding the products, you can reorder them and highlight the products with custom colors or text if required. To customize the product color and text label, click on the "show more options" link.

Step 3: Add Rows to Display Product Information
You can create unlimited rows in the table and it completely depends on your requirements. Click on the "Add new row" button and you see the following options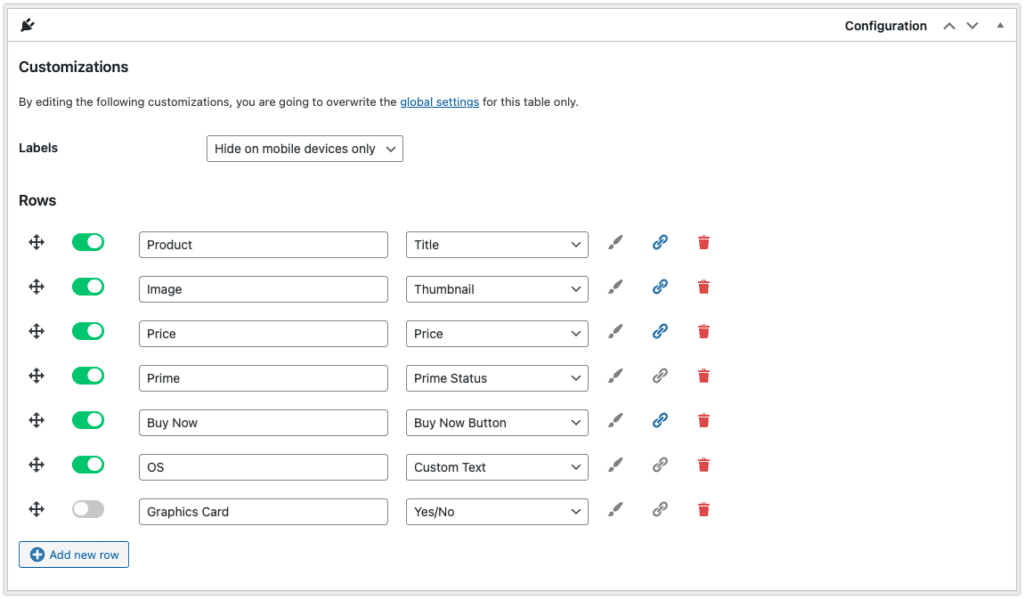 Toggle button: To show/hide the already created row in the table. This is useful if you wish to temporarily hide a row instead of deleting it completely.
Label: You can leave it empty and type the relevant terms like Title, Price, Rating, etc
Content Type: This is very important. You need to select one content type from the dropdown and it will be displayed in the table. The following content types are available

Title

Thumbnail
Price
Prime Status
Star Rating
Reviews
Buy Now button
Yes/No Label
Custom Text
Custom HTML
Shortcode
Custom Button

Highlight Row: If you wish to highlight individual rows, click on the brush icon to enable it.
Link output: To add the product affiliate link to a content type, enable the link icon.
Trash: To delete a row completely, click on the trash icon.
Move Icon: To change the position of rows, click the move icon and drag the row to the required position.
Step 4: Overwrite the default information (Optional)
After selecting the rows, the respective product data is pulled from Amazon depending on the content type of row you have chosen. However, if you are not happy with the information of any product, you can overwrite it manually for all or individual products. This is completely optional.
But if you have chosen the content type as Yes/No or Shortcode or Custom Text/HTML/Button, you have to manually fill in the information for each and every product. Else, the row data will be left blank.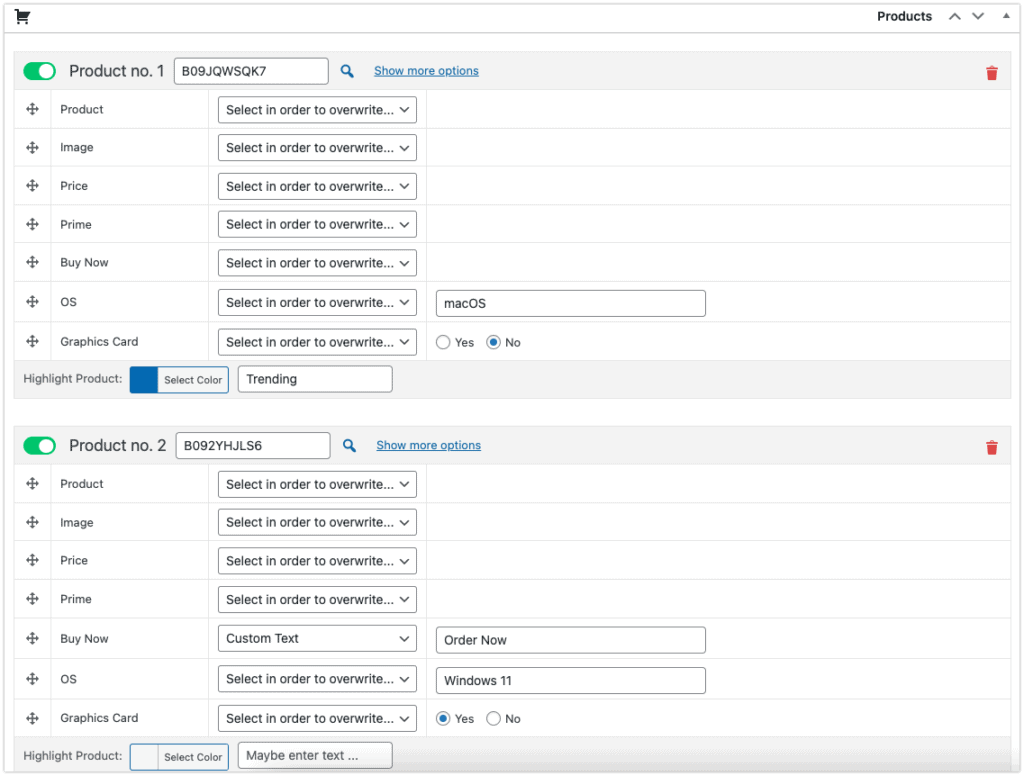 Step 5: Publish the Table and Copy the Shortcode
Give a name to your comparison table (just for your reference) and click on the Publish button on the top right to generate the comparison table. After publishing the table, copy the shortcode. It usually looks like Invalid table id. or Invalid table id. depending on your global settings.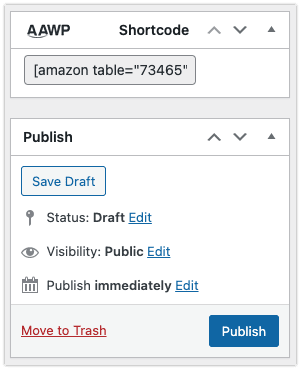 Step 6: Insert Comparison Table in Posts or Pages or Widgets
Now you are ready to display the comparison table anywhere on your website. You just have to paste the shortcode into your editor and the table will be displayed automatically. You can reuse the same shortcode at multiple places and it will work perfectly.

If you wish to make any changes to the table, head over to AAWP » Tables and choose your table. Make the necessary changes and click on Update. The changes will be reflected everywhere instantly.
This is how you can create and insert AAWP comparison tables in your WordPress website. The entire process is very simple and straightforward.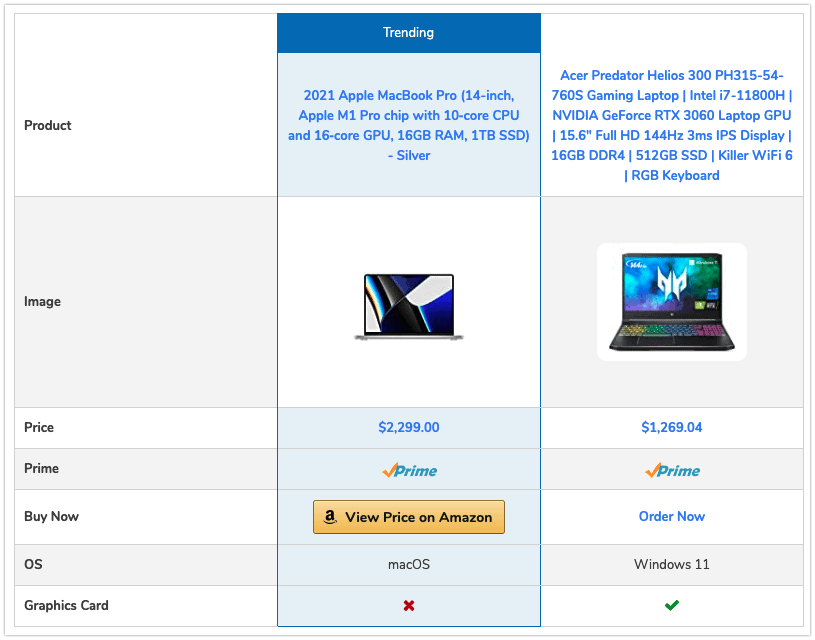 The Missing Tile: Comparison Tables Lacks One Important Feature
AAWP is undoubtedly the game changer and the Comparison Tables feature in AAWP is a cherry on the cake. They cover most of the use-cases except one common case – reusability of the table layout.
With the current implementation, the user has to create a separate table for each product variation manually. For instance, I have a list of 25 products and I want to compare 3 products in each table. Literally, there will be more than 2000 combinations and it is time-consuming to create 2000+ tables. Also, to make a minor change, it has to be done on all 2000+ tables which is not a feasible solution.
If AAWP provides an option to reuse the table layout/structure, it can be achieved with a single shortcode.
In short, we'll once create the table and define the rows and columns to generate the shortcode. But while inserting the shortcode, we can provide the ASIN codes which will populate the table data. Also, to make any changes in the table structure, we can do it just once at a single location.
Hope the AAWP team covers this use-case in the coming updates. Meanwhile, you can make use of AAWP custom templates to achieve the same but it needs hands-on experience with PHP and WordPress APIs
Get AAWP for your WordPress Site
Final Verdict
If you are into Amazon affiliates and making decent money but not yet using AAWP, it's high time to give it a try. AAWP makes your work much easier, save hours of time, and keeps the content fresh.
If you are worried about the Amazon Terms of Use, stop worrying. Amazon has officially acknowledged the plugin and even recommends using it.