Since computers entered our lives they have been constantly increasing their capacity. Nowadays we are looking at processors and RAM volumes which would have appeared to be fantastic some thirty years ago. Still, the tasks our computers and laptops need to cope with are becoming more and more complicated.
Thus users still desire more powerful computers. However, it is not only about the capacity of your computer. You may increase your productivity without actually changing your machine.
Unfortunately, the majority of users do not realize how much more effective their PCs and laptops may turn out to be when properly tweaked and upgraded.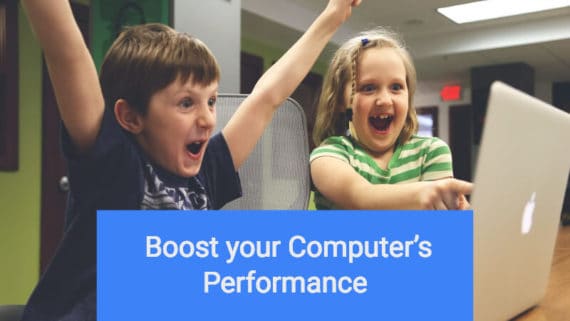 These minor changes will give your computer a 126% performance boost 
Uninstall old software's which are no longer useful.
Choose the less RAM hungry antivirus software.
Remove unnecessary files from the desktop.
Regularly scan the computer using tools like Ccleaner.
Turn off the Autostart for less important software's.
Turn Automatic updates off.
Add a few more GBs worth of RAM.
Upgrade your HDD to SSD.
Start using an external hard disk for storing less important files.
Connect to a high-speed internet connection.
Tweaking your PC at software level for a performance boost
This is a general problem of humanity. As we boosted our technological development we began to consume more and more resources. An average person consumes much more electricity, gas and water then a similar average person would consume a hundred years ago.
By the end of the 20th century, humankind has come to realize that we are actually over consuming. And then we began to care about effectiveness. But this mainly refers to natural resources.
When it comes to the resources of our computers, laptops or phones, we rather go and buy a newer model before caring to improve the effectiveness of what we already have. Still, it is amazing what results can be achieved when wisely addressing the issue.
First of all, review the applications which you have installed on your computer. An average user installs numerous applications which are not being used for months and years. Still, they slow down your system, occupy space on your hard drive and some of them launch automatically and run in the background.
They consume your RAM and CPU capacity while you do not need them at all. If you have your computer for more than a year you can be almost certain that there are more than ten such applications installed on your computer. Look at the long list of installed software and pick those programs which you have not used for over a month. Don't hesitate to uninstall them. That's already a relief.
Also Read: 10 Best 2D and 3D Animation Softwares for Windows
As a second step consider finding an antivirus solution which is not too resource consuming. Many antiviruses can slow down computers by up to 30 percent. At last, consider regularly tweaking your computer with special software. It will allow you to optimize the performance of your hard drive and RAM.
You should also keep in mind that for effective operations your system needs enough free space on its hard drive. Pay special attention to free storage on your system logical drive. Regularly empty your recycle bin, make sure you often enough deal with the cash of your most frequently used software.
Tweaking your PC at the hardware level for a performance boost
Certainly, there are not only software based issues which may negatively influence your computer's performance. Updating your hardware is also an important step to consider. And the easiest thing in this respect is adding a few GBs worth of RAM or replace your existing RAM with a bigger chip. This will significantly increase your computer's performance.
Another important factor to remember is vacuuming your computer, physically removing dust out of it. The fans which cool your CPU are constantly bringing dust from outside into the computer. As a result, they themselves become less effective, and the CPU heats itself up. In an attempt to avoid further heating the CPU will try to slow down.
The overall productivity of the computer falls. If you are hesitant to vacuum your PC or laptop, take it to the nearest service facility and let professionals take care of it. Consider replacing your hard drive with SSD storage of reasonable size. Modern SSD based drives are much faster than classical spinning disks.
Consider having the information you do not often use on CDs or DVDs. If your laptop does not have a CD/DVD drive, consider getting yourself an external CD drive or external hard drive. It is even handier than inbuilt ones since external drives do not constantly consume resources of your computer and thus your average performance increases even more.
Do not underestimate the importance of high-speed Internet connection. Many tasks your computer performs depend on the Internet connection and thus broadband access is a "must have" thing for those who care for the performance of their computers and seek to improve it.
As you can see, there are numerous ways which allow you to significantly improve the performance of your PC instead of replacing it with a new machine. Consider following at least some of the tips above and you will notice that your work is at least twice as effective as it used to be before you undertook these measures.
Consider following these steps often enough and you will save a significant sum by less frequently purchasing new computers.