Most of the Windows users are familiar with this message "This copy of windows is not genuine". Solving this error is very easy now. We can make use of cmd or any third party application to get rid of it. Many people might advised you to get a genuine copy of windows from Microsoft in-order to solve it. Nope! It is not the best solution. Although it is one of the way to solve This copy of windows is not genuine error but I advise you not to follow it. Here I will show you two different ways to solve windows is not genuine message.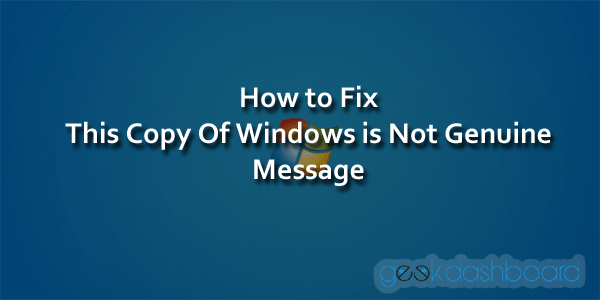 This copy of windows is not genuine – What does it mean?
Do you know why this happens? I know your computer is doing very good till last night and you noticed this message at the right bottom of the screen suddenly after system restart.
It happens if you are using pirated copy of windows operating system. Okay I know what's going on your mind now? How my computer or PC worked very well till now if I'm using duplicate copy of windows? Am I right?

Okay let me explain. You might have enabled Automatic updates on your PC and recently you have connected your machine to internet. After giving your computer internet access, it automatically checks whether your computer is running on genuine copy of windows or not. It performs its work without zero percent involvement from you.
Once it found you're using pirated copy, it will start using This copy of windows is not genuine message after next system restart.
Also Read: How to find product key of your Windows Operating system
What happens now?
You will see a notification at bottom right corner saying that You are a victim of software counterfelting in windows XP and Windows 7 Build 7601 This copy of windows is not genuine in Windows 7
Along with them desktop wallpaper goes black in both versions of operating system.
How to solve This copy of windows is not genuine message/error
As promised earlier I'm now here to explain you two methods to solve This copy of windows is not genuine error. This can be done either by using cmd or by using a third party software call Remove WAT.
First let me start with command prompt
Method 1 – Using Command Prompt
If you are not interested to install any more software's on your PC, you can using this method. Before proceeding, I don't know why you're not interested to install a software. First develop the habit to install few software's. It will decrease burden on you and I will helps to complete your work easily.
Well! First open command prompt. To open; Press Win+R. It will display RUN box and type cmd and press OK
A black box will get displayed on your screen and carefully type below lines and press ENTER
SLMGR -REARM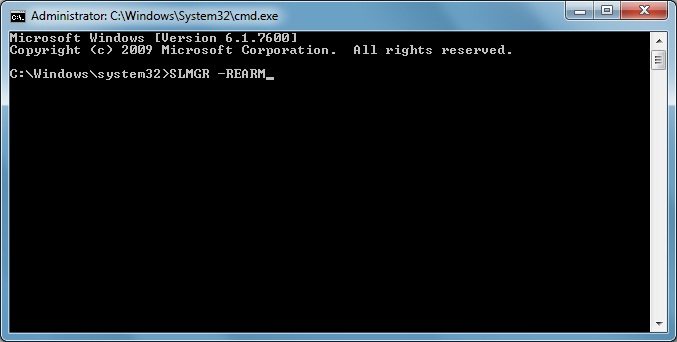 Wait for few seconds. In not more than 30 seconds, you'll get a dialog box with words "Completed Successfully. Please Restart the system for the Changes to Take effect" and finally Press OK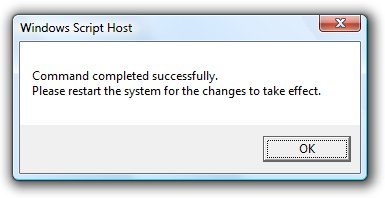 Your computer will restart now and it will do remaining job by its own. Take a cup of coffee and you'll never see This copy of windows is not genuine message again.
Note: Turn off Automatic updates if you'll connect to internet frequently.
Method 2 – Using Remove WAT
Completing this task with Remove WAT is the best option ever I discovered. Above method, I mean command prompt may won't work on all devices but Remove WAT will surely works like a charm. Follow below simple steps and get rid of this error.
Download Remove WAT Software from HERE
Once downloaded double click it and follow the on-screen instructions to complete the installation.
Immediately after installing RUN it and click on Remove WAT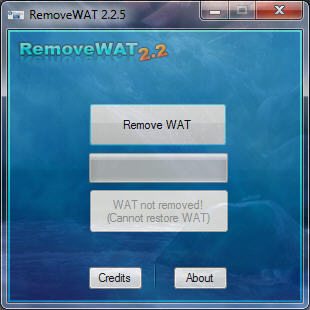 It takes about 1-2 minutes and your PC will restart. Once done, you're free from this error.
I hope this guide helped you and you won't see This copy of windows is not genuine error again on your screen. Now you can use your PC as a genuine copy of windows. Let us know if you face any problems while doing this task. We'll help you to solve it.
Check Video Tutorial