After the huge success of Microsoft Windows 7, Microsoft done a complete overhaul to the UI and many features and released an updated version named as Microsoft Windows 8. Windows 8 got both the positive and negative reviews and the Mobile version Windows Phone 8 was simply amazing. Many users upgraded to Windows 8 after its release, the UI is simply amazing with all the live tiles and stuff which looked beautiful over computer and laptops. Windows 8 Operating system brought touch screen laptops more pocket friendly and many are interested to try hands on touch screen laptops as Windows 8 is touch screen friendly. Still the user base is low when compared to the user base of Windows 7. Recently I faced an issue in Windows 8 that I forgot the password of my device and I also got  few mails and comments regarding the problem. So I decided to throw some light on "Windows 8 Password Reset". In this guide you can reset Windows 8 Password using command prompt. This trick is personally tested and working flawlessly. So if you forgot your Windows 8 password and struggling to reset it then this guide will help you to do it.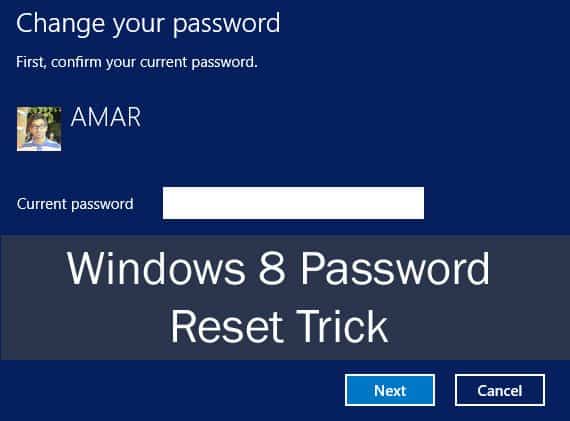 Note:- 
The trick will only work if you have local account enabled on your windows 8 machine and If you are using your outlook email to sign in to your PC then this trick won't work and You need to
reset your mail password
. This trick can be used to recover the password of Windows 8 or 8.1 and also any edition. Just follow the below procedure and bam you can reset Windows 8 password.
This is one of the sure shot and working Windows 8 password reset trick I have tried and trust me, you will surely end with huge success.
Procedure for Windows 8 Password Reset
Follow below mentioned steps in order and it seems bit typical for non techies. But it worth doing all these steps.
Also Read: Windows 8 Tips and Tricks you must know Today
First thing you need is to Access Advanced Startup Options on your machine. The method we recommend are using Windows 8 disc or If you have a windows Recovery disc that might also work.
Next Navigate to Troubleshoot > Advanced Options > Command Prompt.
Now you should be in Command Prompt window. Next punch the following code into the CMD Windows

copy c:windowssystem32utilman.exe c:

and press Enter. You should see a confirmation message of 1 file copied.

Next type in the below code and press Enter

copy c:windowssystem32cmd.exe  c:windowssystem32utilman.exe. 

Next punch in Y to confirm the overwrite of the ultiman.exe file and you will see a confirmation message like the one in above step.

If you have used any Repair Disc or Installation disc remove them and Restart your computer.
Now you will be in login screen of Windows 8 and press the Ease Of Access button and If you have done the above steps correctly Command Prompt will open. Don't panic if you got the Command Prompt windows. You can reverse the file later on.
Now you are in Command prompt and can reset the password of your machine. Now you can change the password using the net user command the command will look like this. net user myusername mynewpassword to make things clear the command looks like this on my computer

net user GeekDashboard GeekD@shboard.

That's it now close the window and login to your system using the new password.
Voila you have successfully done Windows 8 password reset and We advice you to switch to Microsoft account to login as it will increase the pain in resetting your password as you don't need to follow all these stuff.
Now its time to reverse the things which we have done. To do that we have to redo the steps 1 & 2. Once you are in command prompt window punch the follow code

copy c:windowssystem32utilman.exe c:windowssystem32cmd.exe

confirm it by typing Y. 

Restart the device and enjoy.
So you have successfully performed windows 8 password reset using our guide on "Windows 8 Password Reset Trick using CMD". Do leave your comments if you are stuck at any step or facing any problems.