Interesting WiFi names can be generated using this tool. Our Geek is on duty 24×7 and he will pick a WiFi name for you. If you don't like the name he chooses, you can ask him to generate another WiFi name until you are satisfied with the name. You need a catchy SSID name and our Geek had them ready. Keep clicking Generate WiFi name to start generating funny WiFi names for your network.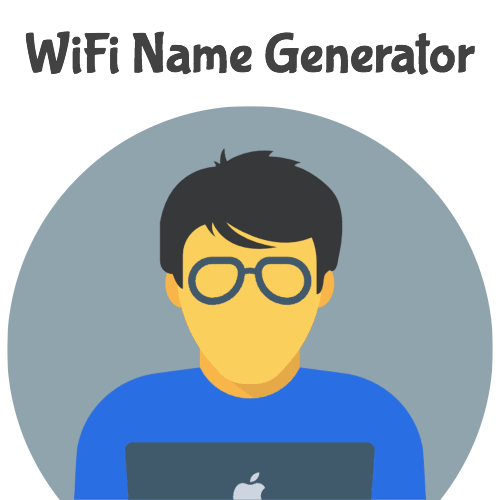 Your Funny WiFi Name 
Why do you need funny WiFi names for your network?
Who doesn't like being funny and sarcastic? Everyone loves people who make healthy fun without bullying others. This is the age where memes are doing rounds on social media and everyone is enjoying them.
Why can't we make others laugh with witty SSID names of your network? Everyone today is internet hungry and looking for free hotspots and WiFi for their devices. The first thing people do when they need the internet is, unlocks their mobile – turn on the WiFi and scans the available networks nearby.
The first thing they notice is the name of WiFi and the lock symbol next to it. If the network is not password protected, they connect to it and enjoy the free internet.
This is where the fun begins.
Just imagine how would a person react when they see a WiFi named "Don't connect to this WiFi" when searching for a free WiFi network. Instant laugh on face right?
Technology is changing rapidly and the internet is now a basic need for everyone along with food and shelter. Can you imagine your life without the internet for one week? Horrible right?
Since everyone house now has a wireless router and they have to name it something unique. A few might leave the WiFi name default and some name the connection after their names.
There are few people like us who use funny WiFi names to wireless networks to make them sound unique and crazy. If you don't know how to change the WiFi name of your router, visit this page to know how to do it.
So you need funny and crazy WiFi names to keep your SSID unique, interesting and easy to identify. If you are looking for inspiration to name your network, then you are are the right place.
We have collected more than 300 funny WiFi names for you and divided them into multiple categories. You can choose your favorite category below to find interesting WiFi names relevant to that category.
List of 300+ Unique Funny, Cool, Witty, Romantic, Clever WiFi names for your network
Before you decide a name to your network, you need to first make sure you are getting a good router for your network and you are geeky enough to play with router settings.
If you don't know how the admin section of a router looks like, you need to first have a brief look at our previous article about configuring D-Link router with BSNL broadband connection.
Also, don't forget to buy a good router and WiFI extender (Singal booster) for a better experience. 
Being said that, let's start our list of best and unique WiFi names to your network.
Funny WiFi names
Here are 20 funny WiFi names for good laugh:
Malware Detected
Sorry, I have a boyfriend
Poor Signal
Tap here to connect
Airtel Network – Stay away
Get the hell out of here
Bitcoins will be $100K in 2020
Do not cross
FBI #373
Your Credit Card PIN is Password
RIP Headphone jack
Uploading your photos, 81% Completed
You are under CCTV surveillance
No WiFi found
Error, WiFi name not found
For Justin Bieber fans
Connected. No Internet
Connection lost
Installing the virus
Privacy is a myth