Here you will find the most frequently asked questions by Notification History Log users and their respective answers. We have grouped the questions and answers to make it more easy for you to find the right one. Bookmark this page and we will update the list regularly.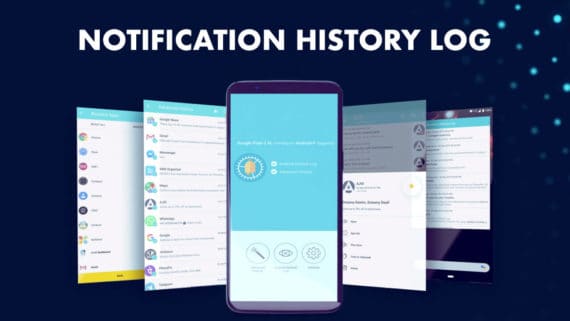 Pre-Installation Questions
Is Notification History Log safe to use?
Using Notification History Log is completely safe to install and use on your mobile. We are using official
Notification Listener Service
available in the Android operating system to listen and store the notifications you are receiving.
Where are my notifications stored?
Each and every notification will be stored completely on your phone itself. If you uninstall the app, all notifications are automatically deleted permanently and they are lost forever. However, if you have a backup, it can be restored.
Do you send notifications to external servers?
NO! NEVER.
We respect privacy and we care for it every time. None of your notifications will leave your device. All notifications are stored in your local phone memory and they are lost permanently if you uninstall the app unless you have backups.
I have lost a notification before installing Notification History Log. Can I see it?
Not possible.
Our app will start storing the notifications only from the time you install the app on your mobile. Whatever notifications you have received before installing our app can not be brought back.
My phone is not supported. How can I install the app?
Currently, we are not supporting Xiaomi (except Mi A 1,2,3), Vivo and Oppo devices due to over battery optimization issues. These devices (including Huawei, OnePlus and Samsung) are killing the apps in the name of battery optimization making a lot of apps useless.
You need to manually enable auto-start, disable battery optimization and more depending on your device manufacturer. If you don't believe, visit dontkillmyapp.com to understand how serious the problem is.
However, you can still sideload our official Notification History Log APK to use the app but only after whitelisting our app to ignore battery optimization.
Download Notification History Log Latest APK (Official and Signed)
Pro Version
What do I get if I purchase Pro Version?
You will get access to a lot of interesting features like:
Unlimited notifications storage.
Unlimited favorites.
Backup and Restore notifications.
Blacklist applications.
Export notifications to Text or Excel file.
Home screen widget.
Ad-free experience.
Lifetime free updates and access to new pro features.
High priority support over email.
Is it a one-time payment or monthly subscription?
Pro version is a one-time payment. You just need to pay once for lifetime access to Pro Version features. PAY ONE and USE FOREVER
I reinstalled the app / installed the app on new device. How can I restore my Pro Version purchase?
Don't worry. Restoring your purchase is very simple.
Head over to App Settings and tap on Get Pro Version option. Here click the Restore button on the top right corner of your screen and your app will be upgraded to Pro Version instantly.
Please note that in order to restore your purchase, you must use the same email address in your phone which you used while purchasing the Pro Version earlier.
Can I get a refund if I'm not happy with Pro Version?
Yes, you can get in touch with us at contact@geekdashboard.com within 15 days of purchase along with your ORDER ID. You will get 100% refund if you are not happy with the app.
Where can I find my ORDER ID?
Usage
App has stopped storing notifications suddenly. How can I fix it?
If Notification History Log stopped storing new notifications, then it might be due to the battery optimization your device is performing. It has very commonly seen in Huawei, Samsung, OnePlus, Xiaomi, Oppo and Vivo devices.
Fortunately, there is a workaround to fix it. Select your manufacturer to know how to do it.
How to export notifications to Text or Excel file?
Go to Advanced History, choose the app you want to export and click on Filters icon in the menu. Here select the file format for export and click on Apply Filters.
App keeps loading or taking a lot of time to open
If you notice Notification History Log is taking so much time to open Advanced History, then it is a sign that you have a lot of notifications already stored on your mobile.
You need to delete older notifications or entire notifications to reduce the load on the app and improve performance. To do this, go to App Settings and click on Notifications. Here you can either clear all notifications at once or you also have an option to delete notifications older than 1 day, 3 days, 1 week, 1 month, 3 months, 6 months and 1 year.
How to enable 24-hour time format?
To use 24-hour format, go to app Settings and open Notifications. You will find an option here to enable 24-hour time format.
How can I see deleted messages?
Our app was developed to view the history of notifications you are receiving on your mobile. It was not developed especially for deleted messages. However, you might still find them in notifications our app has saved. But you might need to manually compare our saved notifications with messages you received in your messaging application to find the deleted message.
I can not play all the Audio files. Only a few of them are playable.
To store the multimedia files, the file must be downloaded completely first and then our application will create a copy before it was deleted.
If the multimedia file has not yet fully downloaded and the sender has already deleted it, then it is impossible to copy those files. Because we can not copy a file that is not saved or not yet available.
It also depends on the speed of your Internet connection and the size of the file you received. For example, if you receive a large audio file, it usually takes 30 to 60 seconds to download, but if senders deleted it after 10 seconds, we can not save it because the file is not completely downloaded to copy.
We must say, storing media files is just an experimental feature. It can not work 100% every time.
Support and Feeback
I have a problem. How can I contact support?
Go to app Settings and tap on About. Here click on Contact Support to open an email client like Gmail. Mention your problem and hit the Send button to reach our support via email.
Don't remove the text our app has already added to your email. It helps to better assist you.
I have a suggest/feedback/feature request
We'd love to hear from you. Get in touch with us at contact@geekdashboard.com
I like your app. How can I help you?
Glad to know you like our app. Please give us a 5-star rating along with 2-3 lines of review
here at Google Play Store
. Your review will motive me in adding more features to the application.
I'd like to donate
You can donate me a coffee via PayPal