In this digital age, we deserve the full rights to the media we either download or purchase online. However, there are few security enforcements such as DRM that restricts the usage of a particular movie, song, or an eBook to a specific device. Despite purchasing the media from iTunes, you don't get the full freedom to watch it on a device of your choice. Well, here's where Leawo Prof. DRM comes into play. Learn how Leawo Prof. DRM can help you remove DRM protection from the media files on iTunes in this detailed Leawo Prof. DRM review.
What is DRM or Digital Rights Management?
For many of us, DRM is an alien term as we never come across the term directly. However, if you are iTunes user, eBook reader, or an avid movie or music enthusiast; then chances are that you have been restricted from consuming any of these media at some time because of DRM or Digital Rights Management.
The entire Apple ecosystem protects all their media files and documents under DRM. Hence, it is almost impossible to view, access, or open the same files on other devices such as Windows or Android. DRM is basically used to protect all the copyrighted works to regulate access. Many online vendors dealing in digital media such as iTunes, Amazon, Audible, etc. use DRM to ensure that the data isn't compromised or distributed illegally without their knowledge. Hence, they use DRM to lock the media files within a single ecosystem linked to one or multiple user accounts.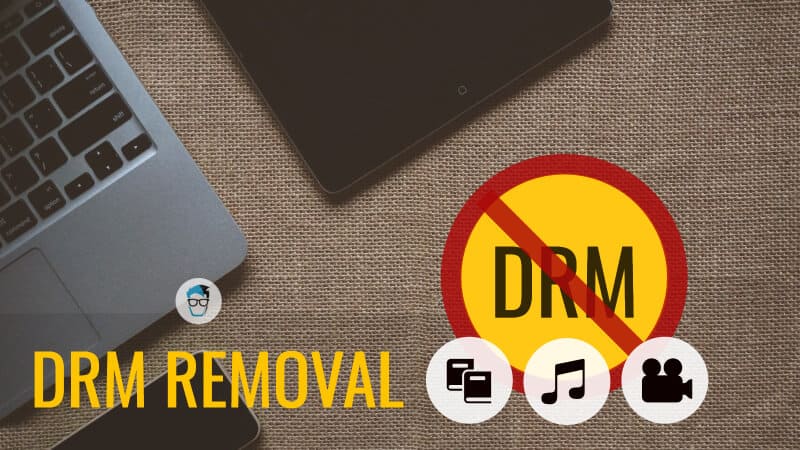 However, there are times when you wish to watch a movie that you purchased from iTunes on an Android device. Well, due to DRM regulations, it is not possible. You can very well use a DRM removal program such as Leawo Prof. DRM to disable such rights and convert the media files to a universal format like MP4 so you can access the file from any device of your choice.
About Leawo Prof. DRM
Leawo Prof. DRM is one of the multimedia tools developed by Leawo Software established in 2007. Leawo Prof. DRM is a complete DRM removal tool and a DRM media converter. While you can use the program to remove any Digital Rights Management protocols from the iTunes media files, you can also convert those files into a universal format compatible with all the major devices.
Leawo Prof. DRM Review
Leawo Prof. DRM is available for both Mac and Windows operating system. DRM mostly troubles those using either Windows or Android device. Hence, we decided to review the Windows version of Leawo Prof. DRM.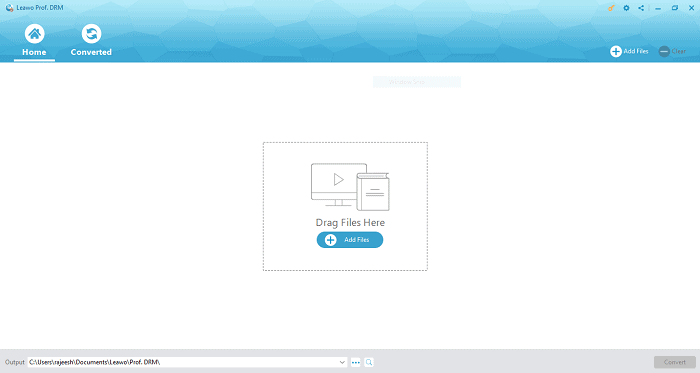 Leawo Prof. DRM is an ultimate DRM removal program which blends DRM video converter, DRM audiobook converter, DRM music converter, and DRM eBooks converter into a single suite. You can use this program to not only remove DRM protection but also convert those files to DRM-free formats for extended use.
Features of Leawo Prof. DRM
Leawo Prof. DRM is designed and developed considering a host of different utilities and demands of this digital age. Besides the DRM removal feature, the program features various converter programs designed to convert the DRM-protected files to DRM-free ones.
Let's have a look at the features one by one.
1. Prof. DRM Video Converter
With Prof. DRM video converter module, you can easily convert iTunes DRM-protected M4V movies and TV shows into a DRM-free MP4 format. The DRM removal and conversion output maintain the 100% original quality. The exciting features such as Dolby Atmos 5.1 surround sound audio tracks and subtitles remain intact and selectable while playing on any device. The conversion is also 50 times faster than other DRM removal programs.
2. Prof. DRM Audiobook Converter
If you are fond of audiobooks but don't want to restrict yourself within the iTunes library or Audible ecosystem, then you must try Prof. DRM Audiobook Converter. The Prof. DRM Audiobook converter module can help you remove DRM from M4B, AA, AAX files and lets you convert any Audiobook from iTunes, Audible, or Amazon into a DRM-free MP3 file for universal use. The output quality of the MP3 audiobook version isn't altered from the original version. You also get selectable channels, sampling rate, and bit rate on the converted non-DRM MP3 file.
3. Prof. DRM Music Converter
Quite similar to the Audiobook converter module, Prof. DRM Music Converter module also removes DRM protection from music files downloaded from iTunes library and converts the DRM-protected M4P and non-DRM M4A music files into non-DRM MP3 files. You get the original quality DRM-free MP3 songs with selectable channels, bit rate, and sampling rate to enjoy your favorite music on any media player or mobile devices of your choice.
4. Prof. DRM eBook Converter
eBooks and eBook readers have changed the way we read books now. Kindle and Kobo books are trending now and with an evolution in different eBook reading apps, the world is relying on reader apps rather than physical books to read some inspiring pieces from their favorite authors. However, if you are a Kindle user, you can't read your purchased books on other device and the same applies for other eBook stores.
With Prof. DRM eBook converter module you can remove DRM protected Kindle, Kobo, or Adobe books and convert them into DRM-free eBook files. Prof. DRM eBook converter module is designed to remove DRM protection from a variety of different file formats such as MOBI, EPUB, AZW3, AZW, KFC, PRC, HTML, TXT and convert these files to DRM-free MOBI, EPUB, AZW3, TXT and other universal file formats. After conversion, you can read these books on your favorite eBook reading app or share them with your friends as well.
5. A quick tutorial to convert Kindle books to EPUB
To convert DRM-protected Kindle books to EPUB, you need Kindle books on your PC. If you don't have it already on your PC, then install a free Kindle reader app on your Windows PC and download the book which you wish to convert. Launch Leawo Prof. DRM program and click "Add Files".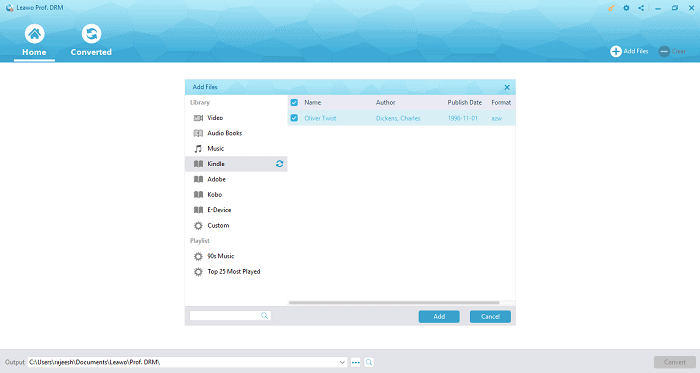 You will automatically find the Kindle books already listed in the Kindle section of the program. If they aren't, then simply hit the Refresh button near the "Kindle" section under Library. Select the eBook, you wish to convert and click the "Add" button.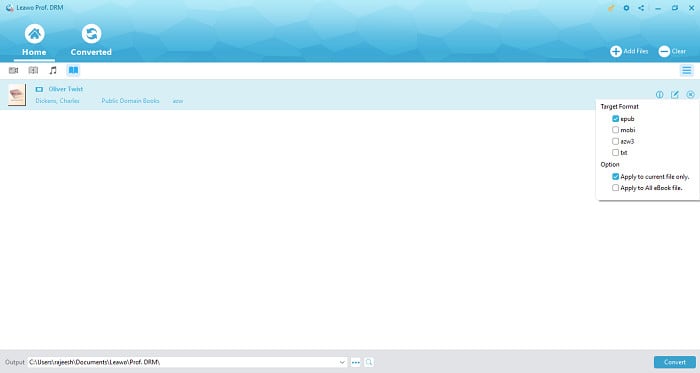 Once the file is added, you can click the "Edit" icon on the left side to choose the right format for the output file. You can either choose EPUB, MOBI, AZW3 or TXT format as output. Next click "Convert" at the bottom.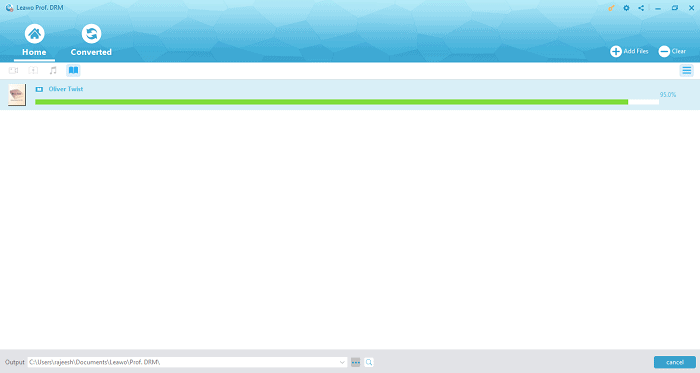 The program will now start removing DRM protection and convert the file to EPUB.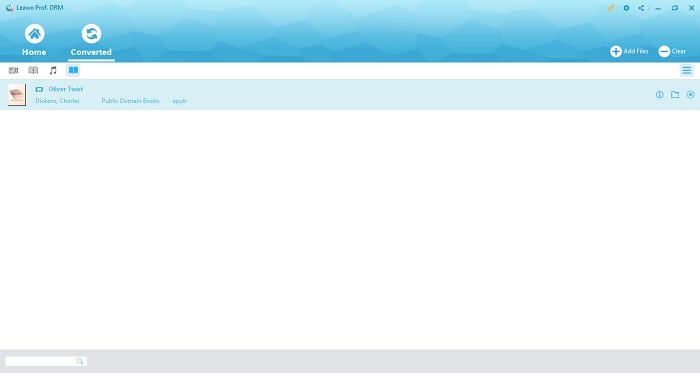 You will find the converted files in the Converted section. You can also choose the output folder of your choice.
You can follow the similar routine for DRM-protected ebooks from Kobo and iTunes. All you need is to install iTunes and Kobo app on your Windows PC and download the Apple books locally on your system. The Leawo Prof. DRM will automatically detect these files and list them in their respective sections. You can simply select and convert the files as per the tutorial above.
Final Verdict on Leawo Prof. DRM
Currently, there's no DRM removal program which is as versatile as Leawo Prof. DRM. The fact that it is not just a simple DRM removal program but an ultimate software suite of multiple modules designed to help convert DRM-restricted media files such as videos, audios, audiobooks, and eBooks to universally compatible DRM-free media files without losing any quality giving a 1:1 output. Another amazing thing about Leawo Prof. DRM is the excellent feature where the program allows the user to select the subtitles, bit rate, and the sampling rate of the output files according to his/her preference.
In short, enjoy your movies, music, audiobooks, and eBooks on any device of your choice without worrying about DRM protection or quality loss.
Pros
Real 1:1 Input to output without compromising on quality
Selectable Audio tracks, subtitles, sampling rate, sound tracks, and bit rate
Support for Dolby 5.1 surround sound system
50X faster than other DRM removal programs
Multilingual support
Easily detects and lists DRM-protected files on your system
Cons
Doesn't come free
You need to install and download files on your PC or Mac for DRM removal
Try Leawo Prof. DRM today to remove DRM-protection and convert files into DRM-free files without losing on quality. Read the Leawo Prof. DRM review now to learn more.