What do you do if you forgot the password of your Windows 10 PC? Usually, you will try to unlock the PC with different passwords you remember. Everyone does that but only a few are lucky to type the correct password.
If you are not lucky in guessing your Windows 10 password, you need to format the PC and install a fresh copy of Windows don't worry you are still lucky. Yes, you heard it right. Trust me!
There will be plenty of solutions for a problem and similarly, there are many ways to unlock a Windows 10 PC login screen without typing the actual password.
The latest edition of Windows 10 comes with improved features and a bug-free operating system, but the lock screen system has not been changed or modified by Microsoft.
What if you forget the Windows 10 lock screen password? Then you won't be able to log in to your desktop without entering a valid password. More than a million Windows 10 users are seeking assistance from professionals to access Windows without resetting or re-installing the operating system.
We have tested several methods and here are 2 ways to unlock Windows 10 PC without typing the actual password:
Method 1: Change Microsoft Account Password
Microsoft has an ecosystem similar to Apple that allows you to connect and sync every Windows device using the same Microsoft account.
If you had connected your PC to a Microsoft account, you can get access back to your Windows 10 PC by changing the Microsoft account password. If you are using a local account, you should follow Method 2.
Resetting Microsoft account password to unlock Windows 10 PC or Laptop lock screen
Open the official Microsoft website to reset the password.
Select "I forgot my password" and click "Next".
Type the full email address and click "Next" to continue.
Enter the last 4 digits of your registered mobile number and click 'Send Code'.
Microsoft will now send an "account password reset code" to your mobile number.
Enter the code and click on "Next."
Create a new password and re-enter the password, then click on "Next" to change your Microsoft account password.
Go back to your Windows 10 lock screen, and enter the new password to log in. Make sure your laptop is connected to an active internet connection.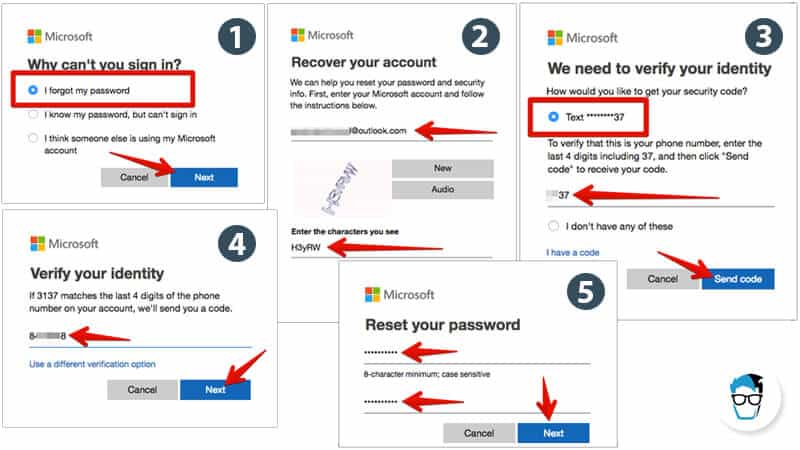 Method 2: Reset Lock Screen Password using PassMoz LabWin
PassMoz LabWin is considered the best tool to remove lock screen password on your Windows 10 without formatting your PC. This amazing program claims to reset the Windows 10 password without causing any system damage. Currently, it supports Windows 10, Windows 7, Windows 8 as well as Windows Server.
Also Read: How to fix Keyboard typing wrong characters error in Windows 10
The reason why we recommend PassMoz is that the whole password reset process is super easy. You only need to click one button and the password will be removed in seconds. Next time the computer boots up, the password login screen will be skipped automatically. And you will get to the computer desktop directly.
A step-by-step guide to removing Windows 10 login screen password using PassMoz tool
Download PassMoz LabWin from passmoz.com
Double-click the installer file and install the software by following the onscreen instructions.
Now you got two options. you can use an empty CD/DVD, or you can use a removable device like a USB flash drive. The flash drive should have at least 1GB of space, and make sure to back up the files in a pen drive because this tool will format the USB drive to install the required files.

Here we are using the CD for the demonstration. Click on "Burn CD/DVD" and it will begin burning the software tools, and boot details.
It will take around five minutes to complete the process and the CD will eject once the burning process is completed.
Reboot your PC and open BIOS Settings. You can do this by pressing F7 or F10 key repeatedly while your PC is restarting.
In BIOS settings, change the first boot priority to CD/DVD and restart the PC after saving the settings.

You will now see a new screen and you have to select the Operating System and admin username (if you have multiple OS installed, and users on the same computer.)
Click on "Reset Password" and then click on "Reboot".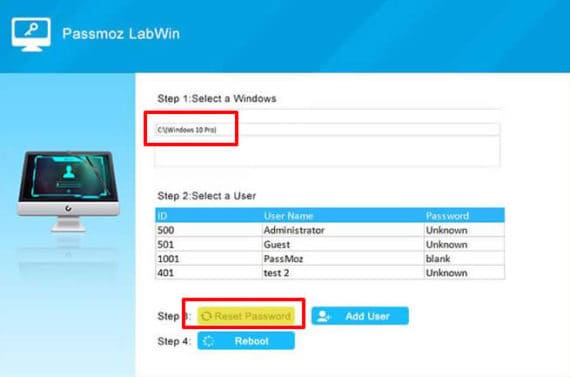 It takes approximately one minute to complete the process, and you should quickly change the password, or add a new Microsoft account to the Windows 10 PC.
Is PassMoz LabWin Secure?
Passmoz LabWin has been serving the community for several years, and they are in the business since 2009. However, Windows did not recognize the software publisher because the company did not register the product. The program violates the security policy, and the product cannot get registered. In fact, this tool may not work if Microsoft decides to fix the issue in its next updates.
We had to make sure that it doesn't have Malware, Adware, Spyware, and other potentially harmful files in it. We have tested the software with an online Virus Total security program.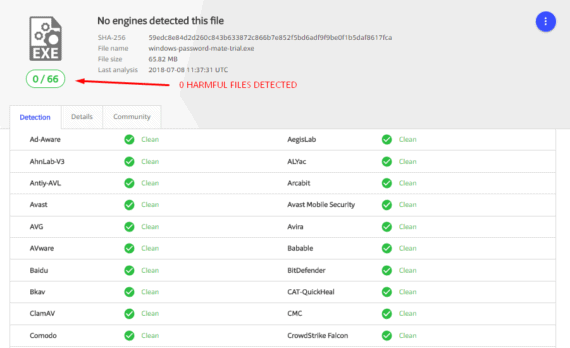 For further clarification, We have tested the program using another security program, and Avast could not find any infected files. Fortunately, we could not find any harmful files in the program, and you can use them without worrying about privacy invasion.
Conclusion
There are many other similar programs available in the market like iSunshare. You can also use the Offline Password & Registry Editor to get rid of the forgotten password from Windows 10. Let us know what challenges you have faced while resetting your Windows 10 lock screen password in the comment section below.