If you have forgotten the password of your Windows 10 computer and want to learn how to reset it without losing any data or files from your computer then you couldn't be at a better place right now. It is quite understandable that currently you are frustrated and annoyed knowing that all of your important data and documents are ceased inside your computer and they cannot be retrieved unless and until you find a way to bypass or reset the Windows 10 login screen.
Never fear, that's what we have come to discuss today on how to reset Windows 10 password. Please keep it in mind that the methods we are about to share in this tutorial should be only used on your own personal computer or if you are applying this to any other computer then get the property authority from the owner and then implement it. Do not use it for illegal activities and hack into others computers. With that in mind, let's get started with the solutions to reset Windows 10 password easily.
Solution 1: Reset Windows 10 Password using your Microsoft Account
The first solution is very simple and it is quite reliable if you are using Microsoft account as your account type to protect your computer. Windows 10 offers both local administrator and Microsoft account and it is only eligible for Microsoft accounts.
Basically, you will need to visit https://account.live.com/password/reset from an accessible PC or smartphone, doesn't matter what OS that system is using. Now, simply go through the process where it says "I Forgot My Password" followed by entering your Microsoft account details and on the last page after answering all the questions, you should be able to set up a fresh password for your Microsoft account that will also be your Windows 10 computer password.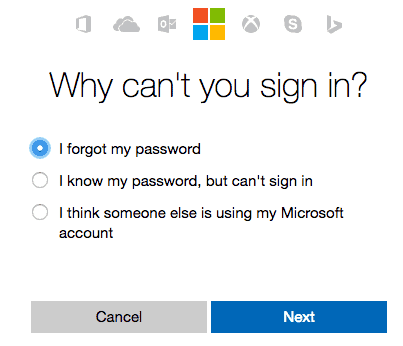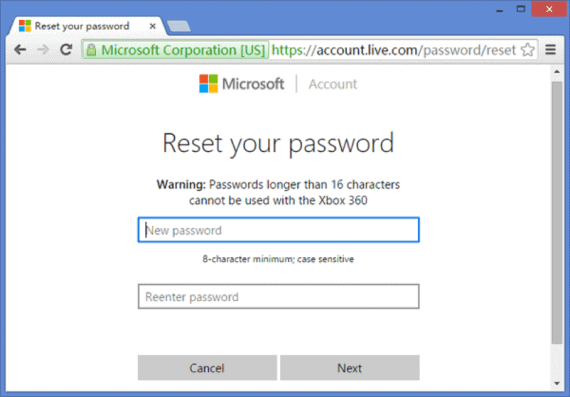 But, as we mentioned before, it is only applicable for those who are using Microsoft account to protect their PC. It will not work on root, local or administrator accounts.
Secondly, if you have setup different administrator accounts on your computer then this task couldn't get much simpler than that. Simply reboot your PC and login to your computer using that other admin account and go to "Control Panel" then click "User Accounts" > "Manage Accounts" > "Change an Account" and click on "Change the password".

Then input a new password for your username and apply the modifications. That's all. You can restart the PC and use this new password to enter into your account.
But, unfortunately, if you don't even have a different administrator account then it's time to use a professional Windows password recovery. We will recommend iSeePassword – Windows Password Recovery Pro to entirely remove the password from your Windows 10 PC.
What Can iSeePassword Windows Password Recovery Pro Program Do?
Reset the password of your Windows computer and it is tested on all Windows versions such as Windows 10, 8,7, Vista, XP, 2000 and the other older version of Windows.
You can easily add or remove any account from your PC.
No internet connection is required since this password works offline.
Unlock and regain access to expired and lock user accounts.
Works with every Windows laptop and computer models such as Lenovo, Samsung, Dell, Acer, HP and other 8000+ brands and models.
Free lifetime upgrades.
Free lifetime support.
Solution 2: Reset Windows 10 password with iSeePassword Tool
It is an absolutely straightforward process and you do not need special computer programming skills to operate this tool. All you are required to have a separate computer from which you can create the bootable password reset disk. You can even borrow a computer from your friends or cousins or anyone else.
[Official] You can also follow this official article to reset your forgotten Windows 10 login password without wiping data.
Simply download the iSeePassword – Windows Password Recovery Pro Program and install it by completing setup process and launch it once it is done to have a glance on the main user interface.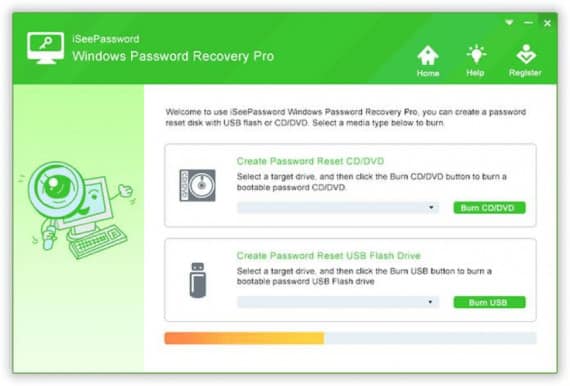 This program supports to create the password reset disk in 2 ways using both CD/DVD and USB flash drives. Just insert any of the devices to the PC and choose "Burn CD/DVD" or "Burn USB" to burn the files to your suitable device.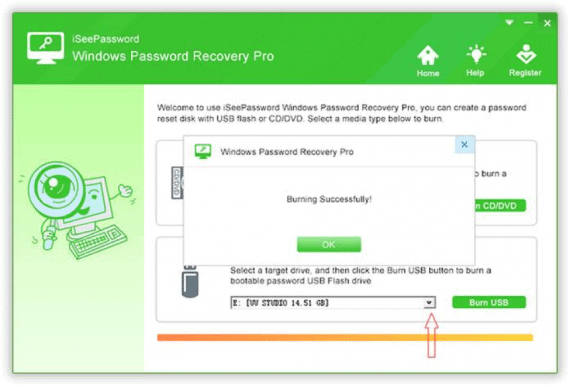 Now, plug in this bootable disk into your PC which is currently locked and reboot the system.
After you see the iSeePassword program on the monitor, you only have to do 3 things to rest your Windows 10 password
Choose the OS version (Windows 10)
Check the main administrator username.
Click "Reset Password".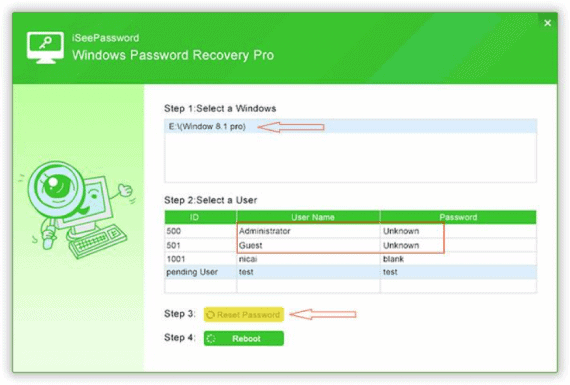 And done! Remove the USB drive from your computer and restart the system. Now, sit back and have fun!
Conclusion for resetting Windows 10 password
There are too many Windows password recovery tools available on the market but most of them are viruses or malware that never works. iSeePassword – Windows Password Recovery Pro has been tested by thousands of customers who have reviewed this program as the best password recovery tool on the internet. Again, we would like to remind you that you should only use this software for legal activities and not for any unethical purpose which will be considered as a cyber crime.