Lots of people like DJ, some of them are learning DJ and even wants DJ to be their career. But if you do not know how to make DJ music with computer, then you may be out of style and lose your competitiveness. Just imagine what will happen if you play the music that made by yourself in the pub and let others enjoy your DIY songs? The feeling of it must be so great. So, how can we make DJ music with computer? What you need is DJ mixing software which can help you DIY music.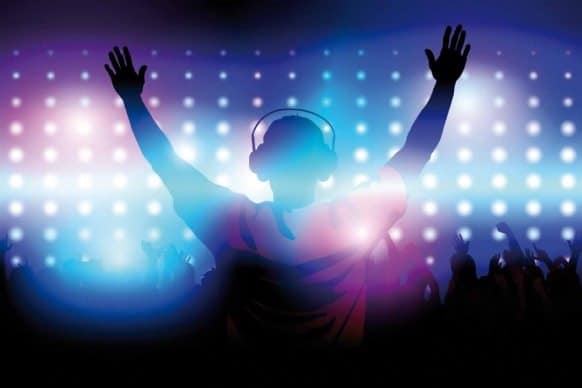 If you just want to combine songs, then DJ Mixer Express may be enough for you. But the BPM of this software is always not accurate, this will make your songs out of the tune. So if you want to make fantastic DJ music with high quality, your best choice should be CuteDJ – DJ Mixing Software. It will make your computer become a muti-functional recording studio. It also provides you with wider space for music creation and let you break the limit of imagination. You will make incredible DJ music in your own style by using this software.
What is CuteDJ?
CuteDJ is the most powerful and best DJ mixing software on market. With its professional mix and scratch engine, you can use it as a powerful live remixing tool, mixing your tracks traditionally as well combing and loops in a non-linear way. It does a great job mixing videos and songs in both AutoMix and manual mode. However, it is worth mentioning that in manual mode, your skills are essential in obtaining the performance you are looking for
What are the features of CuteDJ?
The process of installation is really easy for users to operate. Just download the software from its official site and launch it, then just install it step by step by following the guidance.
In its main interface, there are 2 deck- each controlling playback of audio and video files and one or more CD drives. The waveform graphic display gives you real time audio signal monitoring, information about the audio signal and the beat rhythm. It can be configured to display more or less of the song, using the zoom in and zoom out buttons.Whether your songs come from iTunes or from your hard drive, simply drag & drop your favorite musics onto the deck or into the playlist and you are ready to go. The Smart Timecode Vinyl Control allows you to control a track throgh a timecoded vinyl/CD by using the turntable that is connected to your soundcard directly to your system.
CuteDJ also has pitch bend which momentarily shows down or speeds up the deck to make fine adjustment in overlapping the songs when mixing very useful while you want to beat-match 2 songs. And the loop controls are used or seamlees beat accurate Loops. You can perform normal loops, as well as instant loops with the 1/16 to 16 instant loop buttons.
Another great feature of CuteDJ is Hot Cue-Points. They are positions in the song which act as "bookmarks" in the song.when you are at a different position in the song and you want to go back to that saved position, you can either press CUE to return to the saved position or you can press CUE-PLAY and it will immediately start playing the song from the cue-point that you've placed.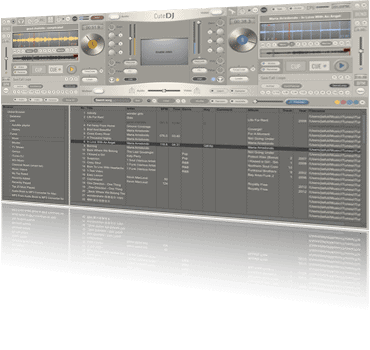 What's more? CuteDJ now supports a range of DJ controllers for even more control when in the mix. Perfectly tuned presets for any controller, precise operation and ensure an authentic DJing experience.
You can view the list of all hardware controllers natively supported at http://www.cutedjpro.com/hardware.html
In addition to essential auto beat-mixing, harmonic mixing, vinyl simulation, VST effects, timecoded support, cueing, synchronize beat-looping and MIDI mapping of all major controllers, CuteDJ's offers superior stability and mixing performance you require for each and every performance. CuteDJ – DJ Software is suited to experienced and novice DJs alike.
In the lower section of the program, it gives you convenient way to arrange you song list. It has three options "Audio" "Video" and "Karaoke" so that it will help you find files easier by filtering tracks by audio,video and karaoke format. And the show all butoom let you see all the files. And the search function allows you to search a track by typing its name. Just press space and Esc to enter or exit the search mode.
Meanwhile, the playlist will show the chosen tracks and act like a virtual record holder. You can spot your favorite tracks quickly by using color markers which based on the different colors. Once you click "iTunes" in the list, you will find that all your iTunes files will be added to the program.
As for other special functions, "AutoMix" can help you mix songs automatically and you can use the "Preview" button to pre-listen your mixed music.
As all I mentioned above, these great features are the most important factors why CuteDJ enjoy good feedbacks of its users. Though it still has some aspects to be improved, there is no doubt that CuteDJ is a versatile and fantastic DJ mixing application for you to trust. As it allows you to show off your DJ skills by manually mixing your tracks. The app always help you to do the rest once you set everything right. All you need to do is just sitting back and enjoying your favorite music!
CuteDJ is one of the best DJ software helps you to mix and make crazy music in pubs and parties. No doubt you can see a dick jockey inside you with this awesome tool.