Geek Dashboard in short GD, is a Tech based blog currently dealing with Computers, Mobiles, Internet, How-To's related stuff. Up-on request we seldom deals with Blogging niche. GD is one of the fast growing Tech blog and even well settled and ranked on SERP's.
Why should you order Website/Product Review on Geek Dashboard?
This might be a common doubt for all advertisers. One might think, why should he go with that particular site. If your aim is to get your product/website exposed, then you can blindly order a review on Geek Dashboard.
Geek Dashboard Rankings and Achievements
Google Page Rank
Google Page Rank is usually update once in 3 months by Google in-order to give a numeric rank for a website. Page Rank indirectly says the site's value on internet.
Alexa Rank
Alexa Rank is nothing but site-rank all over the world. It calculates the rank of the site based on its overall traffic from last 3 months. Currently Alexa Rank of Geek Dashboard is around 40K.

Technorati Rank
Technorati Rank is calculated and numeric value on Authority and Site's rank is allotted. This rank depends on site's popularity, Linking to other sites, update frequency etc.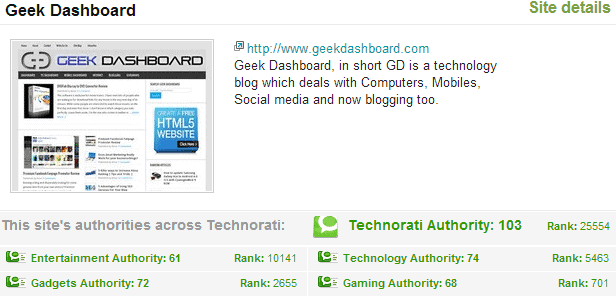 Site's popularity based on Countries:
This screenshot speaks a lot. If you're interested to have a look at our Traffic details, you can check them using this link
Product/Website Review and how it goes Live?
So, In case if you order a review on Geek Dashboard and once we receive all required information from your end, we'll make our arrangement's to publish the review in 2-8 working days depending on Review type and product. Your review will get published on all over our social media profiles.
We're social
Facebook Fan Page: 4000+ Likes and 80,000 Tech related page.
Twitter: 1000+ Followers
Feed Burner: 1200+ Subscribers
We'll post the review on all above social profiles including Pinterest, LinkedIn, SU and much more. We're sure that review will get tons of exposure.
Description box and Star Ratings
Star rating is given to the product by our team and rating of the product is decided by us and it is final.
Excellent: 5 Stars
Seems Good: 4 Stars 
Considerable Product/Website: 3 Stars
Along with these star ratings, we'll add two Review box's at the beginning of the review and at the end of the review.
Check this screenshot for reference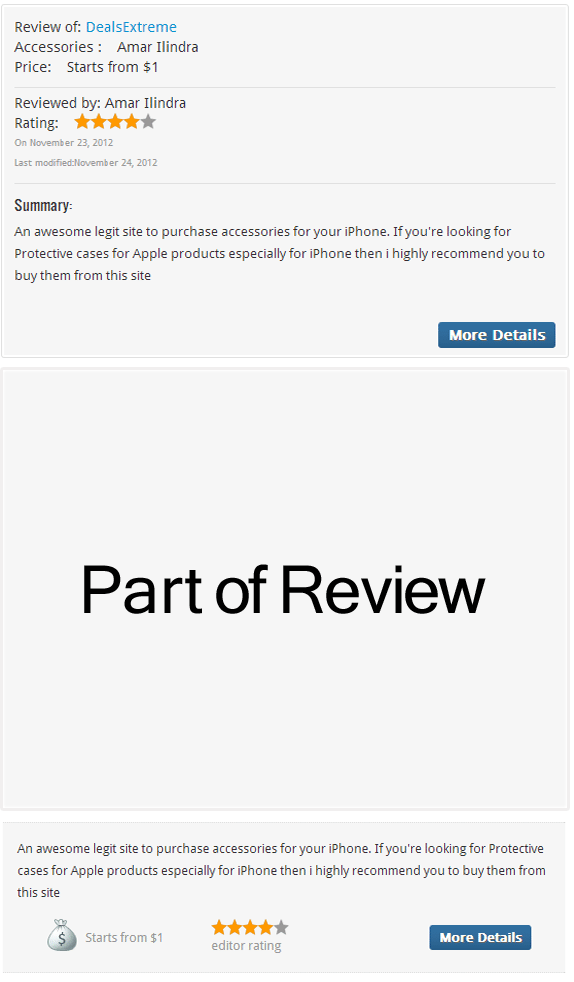 Reviews on Sidebar
Currently we're placing 5 recent reviews on our sidebar for more exposure. Along with your product name, Star ratings are even provided at right site. Check below screenshot for reference.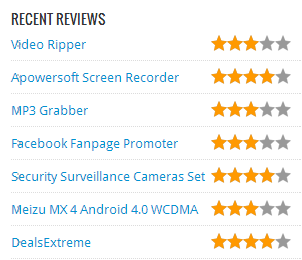 Random reviews on Above fold
Whenever any visitor enter the homepage a random review will get displayed below navigation menu(above fold). Upon every refresh a new review get displayed and you might be the lucky person.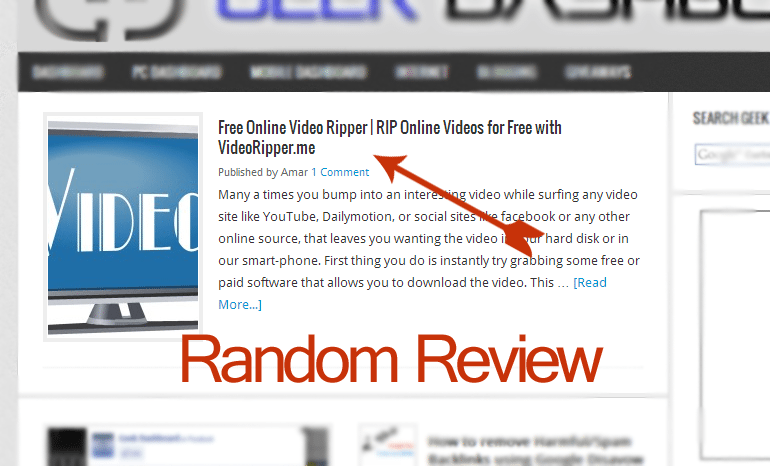 Sample Review:
Well, We hope you have now got clear clue about how we deal with Product/Website Review. Still can't imagine how it looks like? Then no worries, below are the reviews we made recently. have a look at them..
CommentLuv Premium (Product Review)
Testimonials about Geek Dashboard
Interested to know what fellow bloggers and Advertisers feeling about Geek Dashboard? We have included the inputs given by previous advertisers who ordered review on our site. They're extremely happy with our work. Check Testimonials from some of our advertisers
#1 Amit Shaw – Fellow Blogger
GeekDashBoard is one of the best places for reviewing your website/blogs.The blog has got some awesome stats and I think your product will be highly benifitted with the number of readers the blog is having. GeekDashboard is very active on Social Media Sites.So i would highly recccomend you to review your product at GeekDashboard.
#2 Koundeenya – Fellow Blogger
If I were asked to choose a site to get my product reviewed, GeekDashboard will be it.I really love the way Amar writes product reviews. For a PR3 blog with over thousands of traffic each day, one can get the enough exposure, quality backlinks and traffic just for $160. If you are still hesitating about the service, I'm sure, you won't find any better.
Pricing and Payment
Like everyone, we too have to pay our bills. So, we usually charge for writing and publishing review about your product/website and to promote them from our site.
Starter
$80
Basic SEO
Social Media Sharing
Recommended
Economic
$120
Search Engine Optimized
Social Media Sharing
Star Rating
Featured at Sidebar
Random Review on Home Page
Summary Review Box
Premium
$160
Search Engine Optimized
Social Media Sharing
Star Rating
Featured at Sidebar
Random Review on Home Page
Featured on Home Page for 7 days
Summary Review Box
Video Review
Friendly Note: If we feel the request product seems good and useful, we may add additional discount for above mentioned price
Payment Method: PayPal (Non-Indians) / Bank Transfer (Indians) / Cheque 
Answers for FAQ's
1. How many Back Links do I Get?
A: You can get maximum of 3 Do-Follow Links in the review.
2. How many days does it take to get my Review Published?
A: We usually take 2-5 Business days to publish a review
3. Will my review get deleted after particular time? 
A: The answer is "BIG NO". Your review will be live on our site for lifetime.
4. What kind of products/Websites do you Review?
A: Currently we're accepting Products/Reviews related to Technology, Internet, Mobiles and Blogging. Adult content is blindly rejected
5. Can i make payment after publishing the review?
A: Yes! You can make payment once we published the review
Impressed and Agreed ?
So, it seems you're ready to order a review on Geek Dashboard? For better communication, email us to amar@geekdashboard.com
Also, fill this form to make our work easier.