After all these digital revolutions, one thing remains more or less the same! People don't tend to pay for digital products — let that be a video editing suite or a minimal writing platform. However, the scene gets worse as we are to know that most people still depend on free antivirus suites. Well, yes, they may be using the free antivirus from renowned developers, but the scenario is same. There are several issues that free antivirus suites can bring. Here, in this article, we will talk about the risks of using free antivirus programs instead of paid ones.
About Free Antivirus Suites Around
As we mentioned, free antivirus suites are developed and distributed by almost all antivirus developers. For instance, you can find the free versions of Bitdefender, Avast, Norton, Kaspersky etc. In all these, the developers make a point clear — that the version is limited. Even so, driven by the tendency to not to pay for digital stuff, people do stay with free suites. If you are doing the same, you are posing a serious threat to your device and your data. Now, we will see the common harms caused by free antivirus suites you commonly get.
Issues Caused by Free Antivirus Programs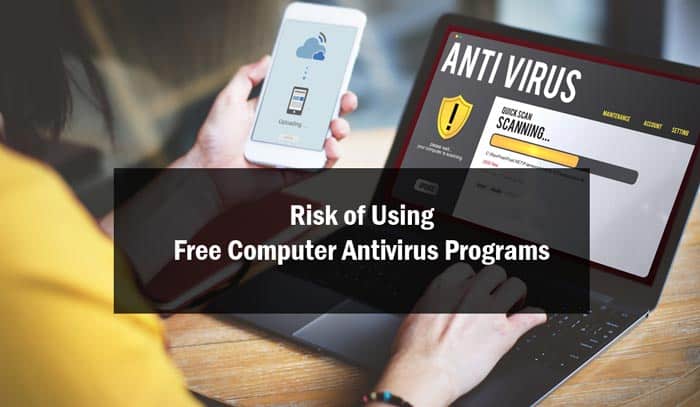 Actually, there are many issues. However, we are covering the common issues only.
Often, Outdated
Free antivirus suites don't receive algorithmic and database updates so often, as opposed to the premium ones. Only the premium suites will be the ones to receive on-time updates from the developer. So, there are chances that your so-called free antivirus may be having an outdated set of virus definitions. So, if there is a threat that was released in the previous day, the antivirus can do nothing about it. For those who manage confidential data, this is one of mostly dangerous threats. In fact, protecting zero-day threats with free antivirus is a distant dream.
Annoying Ads
No firm wants to serve you for nothing, even though it pretends to be. So, if a company gives you a free antivirus, its hidden intentions are also there. And, that is to attract more people into its products. To do that, the developer will be showing advertisements and pop-ups in your device. You might see those ads everywhere — from your desktop to web browser and from Word interface to your media player. These pop-ups are quite embarrassing and annoying in the end. This can impact your productivity too.
They May Steal Your Data
There have been reports that free antivirus suites are trying to steal user-data from devices. More often than not, it is unidentifiable data; however, at times, they may be personal too. In case of personal data, you know the issues. It is going to be a bigger issue for identity theft and data loss. In other words, identity protection is a myth when you're using free antivirus suites. After all, what's the point of using an antivirus while the software itself is spying on you?
Last but not least, free antivirus suites try their best to make you purchase the premium one. So, some suites may be notifying you about some 'fake' viruses too. And, the warnings are too real to ignore. In addition, at certain times, some sorts of threats are able to bypass the protection of free suites. For instance, rootkits and keyloggers make the way into your PC, easily.
The Solution
Obviously, you know the solution — to use premium antivirus software on your device. When you pay money for the developer, you pay for the responsibility too. So, it's the duty of the company to protect your device. As you know, paid versions of Kaspersky, Norton or even Bitdefender at a discounted price. If that is not enough, you can use some cool discount coupons or promotional codes for reducing the price. In short, it won't take much to get the best protection for your device.
And, when you are going for premium antivirus, you get additional features too. If you're going with Bitdefender, for instance, features such as Safepay and Anti-Spam will be there to ensure safety. Altogether, when you spend money for antivirus products, you are going to have state-of-the-art protection in the device. So, that's all about your confusion between the so-called free antivirus suites and the premium packages.