VPN services and apps are ideal solutions to secure your privacy in this era when most of your online activities are under the surveillance by the governments, companies and especially the hackers. As we have switched from desktops to smartphones so quickly, it is now important to make use of VPN apps that let you secure your online identity, and more importantly, lets you access websites or services banned specifically in your country or premises. One such VPN app for Android and iOS is Rocket VPN and being a free app, it is one of the simplest and most affordable VPN apps out there.
Privacy is a huge concern today and internet freedom is the right of every world citizen. VPN services like Rocket VPN come handy to enjoy such privacy and internet freedom when the authorities within your locality or country restrict you to do so. In addition, these VPN services are also useful to surf the web while keeping your online identity private and inaccessible to anyone.
More about Rocket VPN
Rocket VPN is a VPN (Virtual Private Network) app that helps in accessing online websites and services anonymously. This app is developed by Liquidum Limited, a renowned brand in the apps industry based in Dublin, Ireland.

Besides offering VPN services, it is also equipped with other interesting features that make this app one of the best VPN apps in the both iOS and Android ecosystem. To give a better prospect and understanding of this app, we would suggest reading the full Rocket VPN review below.
Rocket VPN Review – Best VPN Application for iOS and Android
Before getting directly into the review, let's understand how to use Rocket VPN and set it up on your Android Smartphone. Installing the app on an Android device is quite simple and you can visit the Rocket VPN app page on Google Play Store and hit the "Install" button.
How to Set Up and Use Rocket VPN? (Android Users)
Once you have installed Rocket VPN on your device, you need set some settings to start using the app. For Android 6.0 Marshmallow users, the app will need permissions. Simply hit "Allow" to let the app perform seamlessly.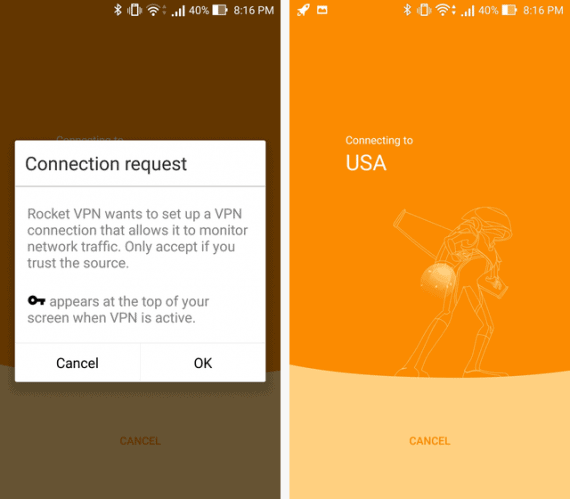 To start using the app, you need to choose the "Destination" and hit "Connect". The app will now connect with destination server and once connected, it will ask for your permission to allow the connection. Hit "OK" and the connection will be active. You can see a rocket icon in the status bar suggesting that Rocket VPN is currently running on your Android device.
Excellent Features of Rocket VPN
The main aspect that makes Rocket VPN stand out from other VPN apps in the industry is the list of amazing features offered by the app. Yes, most of these features are offered on most of such apps, but the ease and accessibility of these features on this app for free makes it special.
Access Restricted Content
The basic reason why people use a VPN service is to access restricted content at their location. Rocket VPN allows you to bypass such geographical restriction and lets you access the data without any issue. For example, if YouTube is banned in your locality, you can simply set a virtual location using this VPN app where the web service is not restricted and get easy access to such websites.
Security & Privacy
Besides the access to the restricted content, Rocket VPN also lets you do the same anonymously, hence, keeping your online identity secure and private. It smartly encrypts your personal data while surfing the web via Rocket VPN. With the help of this app, you can make sure that third party services don't track your online activity.
Quick Launch Apps
One of the amazing features on Rocket VPN is the Quick Launch feature. With this feature, you can choose the list of apps you want to access via virtual destination and add these apps on the app homepage to easily access them directly within the app.
Besides these useful features, Rocket VPN is also equipped with 10 virtual destinations spread across the globe in countries such as United States, United Kingdom, Netherlands, Japan, Singapore, Sweden, and Germany.
Simple and Attractive User Interface
The best aspect of Liquidum apps is the attractive and good looking User Interface. And, the same applies to Rocket VPN. In this world of mobile apps, using simple yet attractive UI featuring gentle colors is utmost important and the mobile app ninjas at Liquidum apps understand that better than anybody else.
Without much fuss, Rocket VPN gets in business as you launch the app on your device. With a drop down menu of "Destinations" and a "Connect" right beside it, the app is very simple to understand.
As you slide down, you will find a section to block/unblock apps from your desired VPN location. The app also lets you check the monthly data usage on the top and displays your VPN destination at the bottom.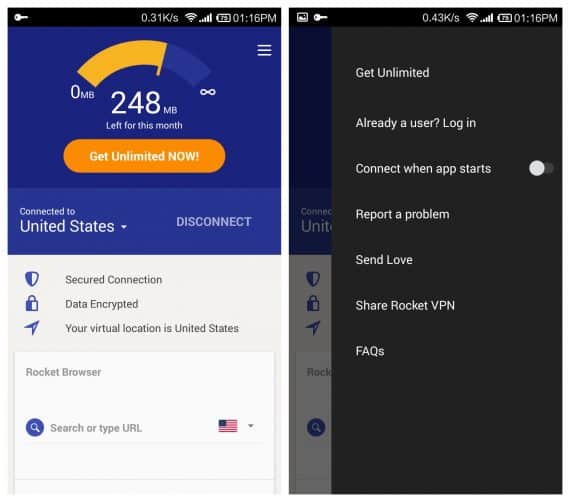 You can also check out other features by tapping the three dots or three parallel lines icon on the right top corner and navigate to the list of options such as premium subscription, Login, FAQs, Feedback, and Share button. In short, Rocket VPN is quite simple without any complex configuration settings or advanced settings to choose from.
Is Rocket VPN really free?
Unfortunately, it is not. While you can install Rocket VPN and use this VPN app for free with a limited access offering 500MB per month. Well, 500 MB per month can be enough if you aren't an aggressive internet user, but if you wish to upgrade to the unlimited subscription, Rocket VPN will cost you $2.99 per month or $29.99 per year.
Premium subscription will not only offer unlimited data usage but also make the app free from irritating ad pop-ups as well as improve speed.
Our Verdict after Rocket VPN Review
If you are tired of working with other complex VPN apps, then Rocket VPN is an ideal solution for all your VPN needs. This VPN app offers excellent service to those looking for a simple yet efficient VPN service on Android and iOS devices.
While the free app does all the tricks required in a VPN app, the premium upgrade is also worth every penny. However, the free version is also great, if you can cope up with the app recommendations and ad pop-ups.
Whether free or premium, I totally recommend Rocket VPN. Try it once as it is free and secure your online identity as well as unblock the limitation from using the geographically restricted content.
Download Rocket VPN
Pros
Easy and Attractive User Interface
Simple to use without any complex configuration settings
You can choose from 10 different virtual destinations across the globe
Cons
Irritating ad pop ups on free version
Excessive App recommendations on free version
No advance configuration settings for advanced users
Rocket VPN is an excellent Android VPN service to ensure privacy and easy access to geographically restricted content.