Started new site and looking for cool and awesome responsive themes for you blog? Then no doubt MyThemeshop is a good place to purchase Responsive Themes in reasonable price. They are many Premium WordPress Theme providers in industry, among them MyThemeShop is one of the best one. They provide awesome themes which are responsive and very cheap in price.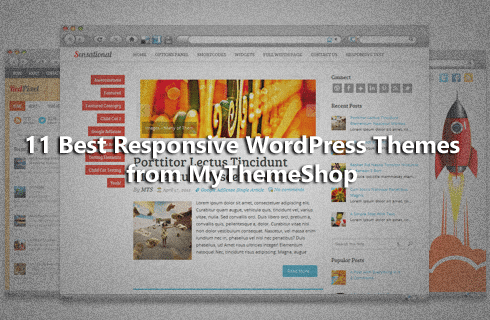 They release at the least two to three new themes every month and they load very fast in almost all browsers. Life time support is the best feature i found in them. These days, people are using Best Tablets, Smartphones of different screen sizes frequently; So to fit your website in any device and any screen size, then you need responsive theme. All themes are completely responsive and even they look decent in Internet explorer.
Features of MyThemeShop Themes
All themes are fully responsive and looks good in all screen resolutions
Options Panel: More options are included, No need to use more third party applications
Unlimited colors
HTML5 and CSS3 markup
Unlimited Backgrounds
Awesome Support
Adsense Optimized
By seeing all these above options and features, we can conclude, MyThemeShop is one of the fast growing Responsive WordPress theme provider. If you need a good looking professional theme for your website or blog, consider Mythemeshop themes along with Genesis and Thesis. They have even themes for eCommerce sites. They divided their themes into Blog style, Magazine etc, which helps you to pick the best one for you need. Most of the themes they provide are eye catching and worth buying.
11 Most Popular Responsive WordPress Themes from MyThemeShop
Sensational – Awesome and Popular Resposnsive Theme
I have seen this theme on my popular and new sites. Sensational theme is well know and famous for its simple and cute looking floating menu and font. If I were asked to select a best theme from MyThemeShop, then i would suggest you to have a look at this theme. Overall look of the Sensational theme is completely unique. Your articles will look awesome in this theme for sure.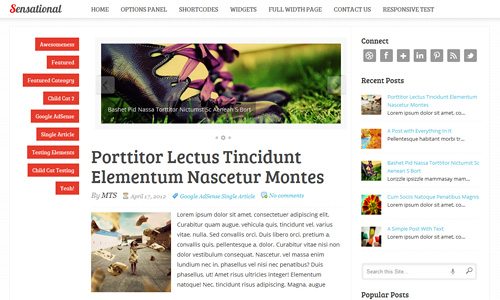 Looks good at
All kind of blogs and fits even better to designing blogs
Niche Sites
Movie Blogs
BoxLine
– Creative Premium Theme
Yet Another most awesome Responsive WordPress theme i have found. If you're a serious webmaster and planing to make your blog popular, then BoxLine is the best choice. Social buttons in this theme looks great and unique. Menu in this theme looks bit different and simple, so have a look at Menu at header before making a decision.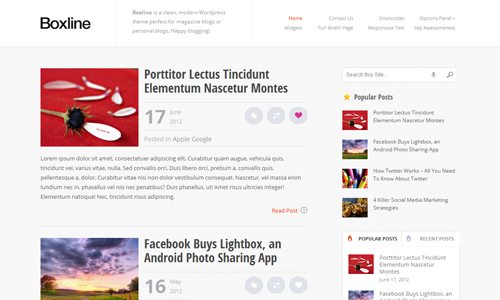 Looks good at
Portfolio blogs
Personal sites
Designing sites
Business blogs
Fortune – Theme which suits all Niche's
Some of my friends yelled, they have observed good conversion while using this responsive WordPress theme on their blogs. If my guess is perfectly right, then this theme is awesome for sites which promotes affiliate products. In case, if you're on an idea to start a blog to enjoy affiliate sales, then consider this theme once.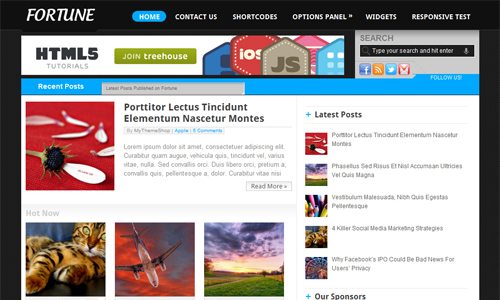 Metro – Creative Responsive Theme
Well, I need to say; this is one of the most creative theme from MyThemeShop. It looks really good with lot of colors in homepage and menu hover is simply awesome. You can place Adsense ads very well of different sizes.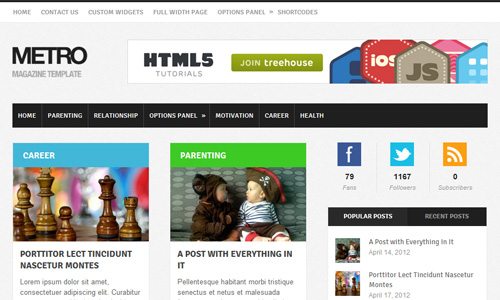 Looks Awesome at
Creative Blogs
Image Websites
Health Websites
Minimalist – Best WordPress Theme
Recently a new version of Minimalist is released, it looks even better when compared to older version. Minimalist Responsive WordPress theme looks very simple with hell lot of default options.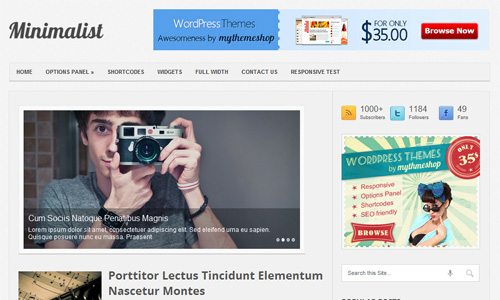 Looks good at
Photography Sites
Tech Websites
Science Blogs
Health Blogs
Nomial – Responsive theme for Designing Blogs
Long back, i installed this theme on this website but changed it immediately as it looks very bad on tech sites like ours. But I have to say, Loading speed and spaces for Advertising is interesting in this theme. Post pages have a decent and professional look.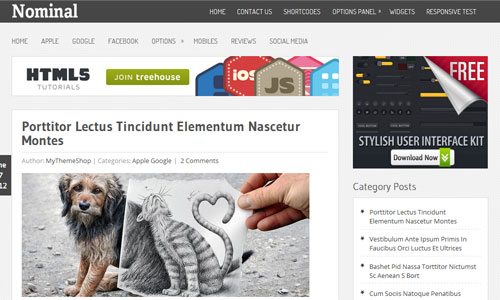 Looks better at

Photography sites
Websites deals with Designing Tutorials
Affiliate sites
Movie Blogs
Splash – Best WordPress Themes for Review blogs
Okay! I should say more about this theme. Splash is an excellent WordPress theme with both List and Grid view enabled on homepage. Navigation menu in this theme is very great and responsive and even header as well. When talking about sidebar, Popular posts widget looks even better in Black and Blue combination and even it has inbuilt review system. It surely helps to minimize the list of installed plugins.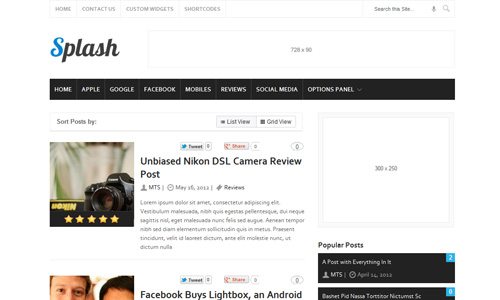 Looks good at
Almost all Niche's
Technology blogs
Review Websites
Travel Blogs
Food blogs
Yet another colorful Responsive WordPress from MythemeShop. This theme has a very colorful home page and post page. It even has a large responsive slider above the fold of homepage. So attention of every user will go towards that slider. If you place any important stuff there, it will have high conversion rate.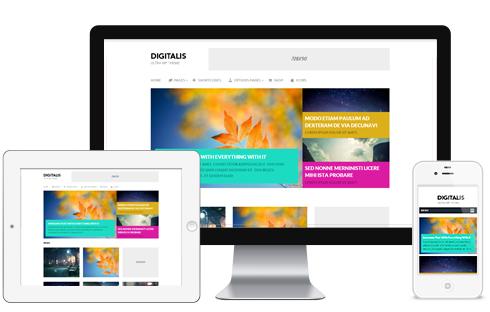 Best apt for
Science blogs
Photo blogs
Tech blogs
This theme is coded to get the look of one of the famous social media site Pinterest. It resembles that site. For the name, you can conclude it is best theme to display your magic moments and captured images.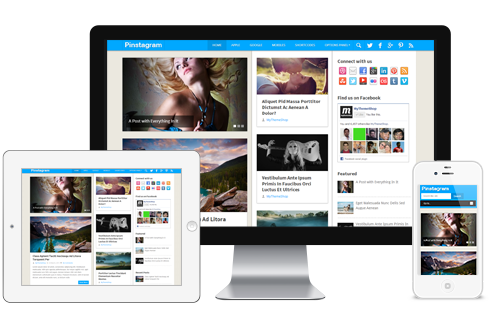 Looks good for
Image Websites
Photographic sites
Personal blogs
Portfolio sites
Top Free Responsive WordPress Themes
Best part in MyThemeShop Theme provider is they will release even free responsive WordPress themes frequently. Trust me, they still have a premium look and SEO friendly.
AccentBox – Free Responsive WordPress Theme
Accent Box is the best Responsive WordPress theme you can download for free of cost officially. Yeah! MyThemeShop is providing this theme for completely free. But theme looks dull and most of the theme is coded in black shades. If you're not in a position to afford money now, then this theme is no doubt waiting for you.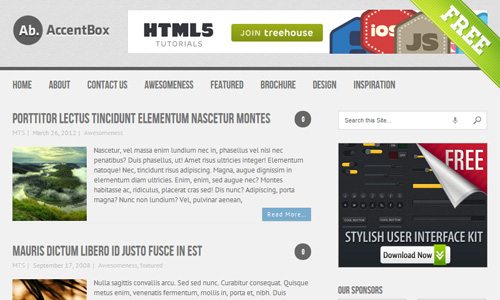 Download and Demo
Looks good at
Newbie bloggers
Technology Blogs
Travel Blogs
Bloggie – Clean looking Responsive Theme
Another awesome free Responsive theme from MyThemeshop. I have not tested this theme yet, but it seems a good option to download and use it on your site. I have seen this theme on few normal sites and they look really good.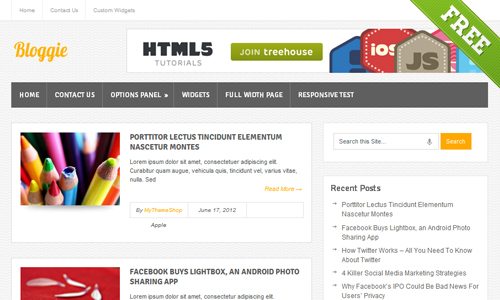 Let us know which theme you liked the most and comment below if you still know any better and good looking Responsive WordPress themes.