Google Keyword Planner is no more. It's almost dead. New UI of Google Adwords tool is not as easy as old one to handle. Each and every blogger and webmaster surely need a keyword tool to find awesome keywords to rank their websites at top in search engines. In case if you're in an idea to develop a niche site, Keyword Research is very important to find profitable keywords and to make money online. Here is a Long Tail Pro review and Giveaway. Here you can get a copy of Long Tail Pro for Free of cost. Yes, we're back again with an awesome giveaway. This time we have managed to provide 2 Long tail Pro copies for 2 winners.
Before saying about giveaway details, i would like to give a short Long Tail Pro Review. During recent pasts, most of the newbie bloggers make keyword research using Google Keyword tool and later when they stared making money, they will realize the importance of some premium tool and will make a purchase immediately. Long Tail Pro is also one among them. But many think, it is over priced. Time has changed a lot, and everyone need a best keyword research tool with the dead of Google adwords tool.
Long Tail Pro Review
We have already published a detailed review long back and here we'll provide a short review in few words. Long Tail Pro is one of the best Keyword tool to find best keywords with just few simple keys. It will do hell lot of work in short span of time. Filters helps to get accurate results easily.
You should install Adobe Air, before installing Long Tail Pro on your machine. Firstly you should create  a campaign and name it something. later you can add maximum upto 10 keywords in your mind.
If needed you can add filters according to your need. Filters in Long tail Pro include
Monthly Global Searches
Local Global searches
CPC
No of words in Keyword
Advertisers Competition
Domain Availability check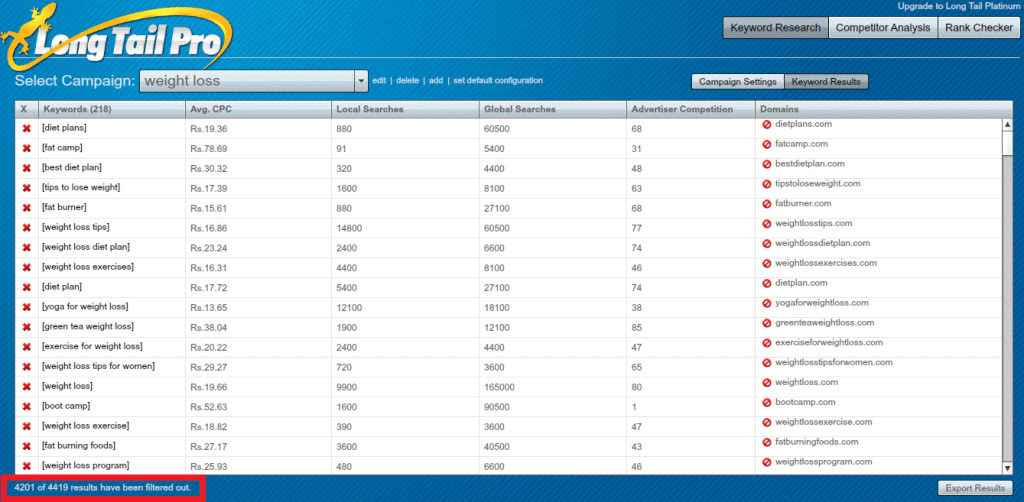 Once all required filters are applied, you can hit generate keywords. Within few minutes, thousands of keywords will get displayed on your screen meeting all your filters and status about domain availability.
Once you got a keyword, you can analyze the first 10 results for that keyword at Google. It shows DA, PA, No of backlinks etc in single click.
Long Tail Pro for Free – Giveaway
As we did for our previous giveaways, we're again using PunchTab widget. Using this widget you can earn points daily to stand first in the race. Using below widget earn points daily by completing the given tasks one by one.

Total Winners = 2 and Each winner will get a Copy of Long Tail Pro
Be social and get your free copy of Long Tail Pro
Long Tail Pro is one the best Keyword tool i have used and it helped me a lot to find best profitable keywords for my micro niche sites. It is very easy to use and install and regular free updates makes it even much better.