Do you struggle to download video content from YouTube or other video sharing platforms?
Often we go through the hustle where we couldn't find a way to save that online video to our local system.
I know that there are specific browser plugins and online tools available for that, but not all of them provide a robust platform to everything when it comes to downloading videos.
What if you want to download:
Just audio or
Muted video or
Entire YouTube playlist
Some tools also leave their watermark in the downloaded video, which not everyone would like to have.
Therefore, I will show you a tool that does everything and many other cool things when it comes to downloading online videos.
It's called iTubeGo. So, without wasting any more, let's dive right in.


What Features of iTubeGo Makes it an Impressive YouTube Video Downloader?
1. Can Download Any YouTube Video
Anything (yes, anything!) on the number one video streaming platform is downloadable through iTubeGo.
You can download videos, audios, and playlists for the entire channel with minimal efforts. This is a YouTube playlist downloader with full HD/4K/8K support.
2. Effortless Process
The process of downloading YouTube content is effortless. All you need to do is copy the URL of the YouTube video, paste it in iTubeGo, and that's all.
No need to provide login details, email address, phone number, or clear the captcha codes to download your favorite YouTube videos with iTubeGo.
3. 10x Faster Speeds
Some video downloading tools force you to download videos at slow speed, like in a few hundred Kbps.
Even if you have fast internet connectivity and bleeding-edge hardware, you just cannot download at a high speed.
With iTubeGo, you can get high-speed downloading. It downloads videos 10x faster than others.
iTubeGo utilizes Multithread Technology so that you can use your complete CPU potential and internet bandwidth to download YouTube videos that are of high resolution.
They also have the Turbo Fast mode that makes downloading speed even faster.
They are claiming that if you download a video that is two hours long, iTubeGo will let you download that within a few minutes, considering you have the right hardware and internet plan.
4. In-built Browsing
I like this feature very much.
Whenever I wish to download several YouTube videos, I have to switch between windows or browser tabs to copy and paste the videos URLs. That process becomes tedious at times.
iTubeGo overcomes this challenge by providing an inbuilt browser.
You can search for YouTube videos from the tool itself and download it from there only.
Like you search on YouTube's site, you can enter your query within the tool and get a grid view of the videos.
Then you also get the Download button that allows you to save the videos directly from the tool without copying and pasting video URLs every time.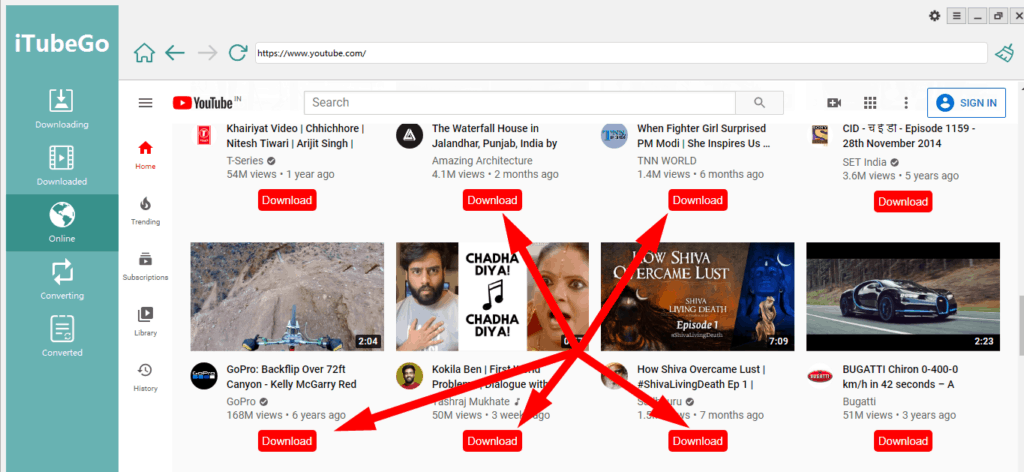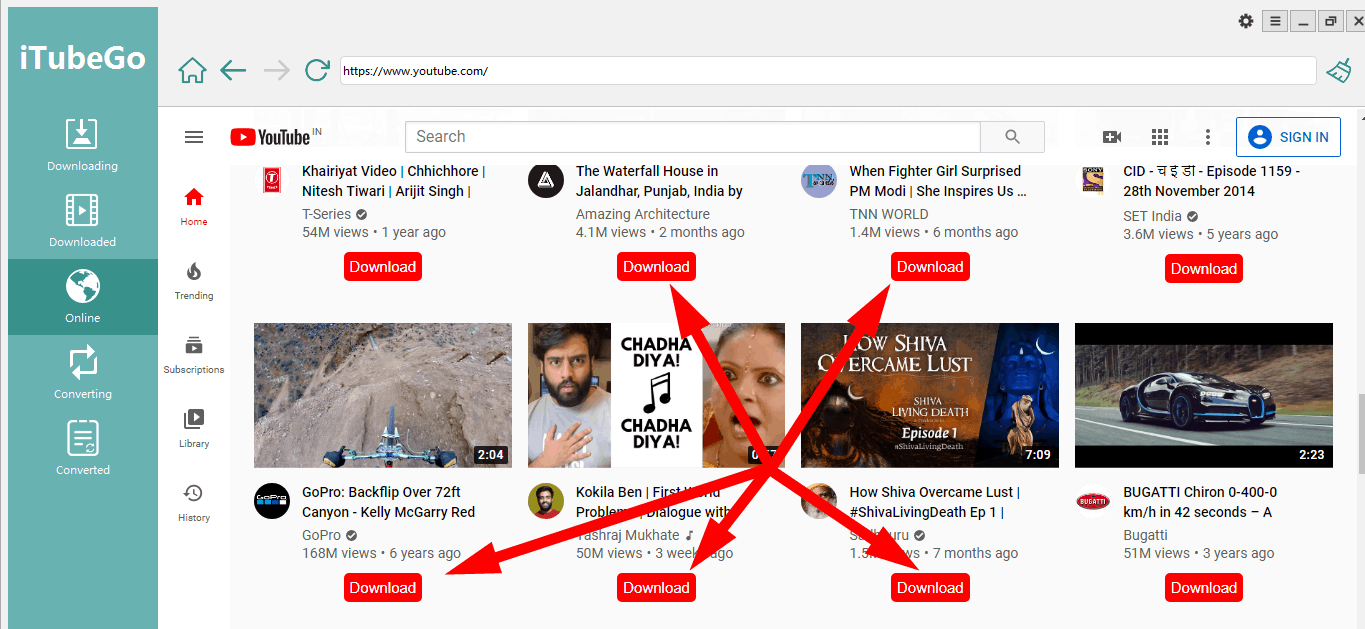 5. Effortless File Conversion While Retaining Quality
Oftentimes we don't need the complete video. We just need the audio, or we need to mute the audio to then voiceover or add our background music.
Sometimes, we don't need the standard formatting. We require files in the specific formats, too, like mkv, m4a, aac, etc.
Converting files to extract just the visual or audio from a YouTube video can take a significant amount of time.
Either way, we want to convert that file as per our requirements. With the iTubeGo, you can easily convert YouTube videos to MP4, 320kbps MP3, MOV, AVI, M4A, etc.
iTubeGo supports 20+ formats for each audio, video, and mobile. You can also choose to mute the audio to get a silent video.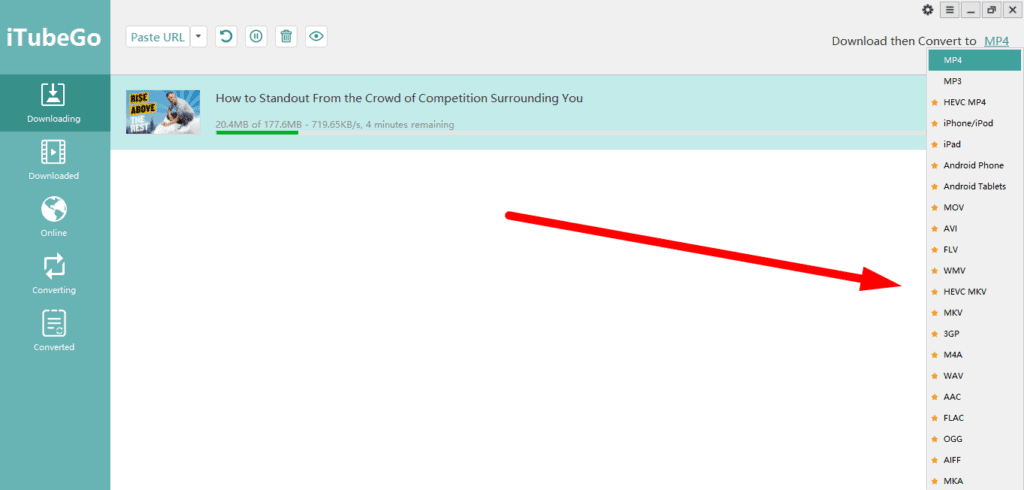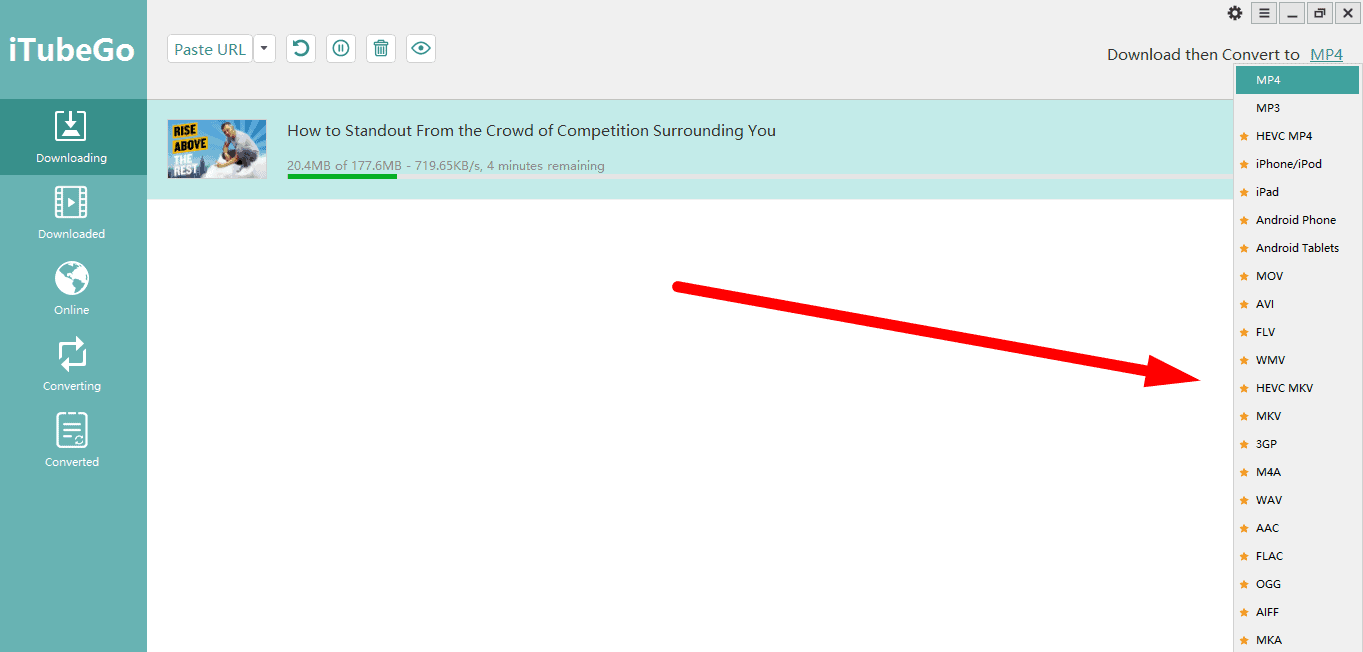 Suppose you wish to stream the video specifically on a particular device. In that case, you can set the dimensions, and the tool will take care of all the heavy-lifting of resizing the video to that specific screen-size without losing any detail.
1. Refund Policy
By any chance, if it's not making sense to invest your money after purchasing the plan, it's not too late. Your money is not gone.
You can claim the full refund after the first 30-days of your first purchase. For the first 30 days, you get to try the tool to the fullest potential to know if it is worth your money.
2. Excellent Support
They have a dedicated customer support desk to answer questions of all the customers. From technical to product related to payment and refund policy, they will solve your concerns.
3. Bulk Downloading
Let this YouTube playlist downloader take a heavy burden for you. This way, downloading multiple videos is not time-consuming.
Even if there are 4K videos, you can download them simultaneously at 10x speed by iTubeGo.
4. Multiple Platforms Supported
iTubeGo does not cover a limited software environment. It has dedicated client-based software for two of the most leading computer operating systems, Windows and Mac.
Even if you have Android and iOS devices, you can use the relevant app of this tool.
5. Go Beyond YouTube
iTubeGo helps you download videos on Facebook, Instagram, TikTok, Vimeo, IGTV, Twitch, and Bilibili.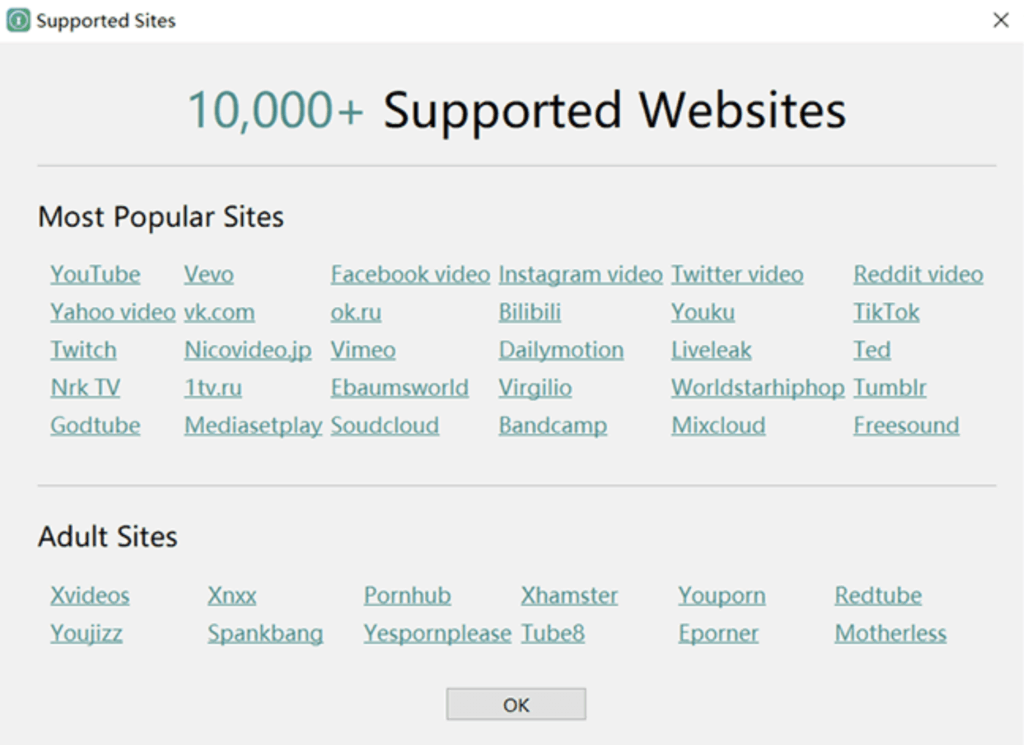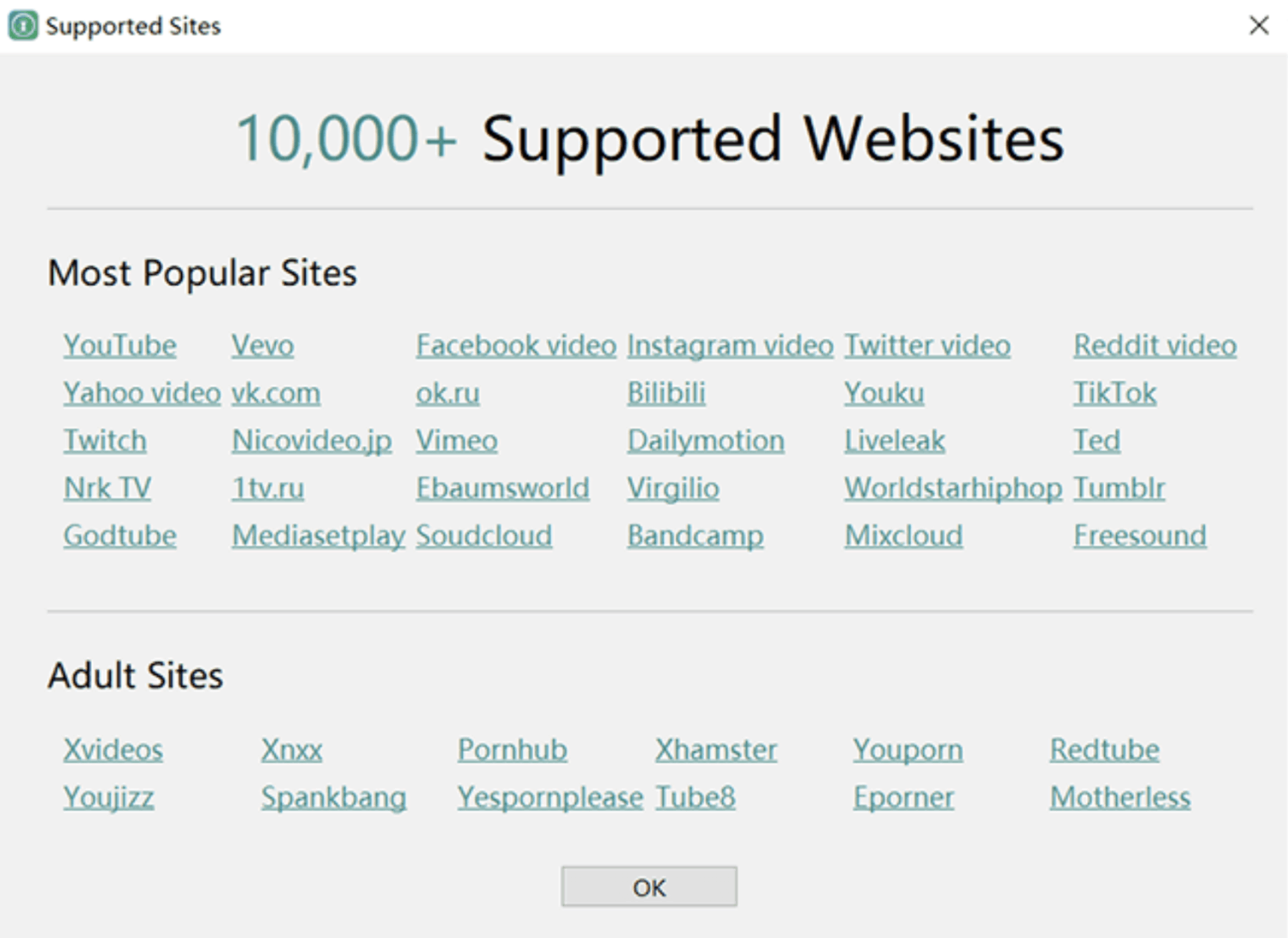 So, with a single tool, you can download content across other major video sharing platforms too.
6. Converting videos on YouTube to MP3 Music
You don't have to purchase any other tool for YouTube to MP3 conversion.
With efficient YouTube to MP4 conversion, you can get video files that are supported across several devices.
Pricing
iTubeGo has four different plans. But for people who just want to download a video and don't focus too much on quality can use other free tools.
You get monthly yearly, family, and lifetime plans.
The monthly plan costs $9.95/month/PC.
Yearly plan costs $19.95/year/PC.
A family plan will cost you $39.95/lifetime/2-5 PCs.
If you have a single system, you can consider the $29.95/lifetime/PC plan.
With all the plans, you will get lifetime free updates at no additional cost.


Conclusion – should you buy it?
iTubeGo is an excellent tool for people who frequently download videos online.
Don't forget that you can also convert those videos into different formats as per your requirements. If you can invest a few bucks, then iTubeGo is a no-brainer. But if you are just looking only to download YouTube videos, you can try other free options.
Let me know what you think about the tool and this blog. I'm excited to read your comments.
iTubeGo is an excellent tool for people who frequently download videos online. You can download the videos in any file format you like.