The development of technologies brings numerous changes to our society. The more advanced our computers and machinery become, the more changes and new issues come up. And now our world faces numerous dilemmas, including moral ones, humanity enters the new era of technologies that are self-aware, can learn and act like people. We enter the era of artificial intelligence and robotics, while in the scientific world debates and arguments started to take place. Is artificial intelligence a threat or a huge help to the mankind?
Will robots take over the world or will they explore the universe with us? All these questions and more will be discussed in this article, so stay tuned for the more facts about this amusing emerging technology. But first, let's figure out what exactly are we going to talk about.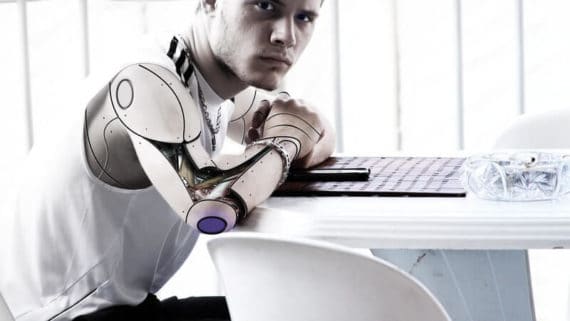 What is AI?
Good question, although a difficult one. Initially, when the field was just being developed, AI was considered as any type of program that would typically acquire human intelligence. While this definition is quite general, nowadays scientists prefer a bit different description. In the Steven Hawking age, artificial intelligence has to use a particular set of skills, associated with such qualities as learning, cogitation, planning, analytical thinking, understanding, and sometimes even empathy and creativeness.
Types of AI
There two types of AI – narrow and general. They both are very different; narrow artificial intelligence is quite common and can be found in any computer or smartphone. It is set to perform certain tasks and recognize objects, voices, etc.
The general AI is a more complex invention. It has some traits of human intelligence and reasoning. It is able to learn how to do a variety of assignments, reflect on different topics, and perform complicated maneuvers. Basically, it is very similar to a typical «Android» or robot from a sci-fi movie, with the exception of looks and ability to love in some cases.
There is clear evidence that someday AI will replace even a trusted assignment help website to serve students supply papers without delay.
Is it a threat or a help?
Well, as you might have imagined, it is a very complex issue. For example, let's imagine a car with AI. Some kind of crash is happening. How does the program react to that? Will it save its passengers or passers-by
What if there are much more potential victims among the pedestrians, will it sacrifice people inside in order to save a greater number of humans? With this simple example, you can see how difficult it is to trace the morals of this situation.
It is obvious, that AI can improve human life greatly. But who will implant the knowledge about good and bad, harm and help?
Humans will. And we tend to make a lot of mistakes on our way to progress.
Scientific Debates
A lot of people in science are extremely welcoming of the advancements in the artificial intelligence. They believe that this technology can help to solve a lot of crucial issues and crises all over the world. Others have a bit different outlook on the problem. They actually believe in robots taking over. Steven Hawking famously said that human race is not psychologically ready for such technological boost, and could use it to harm each other.
Elon Musk's artificial intelligence views are quite similar. He actually protests the rapid development of the latter. In his opinion we have to get there step by step, taking our time to contemplate each advancement and measure possible consequences.
No matter what the public thinks, the progress goes along. We are the witnesses of the new era in mass production – it can bring unimaginable bliss or inevitable destruction. But ultimately, it is our responsibility to make it into a controllable and gradual process, taking no risks with the robotic beings.