Word, Excel, PPT & PDF are most commonly heard file names in schools, colleges, offices etc. They almost became household names and they have inbuilt security mechanisms like password protection. One can set a password to the files containing confidential data so that only the ones with the password can access it.
Password protecting your files will increase the security of the files by folds. But there will be cases in which you forgot the password of your Word document or having trouble printing or editing a secured PDF document? You might have tried searching for a perfect solution to recover your password but all goes down the drain. As you can't find any or the program you used doesn't yield any good results.
Today we are going to share an awesome Password Recovery Bundle. It will help you not only recover forgotten passwords & also helps you in removing restrictions without the need of knowing the original password.
Disclaimer: We advise you to use the tool only in PDF/Word/Excel/PPT documents you own. Don't use them without prior permission which might cause serious trouble.
Password Recovery Bundle is an all-in-one solution for your password recovery problems. The tool can help you recover most of your passwords for PDF, Word, Powerpoint & Excel documents with ease.
As the name suggests it can be also used to reset your Windows password and in most of the cases helps you in retrieving email password as well. You can also use the tool to remove any type of restrictions on your documents in seconds. The possibilities with the tool are endless.
Recover Office Documents & PDF Password with GPU Acceleration
GPU acceleration plays a key role in recovering lost passwords. The same can be done with CPU as well but when we compare the both, GPU Acceleration is many folds faster.
Password Recovery Bundle is optimized for all modern graphics cards and works without a hitch. Let's see how to use this tool to recover password of PDF, Excel, Powerpoint using GPU Acceleration.
To continue further, You need to install the application first. You can find the steps related to the same below.
Download Password Recovery Bundle from the official site.
Once it is downloaded, Double-click the installer.
The installation wizard will open and you need to follow on-screen instructions.
Once Password Recovery Bundle is installed, you can launch it from the desktop.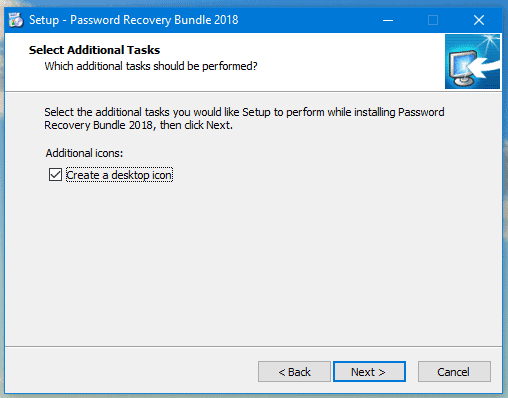 How to recover passwords of files with the help of GPU Acceleration.
Launch Password Recovery Bundle from the desktop.
Click on Recover from File and choose a file format.
Pick the file to remove the password. We selected "test.pdf".
Select Recover User Password or Remove Owner Password.
Click Next to remove password from the selected file.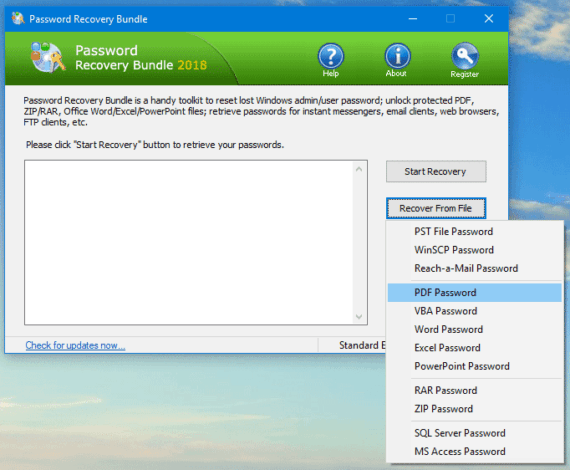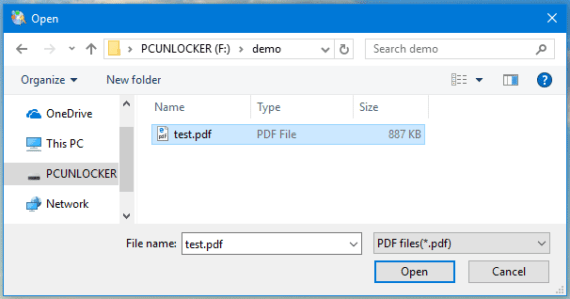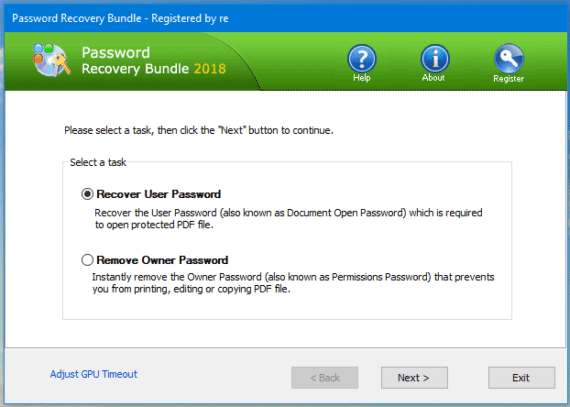 Use "Recover User Password" if you can not open the file. Select "Remove Owner Password" if you can open the document but can't edit it.
If you chose Recover User Password, you will be presented with three password recovery methods.
Brute-force Attack
Mask Attack
Dictionary Attack
Brute-force Attack
The name itself suggests that If you chose this, the software will try all the possible combinations until it finds the correct one. Depending on the password length and combinations of letters, numbers characters, the recovery time varies.It clearly indicates if your password is complex it will take a while.
Mask Attack
Unlike Brute-force attack, Mask Attack allows you to try certain combinations which are likely to appear in the password. For suppose I used to crack the password of length 6 and begins with "qwe", You can specify the mask as "qwe???"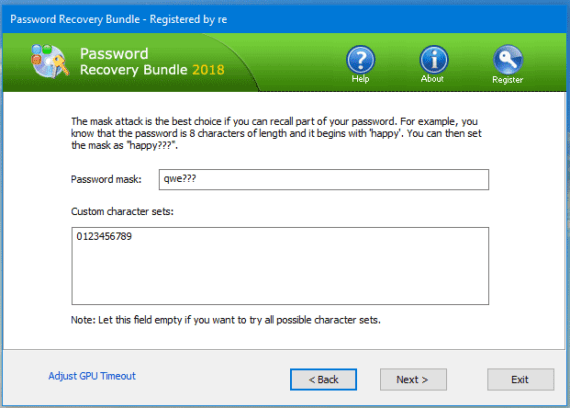 Dictionary Attack
In this attack, the program will go through most used words or phrases as a password. It will read line by line from the text file which comes bundled with the software itself. You can also download latest dictionary files from the internet and use them as well.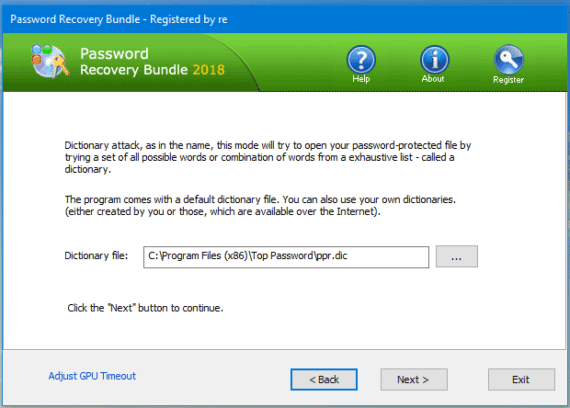 After choosing any of the methods, All you need to do is click the Next button. The program will use CPU & GPU on your PC to accelerate the process of password recovery.
Once the process is completed, The program will display the password which you can copy and use. Also, it totally depends on the complexity of the password depending on your CPU & GPU the time may vary from hours to days even weeks.
Conclusion
Although there are hundreds of tools available online which claims to recover passwords. Only a few of them utilize GPU resources as well for best results. Hopefully, this guide helped you to recover the lost password of your document using Password Recovery Bundle.