Long Tail Pro is the one the best and most commonly used Keyword search tool by many of the pro bloggers to find best Profitable Keywords for website and mostly for micro niche sites. It is a best Premium Keyword search tool available on the internet today. You can even get a free 10 day trial account of this keyword search tool to check its power on your own machine. This article is completely about Long Tail Pro review and it is written from my own experience

Do you know why I said Long Tail Pro is the best keyword search tool? Reasons to say as so are plenty and I gonna explain them in detail now in this article. After purchasing this Keyword search too, I'm sure you won't regret it. It will add more value to your money.
What is Keyword search tool?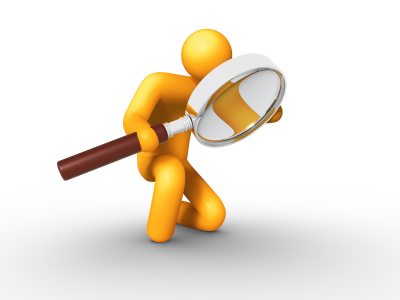 Keyword search tool is either an online tool or third party application software than installs on your PC/laptop which helps you to find best keywords for your website or blog. These Keyword search tools enable you to find profitable keywords for websites or blogs or even for micro niche sites. No site would get ranked first in search engines without making use of keyword search tools.
Why Long Tail Pro | Review ?
There are plenty free keyword search tools available to download but going premium is the best ever option. To be frank, Keyword tool from Google is the best one. Most of the popular keyword search tools including Long tail pro is making use of Google Keyword search tools to generate and suggest the keywords. But it is automated tool with few more extra options and works lightning fast. I must say, you can get all the details provided by long tail pro by yourself if you have excellent patience. But it may take ages to find a keyword.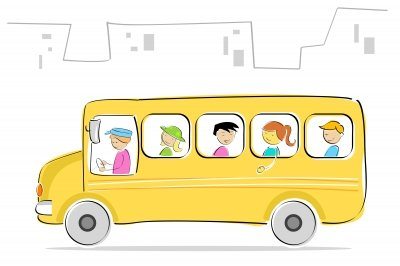 Let me show you an example, you should move from one place to another place which is 150 kms from your standing point. You have two options now. Either you must get a bus to reach a destination or you should reach by your foot. Getting a bus costs you around $50 say but it won't cost you nothing if you make use of your foot. But you'll surely spend $50 to get your bus even though you have an option to do the same at no cost. You know it takes days to reach the final point to go by walk, but bus can take you there in less than 2 hours. Same applies here, you can do the entire task by your own but it takes time. So I'm recommending you to go premium. Long tail Pro costs just $97
I have tried to save money in the first phase and tried to do entire work manually but failed badly. I got addicted to my laptop screen for continuous 15 hours to find a keyword for a micro niche site, but I can't manage to do it manually. Later I tried different online tools but it goes waste as well. So I purchased long tail pro keyword search tool and managed to find a couple of profitable keywords in just 4 hours. Below is the Long Tail Pro Review and this review helps you find profitable keywords for a website or blog. You'll surely understand why I'm recommending Long Tale Pro.
Long Tail Pro Review
Keyword research
Long tail pro is completely divided into three parts actually and let me explain then individually. The first thing that grabs your attention is a Keyword research tab.
This keyword research tab is the place where you'll spend hours daily. This is the most considerable factor in Long tail pro. In this tab you can generate and find profitable keywords which are capable to make you as a rich man.
Again this Keyword research tab is sub divided into 3 categories. Scroll down to know more about them.
Campaign
People won't have just one idea in their mind, they might have dozens of ideas. Placing all those ideas and thoughts in one basket would surely confuse you. Using this Campaign tab you can put your own ideas in different baskets with separate names. Your ideas will stay there till the end and you can check them easily whenever you need.

Campaign Settings
After creating a new campaign, you will enter in to Campaign Settings. In this tab, you should enter your ideas as keywords. Check the below screenshot for better understanding. You can make a lot of filters depending on your needs. You can set minimum CPC, Global and local monthly searches, exact or broad searches etc. for your keyword.
Along with them you can make the Long tail pro to search for exact match domains. By making use of all these filters you can get desired keywords which suits you. After applying all required filters, you should hit Generate Keywords button. In few minutes depending on your connection speed, you can get hundreds of keywords on your screen. You can even get Competition of your keyword too.
Keyword Results
Finally after hitting Generate Keywords button, you will automatically redirected to this Keyword results tab. Here you can see tons of keywords which meets all your filters but it takes few minutes.
Time taken to generate keywords is proportional to the no of filters applied. You can see the availability of the keyword in the same.
See in the first phase, we have entered around 25 keywords and applied some filters like Min CPC, Min Global Searches and availability check for .com domains. After hitting Generate Keywords button and 5-15 minutes waiting time you can see the miracle. Surprisingly I got more than 4000 keywords and all those keywords meet my requirements.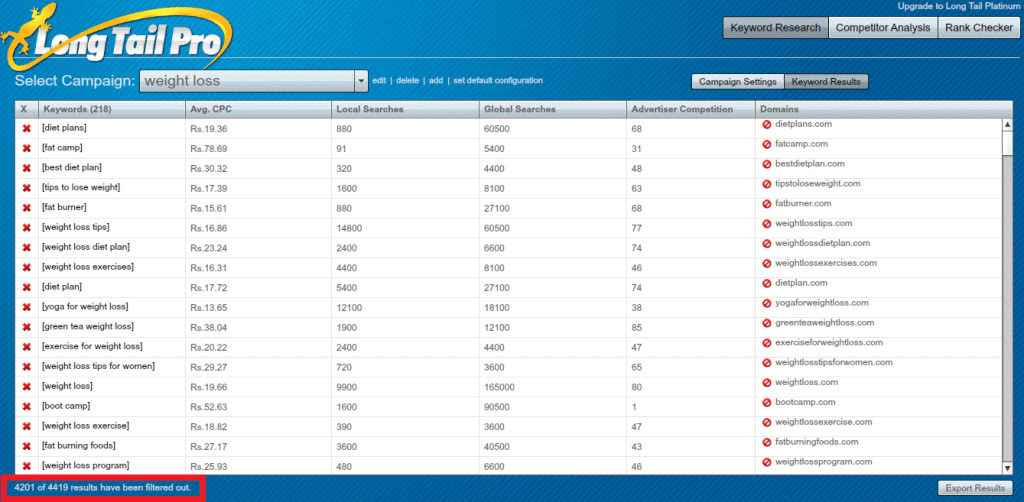 You can get details of CPC, Local and monthly global searches, Advertisers competition, Domain availability and much more. Now you have to noted-down the keywords which have low competition, considerable CPC, Better searches and mainly that keyword with .com extension should be available if you're planning to start a niche site.
Also Read: Top 14 Blogging Tools every Blogger Must Use
Once writing all good keywords you can move to competitor analysis tab.
Competitor Analysis
To make use of this Competitor analysis feature you should have an account at MOZ to fetch data from it. Once you have created your account in SEOmoz you can able to get your access ID and secret key. Enter both of them in LongTailpro and have fun.
This tab is used to know about the first 10 results of your selected keyword in Google search. Once after entering your keyword, it gives details of Domain authority, Page Authority, Total No.of links to that page, site age, Page Rank  etc. By checking all these things you can understand the competition for your selected keyword.

Rank Checker
So in the first two phases, you have picked one keyword having exact match .com domain name and later you have checked its competitors. If everything goes awesome you'll create a website of blog on good host with good looking theme to generate traffic for those keywords right? Once you have written few articles with your keyword, you can check the position of your post in Google, Bing and Yahoo using this rank checker.

Also Read: 10 Things To Do Before Writing an Article on your Blog
Long tail Platinum
Along with this long tail pro there is another advanced version named Long Tail Platinum. This advanced version includes some extraordinary features like Calculation Keyword Competitiveness, Saving Favorite Keywords etc. Depending on your needs you can either go with long tail pro or long tail platinum.
Hope this Long Tail Pro Review cleared all your doubts about this awesome keyword research tool and in case if you still have any query's let us know via comments section.
Discount Coupon
Currently all discounts are expired and we'll let you know if we get any. Subscribe to our feeds to get latest update. But however you can Long Tail Pro now for just $97
Pros
Auto generate keywords in less time, Check rankings for your Keywords, Check domain availability, Advertisers competition
Cons
It works on Google Keyword tool, It takes time to generate keywords if more filters are applied
LongTailPro is based on Google Keyword tool and it helps you to find lot of profitable keywords in no time. It check whether domain is available for your selected keyword and even calculates advertisers competition.