Christmas is the most loved festival all over the world. Be it for a Christian or a Hindu, most people enjoy Christmas. It is the correct time to hang out with friends in the chilling weather. It also is the start to get prepared for New Year. In this article here, I give you the history on Christmas, some homemade Christmas gift ideas, best ways to send eCards and Greeting cards to your loved one's. Be creative and surprise with unexpected gifts. It'll be something to see happiness in the face of others and is the best feeling you get if the reason behind the happiness is you.
So, now let us give me a brief on the history of Christmas.
HISTORY OF CHRISTMAS
Christmas, all over the world is celebrated on 25th of December. Christians generally start planning and preparing for Christmas celebrations 4 weeks before the actual day of the festival. The season of Christmas is for about 12 days from the day i.e; till Jan 6th. This season also have a name "Christmastide."
Now, the HISTORY. Though they are many theories on the history of Christmas, none among them could be true. There are no strong proofs to believe them. If one theory is up to something, the other just explains us that the believed theory is a fake. So, what could we strongly believe? But, out of the all the theories that exist on Christianity and the birth of Jesus( THE LORD), a fact is believed by almost everyone in the world. And the fact is that, "Jesus has unique significance in the world." It is believed that "Jesus conceived by the holy spirit and was born to a Virgin."
Why is Christmas celebrated on 25th of DEC? Some say it is the birth date of Jesus while some overrule it. There also is another theory which says, "Jesus was born on the starting day of the winter i.e; 25th of DEC." But there are no evidences that can prove any of the theories and this is the reason they are still theories.
WHY CHRISTMAS TREES?
The Christmas tree was an ancient symbol of life in the midst of winter. People generally plant Christmas Trees in their houses decorating them with different varieties of lights, round magic balls wrapped with gift packs etc. These are a way to make their children believe in Santa Claus. Santa Claus is the one who gifts everyone with gifts we wished for, we were told as children. And the best way to make children believe those stories, is by decorating an Xmas tree and placing gifts on the floor with the name of the child written on it. The innocent and excited young children will instantly believe the existence of Santa Claus and hope for the best. This in fact, fills the spirit and hope in the children.
Also read: " Story Behind The Christmas Trees"
BEST HOMEMADE CHRISTMAS GIFT IDEAS FOR 2014
Now, coming to the best homemade Christmas Gift Ideas – Cheap and Unique. You could do a lot and rest is your creativity. Let me give you some ideas.
Put up a doll displaying days until Christmas to give more excitement to your children or family. This actually is widely known as "Elf on the shelf."
Also read: " More about Elf On Shelf"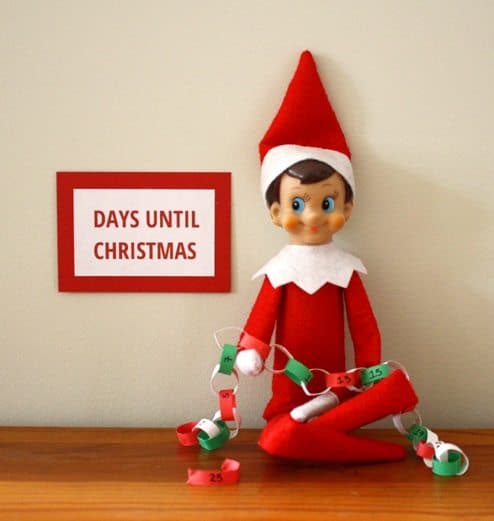 Christmas Stockings are a tradition in most of the families. They hang stockings with names of the children or all the family members printed on it and put some small gifts or chocolates in them. So, when the younger children looks at it, they will definitely be surprised and excited to see the stockings with their name on it. This could be one of the best cheap and unique homemade Christmas gift ideas to surprise your loved one's.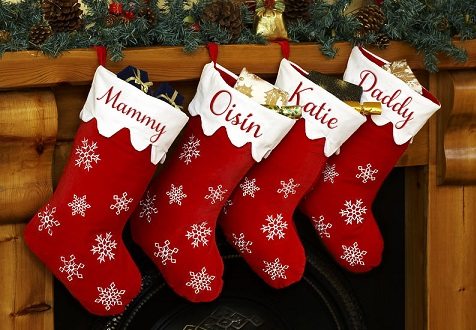 The best place to fix a Christmas tree is near the Fire place. Fire place is also an good ideal place for the Christmas Stockings. So, fixing a plant beside it, fully decorated and with some gifts on the floor  for the children is another surprising and unique homemade Christmas Ideas for 2014. The below is the attached image that gives a form to your imagination.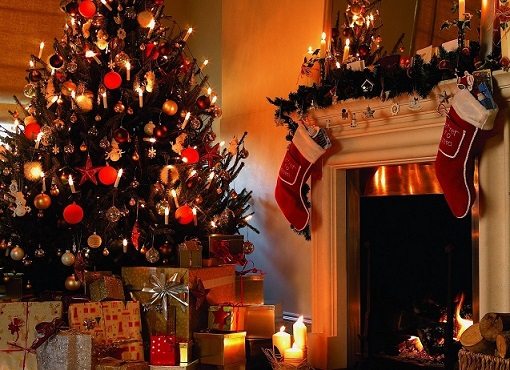 A round glass chimney with a couple, doing salsa dance. This would be romantic than any other gift you could give to your loved one's. What more could you do to show your love?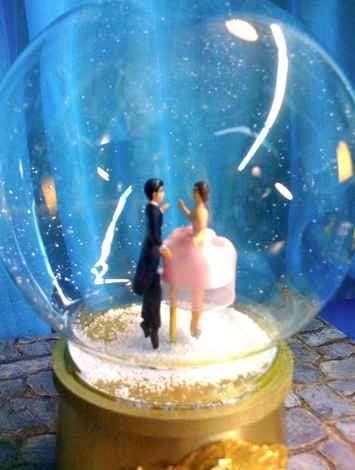 Prepare a Greeting card, all by yourselves. Your hard work is all that matters. Who wouldn't be impressed if you try something hard being creative, all for them? Try this, show your skill and impress them. All the Best.
And these are the best suggested indoor decoration and creative ideas by which you could surprise with gifts to your loved one's. And you could watch your loved one's more happy if the gift inside the box is something they are waiting for. Get to know their wishes and needs secretly and surprise by gifting them.
BEST WAYS TO SEND ECARDS AND GREETING CARDS
We have seen some best homemade Christmas Gift Ideas and decorations till now. But, how could you surprise someone, if they are physically away from you? There surely are many ways. If they are at a distance you can drive, go visit them and surprise them. That would be the best way to wish Christmas and in fact an unexpected gift.
If you are geographically too far from your loved one's, do not worry. With the advancement in the technology, you can still send your warm wishes through Internet. Ecards are the best way to choose. I give you two very good sites from where you could select the best suitable Ecard to send. Be selective while choosing them.
These are the best two popular sites to send eCards to your loved one's. Try them out and wish provide your presence with your warm wishes to your loved one's.
SOME MORE IDEAS FOR DECORATIONS
You still need some more ideas for decorations? Don't worry. Here are a few ideas to decorate your house (with pictures).
A small Christmas Tree heavily decorated with all the available and suitable things in your living room. Would be lovely if it is beautifully decorated. Check the image below and try decorating a tree as such.
Next Is What? Yeah, you still have one more idea to decorate. This in fact suits the best if you are living somewhere in the polar regions or where there possibly could be decent snowfall. A text saying "Merry Christmas" with an idol and an arch type made of the ribbons would likely to attract anyone at a glance. Check this image below and try this to make your place lovely.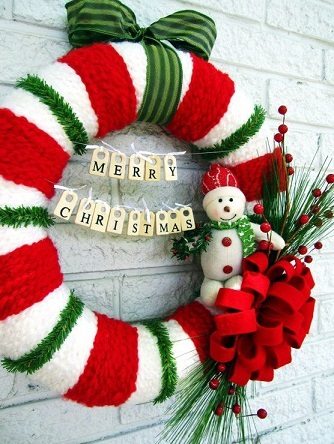 FACTS THAT HAPPEN ROUND THE WORLD DURING CHRISTMAS
There are somethings unknown that happen round the world during Christmas. Let us see what they are.
The first artificial Christmas Tree is made out of dyed goose feathers. German's are the first to make it.

 

It is estimated that, in the U.S alone, around 3 billion greeting cards in Christmas are sent.

 

Pope Julius I, officially proclaimed December 25th for celebrating the birth of Jesus, in 350 A.D.

 

After analyzing the Facebook posts data, two weeks before Christmas is one of the most popular times for couple to break-up.(Mother of strange happenings during Christmas around the world.)

 

For a Christmas tree to be sold, they are usually grown to 15 years. So, the minimum age of any Christmas tree that you see would be 15 years.

 

In the U.S, Christmas was not declared an official holiday till 26 June, 1870.

 

Oklahoma, the last state to declare an official holiday for Christmas in the United States, in 1907.

 

An Environmentalist, Prsident Tedyy Roosevelt banned Christmas Trees from the White House in 1912.

 

For now, it is estimated that there are around 21,000 Christmas farms approximately in the U.S.

 

In 2008, excess 45 million Christmas Trees were planted in addition to the already existing 400 million trees.
I hope, by now you've got all on what is needed to make this Christmas more joyful and pleasant with neat, unique and cheap homemade Christmas Gift Ideas and decorations. Merry Christmas.