Finding windows 8 Product key in your PC or laptop without using any third party tools is a bit hard task for casual users. Windows 8 Product key is mandatory while you're re-installing your operating system. Without product key it is impossible to activate the windows. If you're using genuine copy of windows 8 you should note down your product key somewhere to access it if needed.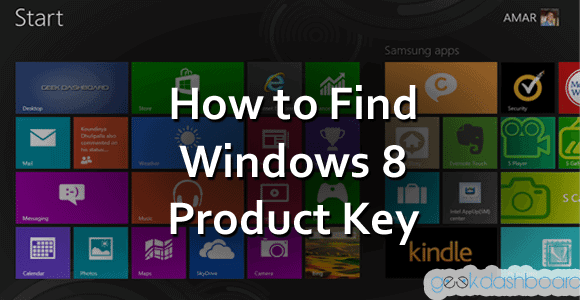 It is quite common for any computer to effect with virus and malware. Then you might think about best antivirus for windows 8. Sometimes even Antivirus failed to clean the virus, then the only option available it to reinstall a new copy of windows. Reinstalling is not a geeky task. Recovery option is best thing you can use in case of genuine operating system. Whatever it maybe at the end you'll be forced to enter windows 8 product key to finish the activation. If you failed to do so, it gets treated as Trail version even though you have purchased it officially.
Also Read: How to Dual Boot Windows 7 vs Windows 8 Operating Systems
To overcome all these problems, Finding Windows 8 product key is only the best option. This guide is aimed on how to find windows 8 product key using third party tools. Just install anyone of the tool provided below and note down your product key in a text file and save it in a safest place of your computer. Make sure you remember the exact location for long time.
How to find Windows 8 product Key
There are many application software's to find windows 8 product key easily in few simple steps. 5 among them are mentioned below.
In general Windows 8 Product key is a 25 characters combination of letters and numbers.
It looks in this format XXXXX-XXXXX-XXXXX-XXXXX-XXXXX
Belarc Advisor
Belarc Advisor is one of the best tool for any version of windows operating system to find the product keys. It is not only used to find windows 8 product keys but also used to find windows 7 and vista keys as well. Finding windows 8 product keys using this Belarc is very simple.
First download Belarc Advisor and install it on your PC or laptop following all on screen instructions carefully.

While installing it creates a new profile for your computer and analyse everything and display all information on your default browser.
Product key Finder
Product key Finder go deep in your computer and finds all serial numbers, Product keys of every installed application on your computer. It is capable to read Adobe products, M.S Office and lots more.
Download Product Key Finder and follow on screen instructions and install it
Immediately after installing it, Run it and in the very first screen you can see your windows 8 product key. Write it down carefully and use it when needed.
Windows Key Finder

If you fed up with lengthy list of installed applications and looking for a tool which can fetch product key from registry without any installation then this tool is one you're looking for. It is very small in size and portable. No installation is required. It works on every version of Windows operating systems and completely compactable with Windows 8 as well.
WinGuggle
WinGuggle is also a portable version same as Windows key finder. Most important thing is it works on windows 8 as well as windows 7 and XP. It is very small in size and works lightning fast. It is also used to fetch keys of many Microsoft products. Just download it, Install it and finally Run it. That's it; these 3 simple steps brings your windows 8 product key in front of your screen.
Your Email
Looks you're confused! Okay if you made a purchase from Microsoft, then you would have got the Product key directly in your inbox. In case if you lost that mail; you can make use of above tools to find your windows 8 product key.
Also Read: 5 Best Web Browsers for Windows 8
Note: These tools only work if you're using genuine copy of Windows 8.
Let us know if you still know any better tools to find windows 8 product key easily. Leave your feedback and help us to improve our quality.