There will always be files that you do not want to store in your HDD because you are afraid you might lose; that important those files could be and even you get nervous to backup data on your computer which might get corrupted. For this, you will need Cloud storage, something that is being used widely now-a-days. Data stored on Cloud is not just secure, but one can also access it from anywhere. Filestream.me is one of the best file streaming services available in the market now. Although Filestream.me is new, it provides premium Cloud storage services that is pretty secure and also let us easily download different data or media from popular networks, very quickly.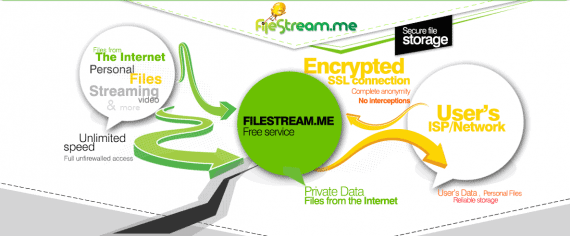 Features offered by Filestream.me
Filestream.me currently offers two features. One is the Cloud Web storage and the other is file fetching.
Web storage
Filestream.me provides a free personal, private and secure storage which has no time limits. All your files are secure and can only be accessed by you and, of course the site administrator. But that isn't a problem, the admin is too busy to disturb your data. Be assured that your data is totally safe. It also offers a secure encrypted SSL connection to your storage. And you can download your data at high speeds, thanks to the availability of multistream download access.
File Fetching
This feature will help you download files from the internet using virtually unlimited bandwidth of the Filestream.me IP connection, which gives you access to restricted URLs also. Files will be available to you for download instantly to your local machine using secure HTTPS protocols upon completion. And you can download you files from the most poplar network resources for free.

Filestream.me is adding another feature, Secure Storage, which provides complete security and privacy to your storage. Not even their staff can access it.
Here are the additional features that will answer the question in your minds,
Why Filestream.me?
24/7 customer support
Connected to 3 biggest European IP backbone providers
Access files from anywhere using any gadget. All you need is a fast internet connection and a best web browser.
Has a dedicated Android App for Android mobile users.
Receive automatic e-mail notifications on every event of your choice.
Suppots SSL secure online download.
Protect online privacy using a hidden IP address
Free unlimited personal storage
Filestream.me is a budding service and is being used by many people, mainly because of its low price. You also get a 7-day trial after which, if satisfied, you can go with any of these plans or you can use their FREE Forever plan
Verdict:
If you are looking for a safe, reliable cloud web storage space and also for file fetching system that will help you download torrents using IDM, all of this at pretty reasonable prices, Filestream.me is what you are looking for.
Filestream.me is a very useful service that provides secure, private cloud we storage and also a very quick and safe file streaming service. Lets you download data from restricted URLs and torrents. And its charges are pretty reasonable.