The longtime opinion on the perks of technical and digital progress has been mostly favorable considering its influence in the educational sphere. However, with the rise of social media influence and the variety of Internet and gaming addictions, we certainly have to reevaluate our relationships with some of the innovative technologies. When each student as early as in the elementary school has a gadget of some kind, it could not go without saying that the way new generations think and deal with new media and technologies has been changed drastically. As well as the wide range of other aspects of modern life such as communication, work environment, shopping, and, finally, learning.
Many people tend to stick to the extremes and view gadgets as something extremely useful to the education, something students cannot live without during digital era; others tend to demonize progress as something totally distracting and harmful to the many cognitive functions. The truth, as usual, lies in between, as technologies have both positive and negative impact on students of the various disciplines and ages. So in the following article, we will break down the effects of gadgets in academic performance and see what aspects are beneficial and should be focused on, and which ones are rather unnecessary and might stand in the way of the great academic results.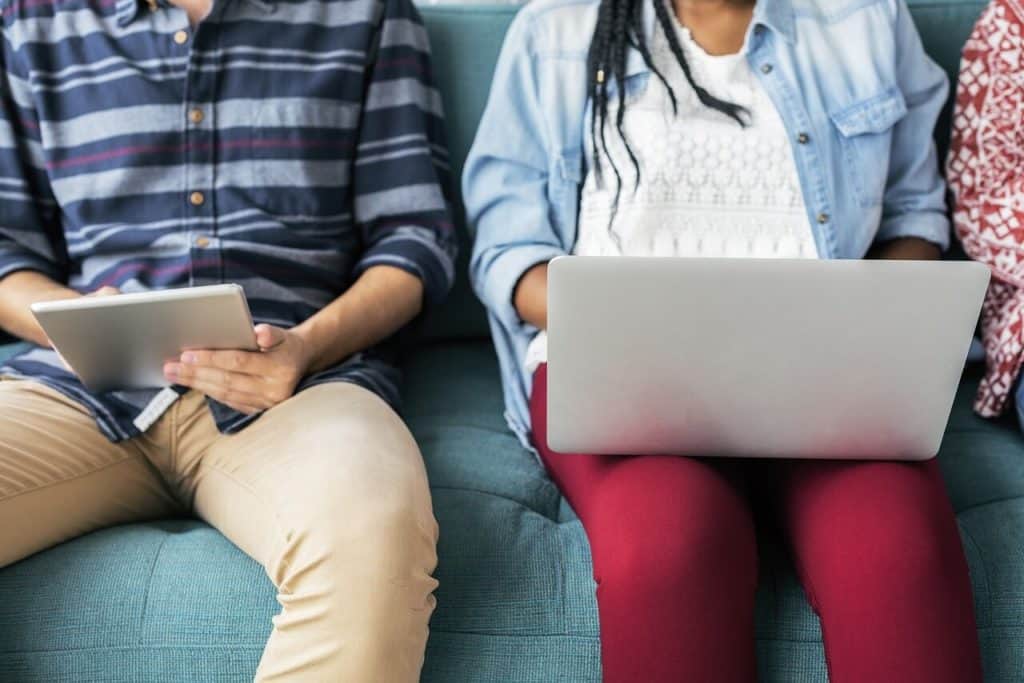 First of all, let's investigate positive points in using gadgets during the educational process. And not surprisingly, there are many of them.
The possibility to make studying more interactive and engaging. Times change, and that's the fact we cannot control. And whether we like it or not, we have to adjust to the new age. People of today have totally different information intake, attention span, learning techniques; even the communication has been transformed by the technologies. So it is rather silly to expect methods that have worked in the past still be relevant. That is why it is important to implement "contemporary language" of learning using various media.
It opens a lot of directions and forces both teachers and students to be more creative and curious, thus making a platform for good academic performance.
Gadgets allow you to stay connected and save time. Even such a simple task as finding the needed information is much easier and faster nowadays. For instance, you can easily find professional writing services if you need them in a matter of seconds. You do not have to go to the library (well, sometimes you still do), you can just Google something. Thus, most of the papers, scientific works, research, etc. can be done quickly and without any additional hustle of the past. And you can do projects and get information from all over the world, as almost every corner of our planet has gone digital. Technologies also allow to form tighter professional communities and give access to the useful practical and theoretical data for future specialists.
Digital revolution has created a whole set of new jobs and fields. Now we have many professions that weren't even on the radar some decades ago. More opportunities for everyone- this is an essential part of this peculiar revolution.
Accessibility of education is another solid positive aspect of gadgets, as many students can study no matter what from the comfort of their own homes or any other place in the world.
So you can see there is quite a strong beneficial impact of gadgets on students. Overall, all of the points mentioned above leads to the better involvement, more colorful and interesting presentation of the subject, lesser effort to achieve great results during learning – and all these things lead up to the better performances and make academic success attainable much simply.
However, there is always a downside, and this topic is no exception. Technologies also bring not so good changes in student's learning abilities and the way people consume information, as well as the whole new range of digital addictions. So let's break down some of the negative influence of gadgets that affect the studying process.
Numerous studies in recent years have shown that the availability of the Internet on our smartphones and reliance on computers lead to a decrease in our memory capabilities. Needless to say, it does not go well with the learning abilities and college studies. It seems like we have tons of information on our hands at the immediate access. However, our ability to store that data has been down significantly.
The rise of the gadgets has also led to the fixation on the social media platforms and obsession with the self-image and the perception of others. This is quite an unhealthy attitude and potentially can result in some mental conditions and even depression. All of these, understandably, interfere with the normal course of studying and directly affect academic performance, and not in a good way.
The World Health Organization recently included the gaming addiction into the list of the official deceases. Needless to say, just like any other kind of addiction, it stands in the way to the success of any individual suffering from it.
The increase in the number of people with ADHD has been linked with the rise of smartphones in the recent studies. Attention disorder is a serious condition that makes studying much harder and demands constant efforts and treatment. As for today, no direct link has been established between two, but it is certainly a topic of discussion in the medical circles.
As the famous sci-fi writer once said: "Any sufficiently advanced technology is equivalent to magic." From the various sources, we all know that magic can be used for good or bad. So the rapid evolvement of gadgets is not good or bad by itself, it is rather how we, human, will learn and teach the implementation of technologies to ourselves and the generations to come, this will be the definitive factor in the ways it will affect the people of future, including students