Okay, it's time to celebrate. Finally a permanent end to the long waiting. Yeah, the Awesome team of hac-kers/developers is now managed to develop a tool named Evasi0n for IOS6 Jailbreak.
The team of Plantbeing Pod2g Pimskeks and MuscleNerd worked hard day and night and after perfect examination and hundreds of testings, they decided to release this tool Evasi0n on 4th February 2013 for completely free.
Evasi0n, is free too available to download now. Using this tool you can jailbreak IOS6 devices and also they claimed, it even works on all new devices running on A4, A5 and A6X processors.
This free tool is claimed to contactable with iPhone, iPod Touch and iPad running on IOS 6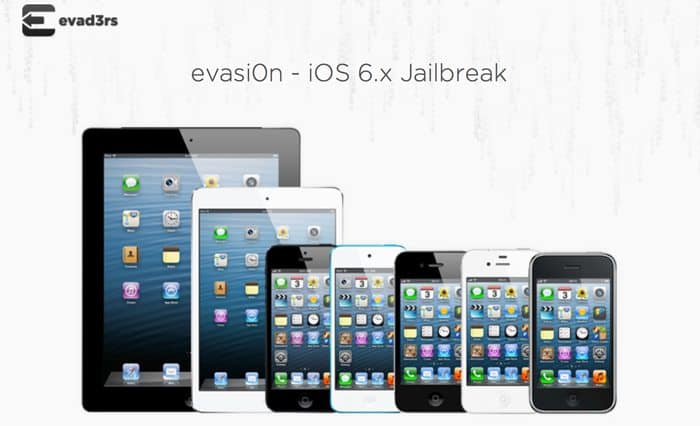 Team of developers
Before starting making use of this free tool, please feel free to know about the developers who worked hard to finish this awesome Evasi0n tool. Here are twitter profile links of all developers who had taken serious part in developing this tool.
https://twitter.com/pimskeks
https://twitter.com/pod2g
https://twitter.com/planetbeing
https://twitter.com/MuscleNerd
Official Download Links of Evasi0n
Please don't make mirrors for these download links and use the official download links to download Evasion tool to jailbreak IOS6 devices.
Mirror Downloads 
In case, above download links failed to work, no need to worry; make you of these official mirrors links created by developers. Here you get Rapidshare, mega and box.net mirror links. I'm sure at least one of these links will work at your end.
Mega:
box.net
Linux 
Donate to the team:
If you felt happy with this tool and interested to donate the developers, you can donate using your PayPal account and bless them with your reasonable donation. Show humanity with a small donation.
Consider sharing this article with your friends and help them to jailbreak their IOS 6 devices.