Since Windows 8, users are forced to log in with Microsoft account which is a perfect replacement to the old traditional passwords. Compared to the local account, you have to remember long and complex passwords for Microsoft account. What to do if you forgot your Microsoft account password? How do I switch back to a local account sign-in for Windows 10? If you're unable to reset it online via https://account.live.com/password/reset, you'll be locked out of your own computer.
When you come into that situation, there are two methods to recover access to your Windows 10/8 system. One method is to activate Windows hidden Administrator account, and another method is to convert your Microsoft account back to local account. To achieve them you need to use a password bypass bootdisk named PCUnlocker.
How to Bypass Microsoft Account Sign-in Password with PCUnlocker?
Bypassing a Microsoft account password is a simple and straightforward process. We're going to walk you through it.
Before you proceed, you need to make a PCUnlocker USB drive using an accessible computer, which could be a PC you borrowed from your friend or colleague. Follow these steps to create a bootable PCUnlocker USB drive:
Download the PCUnlocker program and save it onto your local hard drive. Unzip the downloaded file and you'll see two files inside the extracted folder: ReadMe.txt, pcunlocker.iso.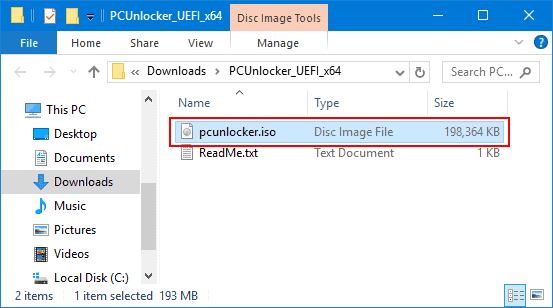 Next, download and install the bootable USB creator software ISO2Disc. Start ISO2Disc program, then click the Browse button to locate the pcunlocker.iso file you extracted.
You have two options: Burn to CD/DVD, Burn to USB Flash Drive. Here we choose the latter option and select your USB drive. Click Start Burn. It will write the ISO image to your USB drive and make it bootable.
Once the PCUnlocker USB drive is ready, insert it into the Windows 10/8 computer you're trying to bypass Microsoft account sign-in on. Turn on the computer and press a specific key (F2, F12, Del, F1, etc.) to access the Boot Options Menu. That key varies from computer to computer and you can check your computer's manual or the manufacturer's website for that specific key.
From the Boot Options Menu, you can see a list of bootable devices available on your computer. Choose the USB drive and press Enter to let your computer to boot from PCUnlocker USB drive.

When you get to the PCUnlocker screen, you can see a list of local users that were found on your Windows installation. Now you can choose to either activate the hidden administrator account or change your Microsoft account to a local user: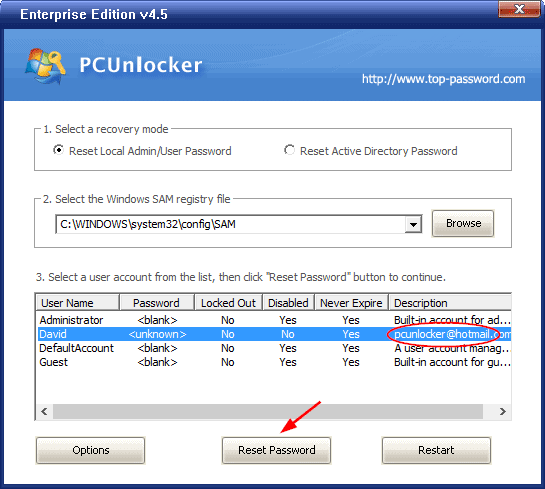 Option 1: Activate Hidden Administrator Account
The hidden Administrator is listed as disabled so it will not be shown on Windows login screen. To activate the hidden Administrator account, just select it and click the Reset Password button to activate it.
Option 2: Switch Microsoft Account to Local Account
By default, Windows automatically linked your Microsoft account to one of your existing local accounts. As you can see in the screenshot above, my Microsoft account is linked to a local user named David. Just select the linked local user and click on Reset Password button.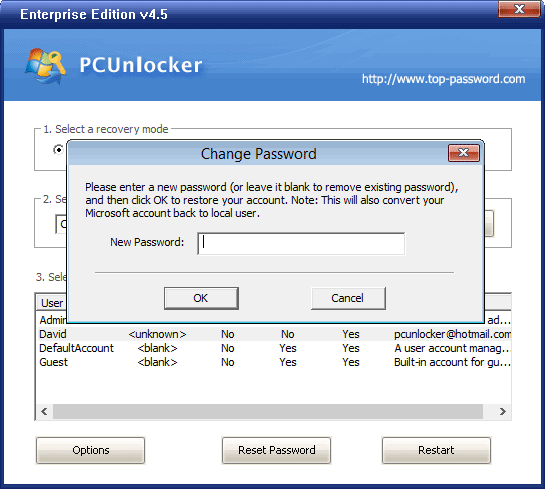 When you see the Change Password window, enter a new password and click OK. It will convert your Microsoft account back to a local user, as well as changing the local user password.
The final step is to reboot your computer and disconnect the USB drive. You can then successfully log back into your Windows 10/8 local account! No need to reinstall the whole operating system when a Microsoft account password is lost or forgotten.