As a business owner or someone working in upper management, we know that you want to ensure that your business is up there with the best. Mobile apps for businesses are designed to solve specific problems such as reducing paper waste or giving employees extra flexibility, and they can also offer unique solutions to your customers – subsequently improving your customer service and customer engagement overall. Mobile apps for business also offer better value and more convenience than a web portal, and since the use of laptops and computers are going downhill whilst mobile device use is on the rise, developing an app – or apps – for your business has never made more sense.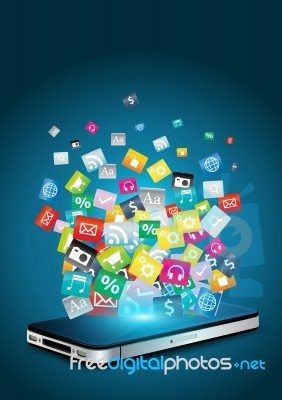 Photo by KROMKRATHOG at freedigitalphotos.net
Stay Competitive by Being Up-to-date
The increase in smartphone and tablet use by, well, pretty much everybody means that apps are an important part of the modern world and are set to play a huge part in the future of business and lifestyle. You can bet on the fact that a massive percentage of your target audience will use at least one mobile device such as a smartphone or tablet, and these days even kids and the elderly are using them – meaning that no matter which demographics you are targeting, you can be sure that a mobile app will be beneficial. Mobile apps are becoming more of a necessity than a luxury for many people. Customers love businesses who can keep up with the times, and by developing a mobile app you'll be showing your customers that you're up to date and modern as well as the fact that you have a great understanding of what they need.
Make Your Brand Image Stronger
The harsh truth is that in order for a business to be successful in today's digital, technology-obsessed world, a strong brand image is absolutely necessary. If you don't have a strong brand image, you're putting your business at risk of being overtaken by competitors and left behind, as customers opt for alternatives with a stronger brand. Having a strong brand image means that customers will become more aware of your services, not to mention the fact that it can also increase customer loyalty – something that every business strives to achieve with each customer. Not having a mobile app can cause your business to appear old-fashioned and even plain old boring – something that isn't going to go down well with customers. Lacking a mobile app can leave a bad impression on potential customers, which is why it's absolutely crucial in order for you to develop a brand image that's strong and appealing.
Increase Your Brand Visibility
When you think about it, it's much easier to find an app compared to searching for a website in the billions of sites active online. App stores make it possible to place your business in front of millions of potential customers thanks to their inherent features for cross-selling and promotion, not to mention that with an app, you're more likely to reach a target audience of people who're looking for a business like yours thanks to categorisation and custom searches. Why not pay a visit to the leading web app developers to discover how your business can improve its customer base with a mobile app.
Don't get left behind – stay prepared for the future of customer engagement with a business app.