Facebook Home is released officially and even got featured at Google Play. It seems most of the Android users hurried to App store and tried to install it on their mobiles but failed completely. Currently developers are still working on it and is available only for few devices. Everyone is eagerly waiting to test it on their own devices and I felt we should wait for next couple of months or even more.  But things have changed lightning fast. Developers changed everything and released working APK for Facebook Home.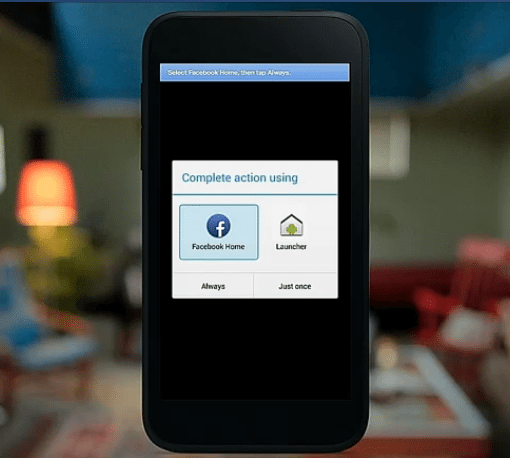 Well now, you can install and use Facebook on almost all smartphone's which are running on Android operating system. In short you can get Facebook Home for all Android devices with Patched APK.
What is Facebook Home?
Facebook Home is new kinda application developed by Facebook officially which replaces both Lock screen and Home screen on android smartphones. It is not just an application but worth more than an app. The main concept behind this Facebook Home is to dear friends even closer.
According to us, it won't suit for every Facebook member but it is quite useful for Internet Marketers, those who promote their business via Facebook, Blogger and for Facebook addicters.
Get Facebook Home for All Android devices with Working APK
As we're dealing with APK files, bringing it to action is simple as abc. Simply follow the steps in an order mentioned below.
1. All you need to download is two APK files. Use below link and save them on your PC/Laptop
 Download Working APKs for Facebook Home
2. As the downloaded file is a RAR file, you are in a position to extract them to your desktop or to any place, which you feel you remember for long time.
3. Once extracted, you have to move them to your mobile. Place both those APK files in a folder at micro SD card. (You can even download them directly from your mobile and make use of an app to extract them.)
4. Make sure, you uninstalled Facebook app from your mobile. Incase you tried these steps with Facebook application installed on your device, you may end with failure. So, it's mandatory to uninstall it.
5. Extracted file would contain two APK files with names
com.facebook.katana.apk – Main Facebook Application
com.facebook.home.apk – Launcher
6. First Install com.facebook.katana.apk from your micro SD card
7. Similar to step 6 now, install com.facebook.home.apk 
That's it, everything is done now. You may use Facebook Home on your device as well. Let us know, if you struck with difficulties.
Source: XDA Forums